Staying Compliant with Policies
Action1 RMM enables you to manage your endpoints in a smart way. Unlike one-off actions, policies are recurring activities that you can track and control along the way. With policies, you can assess compliance with certain rules and automate response steps if necessary. Policies enable you to check your IT infrastructure state, see compliant endpoints and automatically help others to catch up with them.
Policy or Action?
Answer the following questions:
Is it a recurring activity?
Are you interested in seeing results for the entire system instead of activity outcomes for individual endpoints?
Do you want to comply with rules and guidelines?
If you answer Yes to these questions, then there is a high chance you should create a policy instead of an action. The policy not only performs an administrative activity but also confirms whether the endpoint is compliant with the rules.
For example, create a policy that ensures that Slack is installed on all workstations in the Employee group. Action1 will check these workstations every day and install Slack on the workstations that miss it for some reason. For those that have Slack installed, the policy will return "compliant" status.
Routines You Can Verify and Automate with Policies
App installation
App uninstallation
Update deployment
Reboot
CMD or PS1 script execution
Any scheduling
Ideas for Creating Policies
Automatic patch management—create a policy to check that your endpoints have the latest KBs and hotfixes installed and eventually deploy missing updates.
Office tools—create a policy that verifies all the necessary tools are installed on your employees' workstations.
Malicious apps management—create a policy that ensures no malicious software is installed. It scans your system for suspicious apps and uninstalls them if necessary.
Administration—create a policy that ensures all workstations have the same desktop settings. It will run an update script on workstations that don't meet specified conditions.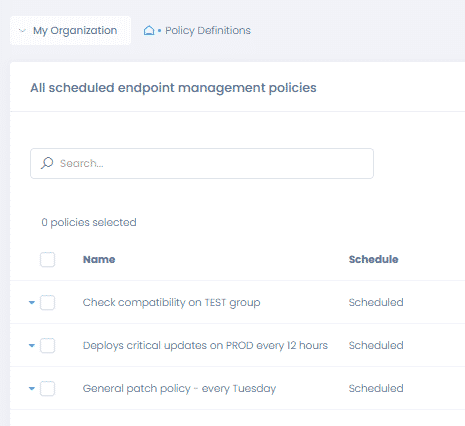 Creating a Policy
Navigate to Policies / Definitions. Alternatively, select New Policy on top of the screen.
Select +New Policy.
Specify an action.
Choose endpoints.
Specify frequency.
On the Policies / Definitions page, review the policies with status, last run and next run for each policy.
On the Policies / History page, see execution details. Select View Results to see information per endpoint.