Multi-Factor Authentication
Action1 protects access to its resources by enforcing two-factor authentication for all our users by default. The multi-factor authentication compliments the traditional "login & password" sign-in procedure with an additional verification step. Currently, Action1 provides two types of MFA:
Email-based MFA. The email-based multi-factor authentication is enabled by default. It is less secure than the app-based. With email-based MFA, you'll get one-codes to your mailbox.
App-based MFA. To enhance security, Action1 suggests leveraging an authentication app such as Google Authenticator,

Twilio Authy, Duo Mobile, or Microsoft Authenticator. 
To check your current authentication method, click on your initials at the top-right corner. Click on the MFA link to see more details.
Configuring App-Based MFA
Note: Make sure to keep the app and device it's installed on somewhere safe. If you lose access the authentication app (e.g., due to removing an app or losing a device), you won't be able to log in any more. Before enabling the app-based MFA for the Enterprise admin account, make sure to create a second (recovery) Enterprise admin to safeguard access to your enterprise account.
Download and register with an authentication app of your choice.
Scan a unique QR code with your authentication app to generate a one-time code. If you are unable to scan a code, copy the secret key.
Supply the code to Action1.
Select Enable App-based MFA.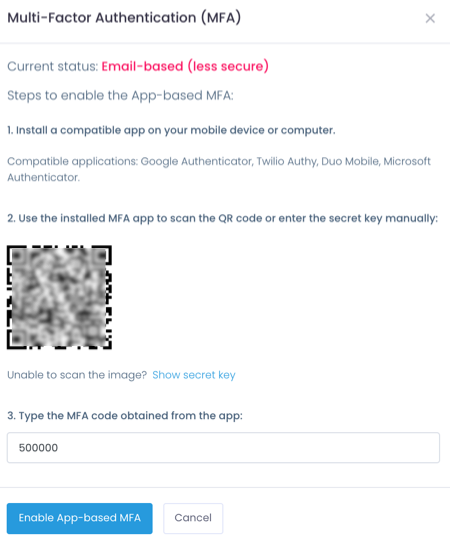 Learn More About Security
To learn more about security controls and ways to protect your data, see Security.