Review and Approve Updates
Enforce patch management policies, identify missing updates and approve relevant patches, and orchestrate distribution to multiple managed endpoints at once with a robust patch management system designed by Action1. The tool streamlines the patch management process and ensures important Windows KBs won't fall through the cracks. 
Tip: Make sure you connected your endpoints to Action1 Cloud. Check out the Endpoints dashboard to see your networked workstations and servers.

Identify Missing Updates
Navigate to the Update Approval page to get a complete list of pending updates. Besides Windows KBs, it includes patches and updates to third-party software installed on your managed endpoints. For each pending update, Action1 shows its severity, version, release date, vendor, as well as the number of outdated endpoints. You can filter updates by severity and status to find important updates faster.
Expand the entry and select Show next to Endpoints to see the names of computers awaiting this update.
Tip: If you are interested in Windows KBs only, navigate to Built-in Reports / Windows Updates reports and drill down to  Missing Updates or Missing Critical Updates.
Approve Updates
 Whenever you review updates and decide on deployment, mark the updates Approved or Declined. The statuses help you distinguish updates and manage them more efficiently.

Tip: You can find Missing Updates and run Deploy Update on the Endpoints page or on the endpoint group pages.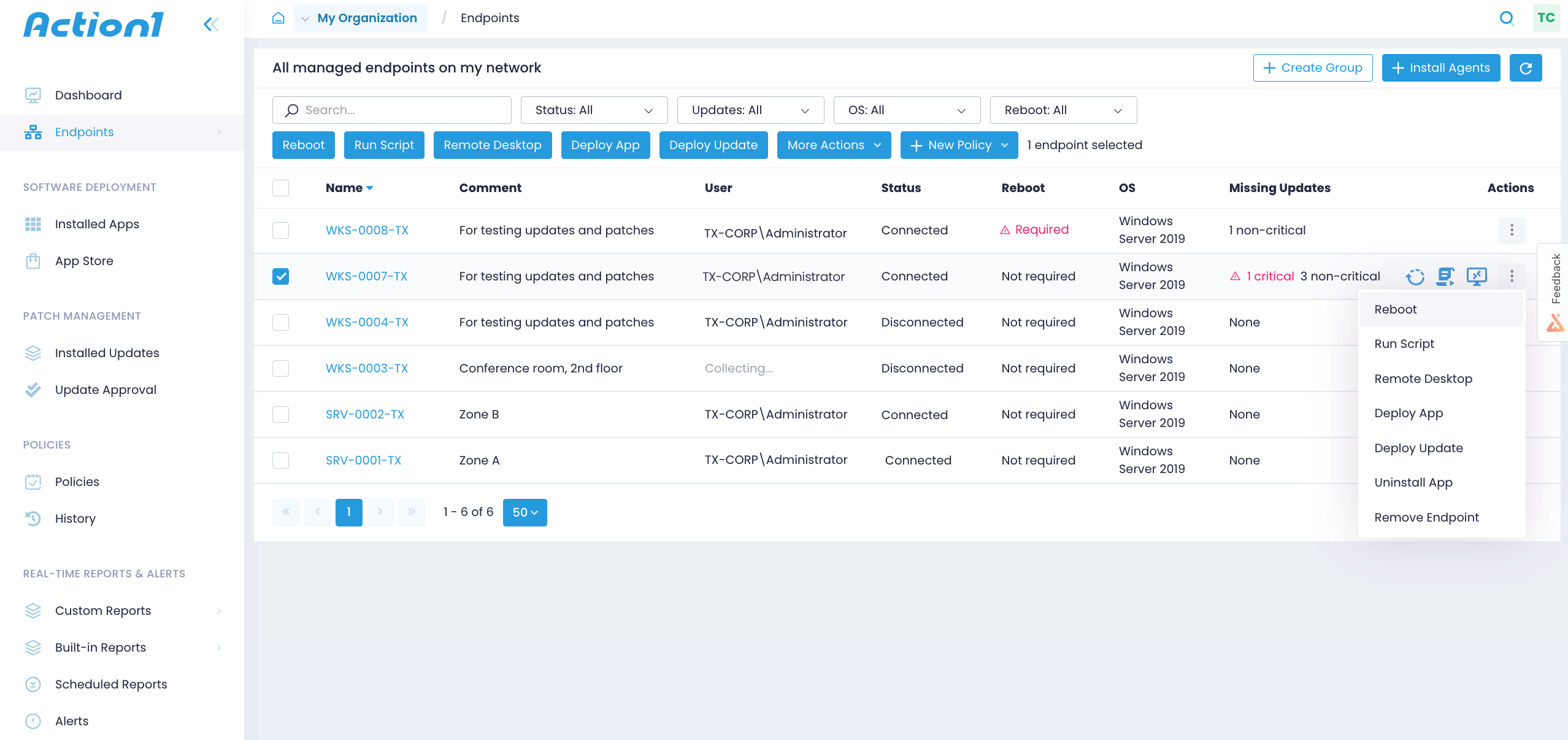 Review Installed Updates
To instantly review installed updates and patches, navigate to the Installed Updates dashboard in the Patch Management section. For more information on how to create more detailed reports, see the Installed Updates and Reports article.