Getting Started with Action1
Follow these steps to set Action1 RMM up&running in less than five minutes. This tutorial will be helpful for new users as well as evaluators assessing Action1 remote monitoring and management platform. You are advised to repeat steps in the order they are provided or you can just follow along to get acquainted with Action1.
Step 1. Sign up and Create Action1 Account
1. Select the Sign up link in the upper-right corner.
2. Provide your corporate email.
3. Submit a verification code sent to your email and provide more details about you.
4. Log in to Action1 console.
The outcome of this step: We'll create your Action1 account for you. 
What does it mean? You can start using Action1. First 100 endpoints are always free. You'll pay only for the endpoints that exceed 100 quota.
Step 2. Explore Action1 Console and Add Endpoints
The dashboard is your starting point. Here you can see all the necessary tools in quick access. For example, review installed apps, approve and roll out patches, assess your hardware and software inventories, set up alerts, create policies, and so much more.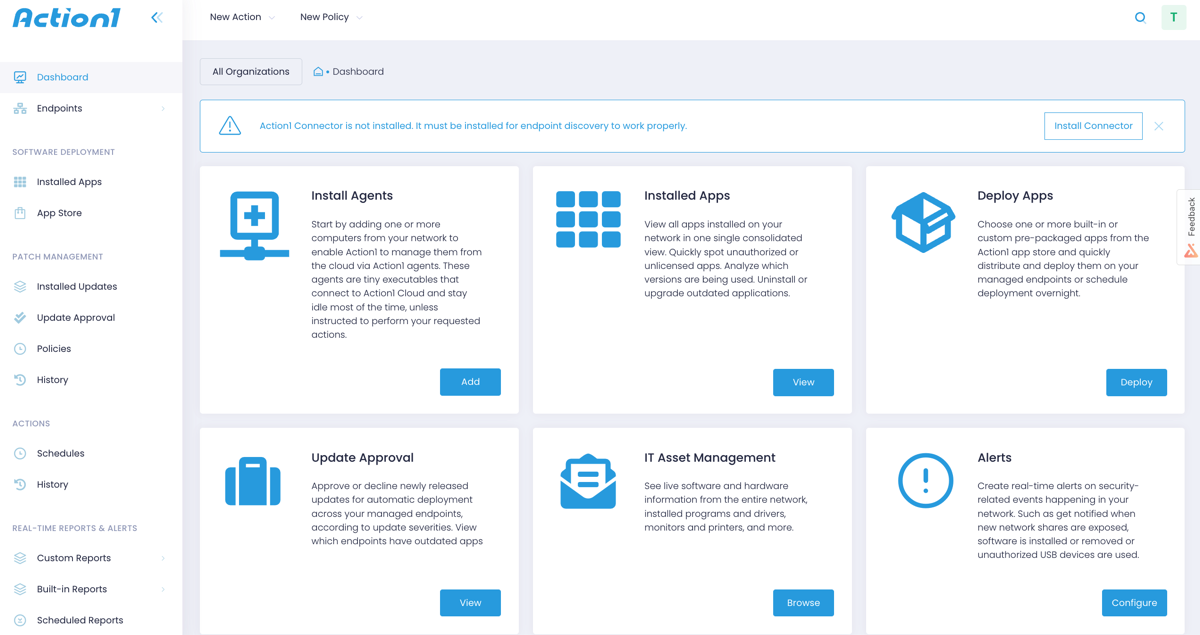 Before you can really start managing your endpoints, let's connect them to Action1 Cloud.
How to Configure Action1 Connector
1. On top of the page, select Install Connector. Action1 Connector helps you automatically discover endpoints and add them to Action1.
2. Download. Download Action1 Connector. Please wait for the download to finish and then proceed to the next step.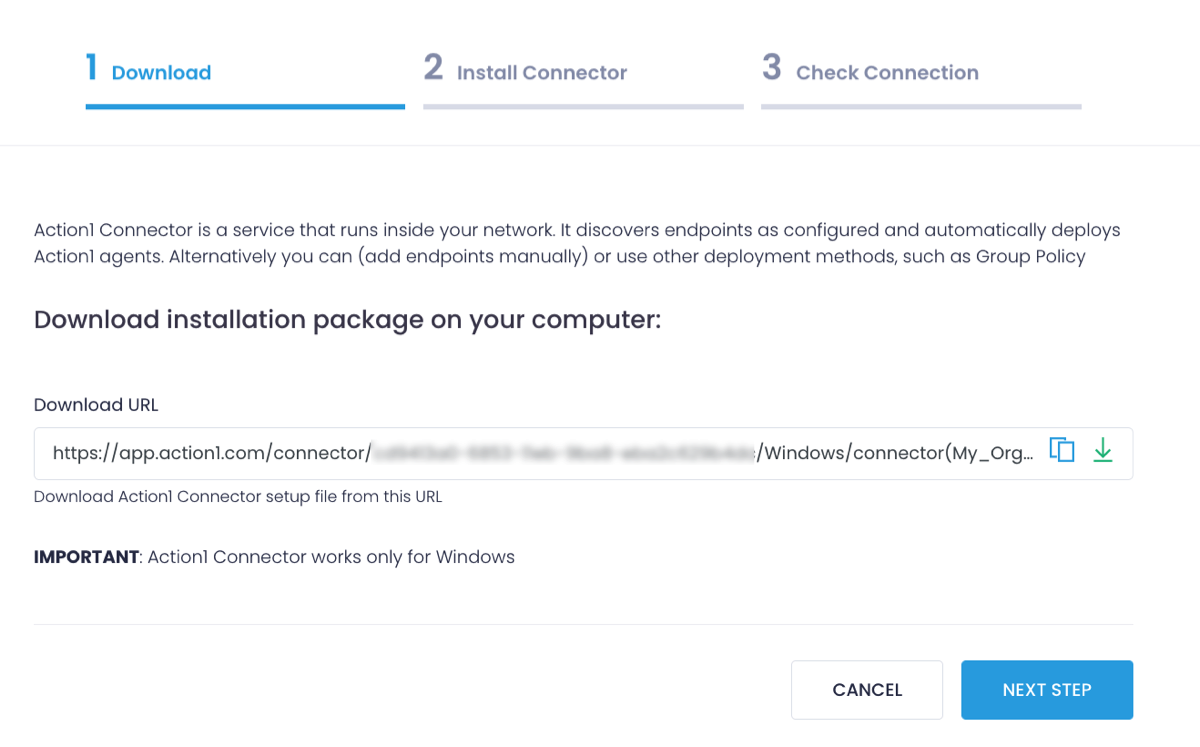 3. Install Connector. Navigate to the folder with your downloads and start the installation. Right-click the package and select Run as administrator. As you proceed with installation, you'll be prompted to enter credentials. The account you specify should be a local administrator on the managed endpoints as well as have the 'Logon as a service' permission.

4. Check Connection. Please wait for Action1 to verify connection before clicking Finish.
Discover Endpoints
Once you install Action1 Connector, configure discovery rules. Based on these rules, Action1 will search for endpoints within your network and connect them to Action1 Cloud.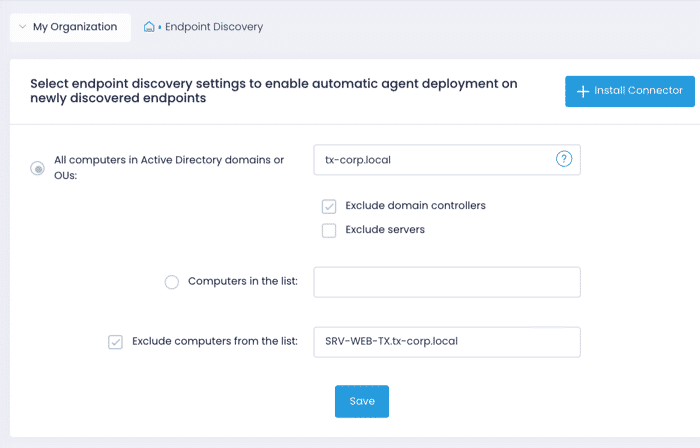 You'll see all discovered endpoints on the Endpoints page. There you'll see your workstations and servers, with the operating system, number of critical issues, and connection status for each endpoint. Check out quick actions that available for you. For example, you can instantly view missing updates, deploy an app, establish a remote connection, or run a PowerShell script. As a next step, you can organize endpoints in groups.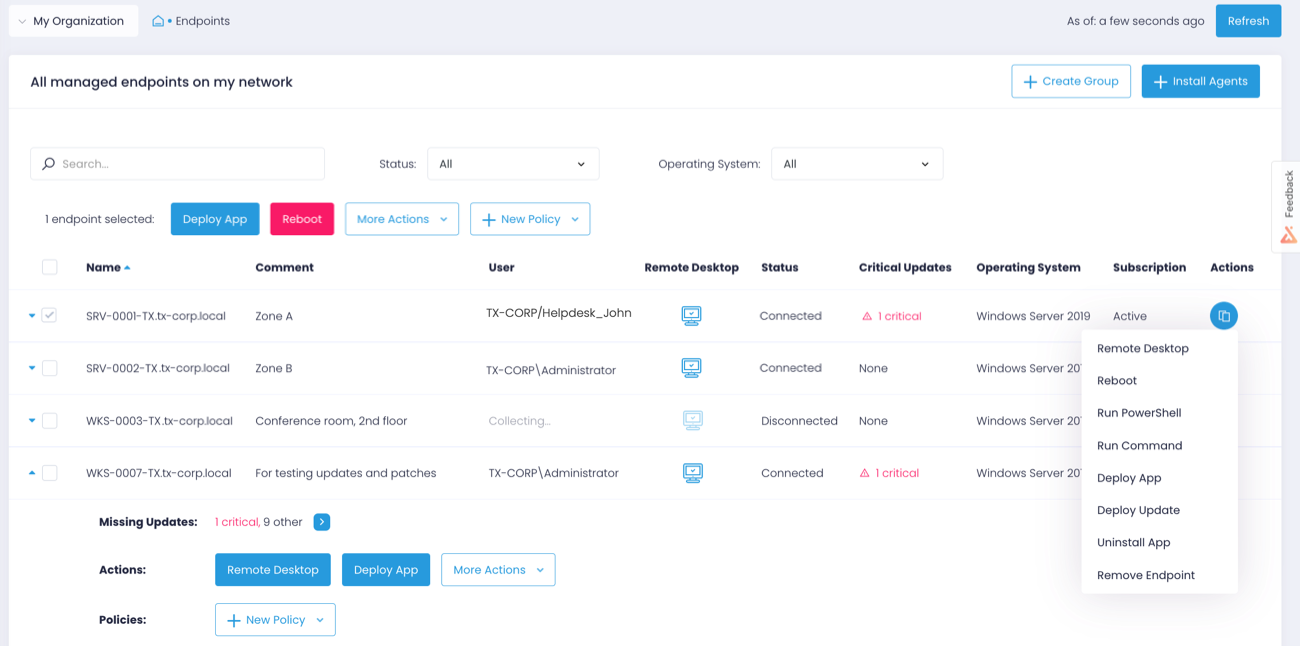 The outcome of this step: Action1 is now up&running. You have configured Action1 Connector to discover your managed endpoints.
What does it mean? Now, you've got everything ready to start managing your networked workstations and servers.
Step 3. Review Installed Apps
Navigate to the Installed Apps page. You'll see a complete list of software installed deployed on your machines. On top of that, you'll get valuable information about the versions and missing updates.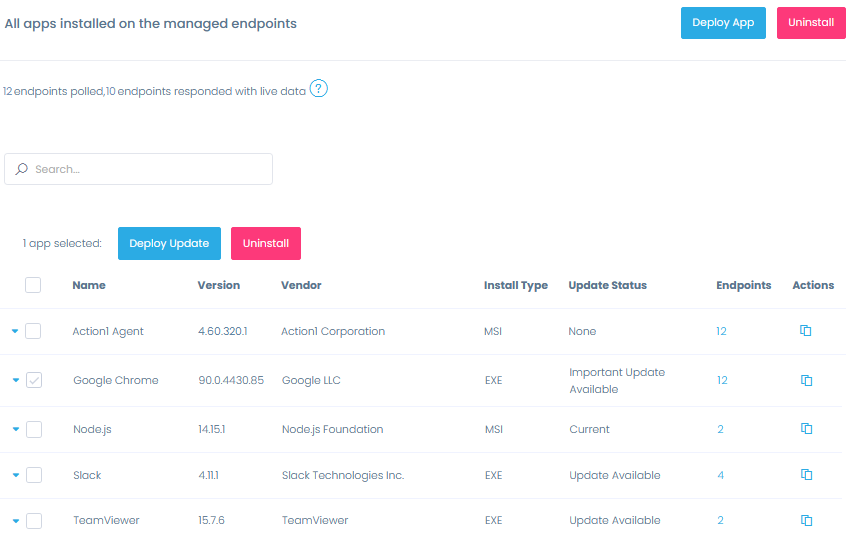 Step 4. Approve Patches and Create Patch Management Policy
Go the Update Approval page to see endpoints that need your attention. On this page, you'll see pending patches. Right on this page, you can approve or decline patches and push them to your endpoints. Let's roll out a Windows update. In Actions, select Install Now.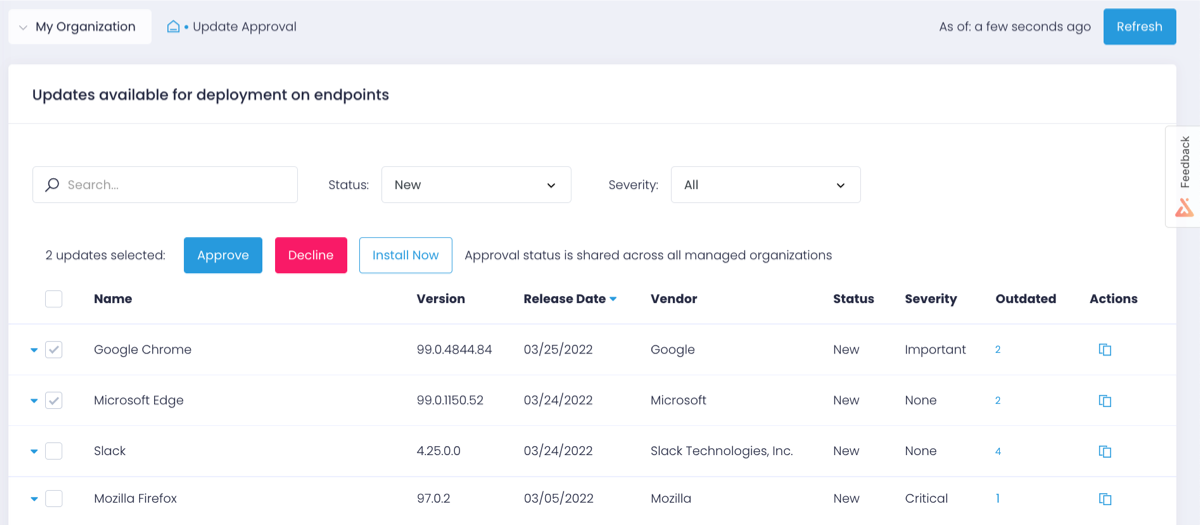 To ensure the updates are delivered automatically, set up a patch management policy. Follow the New Policy link on top of the page or navigate to the Policies page.
Step 5. Browse Reports
Action1 comes with dozens of reports that can help you create detailed IT asset inventory, manage endpoint configurations, and enforce security.
Note: This tutorial does not cover all Action1 functionality but rather gives you a short overview to help you get started faster.