Third-Party Software Patch Management
Action1 streamlines 3rd party patching and enables you to trace updates to non-Microsoft apps and distribute them from a centralized cloud dashboard without delays. Sign up with no credit card to use Action1 third-party software patching tools for free on up to 100 endpoints without an expiration date.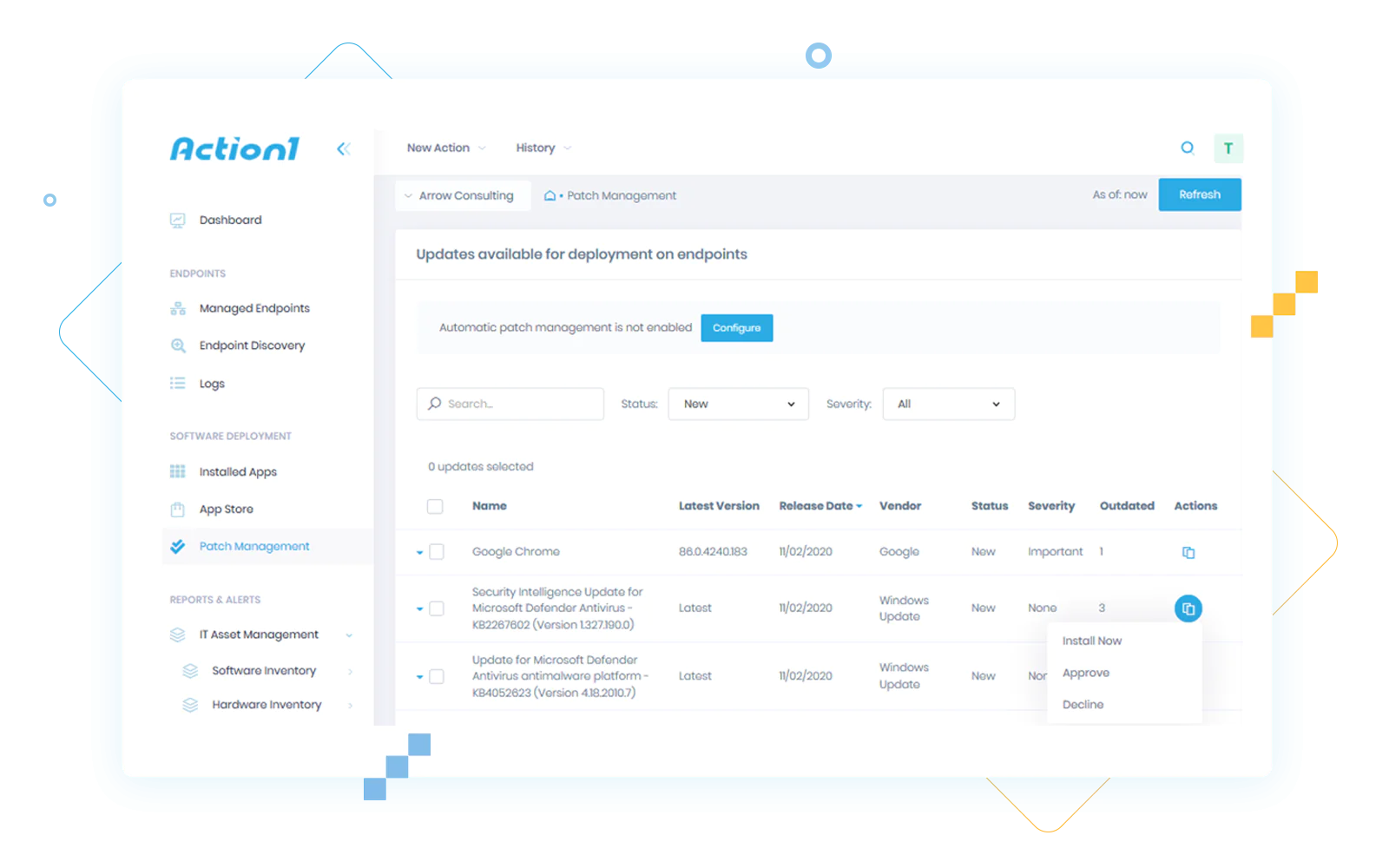 "Infrastructure and operations leaders can improve efficiency and security by taking a modern approach to patching Windows and third-party applications."

"Your organization should be reducing the time that it takes to patch software and operating systems, as monthly patch cycles don't address how quickly attackers are moving and the remote nature of work."

"Action1 helps to discover, prioritize, and remediate vulnerabilities in a single solution to prevent security breaches and ransomware attacks. It automates patching of third-party software and operating systems, ensuring continuous patch compliance and remediation of security vulnerabilities before they are exploited."
Benefits of Third-Party Patching with Action1: 
Access to Action1 App Store with most commonly used apps
Action1 tests and publishes updates shortly after vendors release them.
Ability to add custom apps
Centralized and automated update distribution
Business infrastructure expands way beyond Windows OS and other Microsoft tools. Tools like web browsers, graphic editors, file managers, and communication apps are utilized daily and require as much maintenance as Microsoft services. While regular and consistent patching is a recognized best practice in IT governance, setting up a third-party application patch management strategy faces the following impediments:
Difficulty tracking updates. Unlike Microsoft that provides the Windows Update system and sticks to a reliable release schedule (so-called Patch Tuesday), third-party app vendors don't have a unified schedule that makes patching rather hectic.
Inability to automate patch deployment. Relying on manual or semi-manual review and installation is common when it comes to managing software outside the Microsoft ecosystem.
Time-consuming. Hardly any system administrator has time to keep tabs on recent updates, meticulously assess them, and install without any delays. Sometimes it takes days to discover and deliver critical vulnerability fixes.
Running into compatibility issues. Depending on the OS and configuration, target computers can require different versions of the same app. It's almost impossible to foresee and overcome compatibility issues when updates aren't properly reviewed and inventoried.
Action1 App Store
Action1 App Store is a one-stop third-party app manager that enables you to deliver software to multiple managed endpoints. There is no need to maintain an on-premises app library — the App Store provides access to more than 30 popular business tools from a centralized cloud dashboard. Save the hassle of visiting vendors' websites and checking the latest versions. The apps in Action1 App Store are always up-to-date and don't need immediate patching. New stable versions are usually available in the App Store within a couple of days after release. For each application, Action1 maintains the version history and enables you to see all available versions with their release dates and severity status.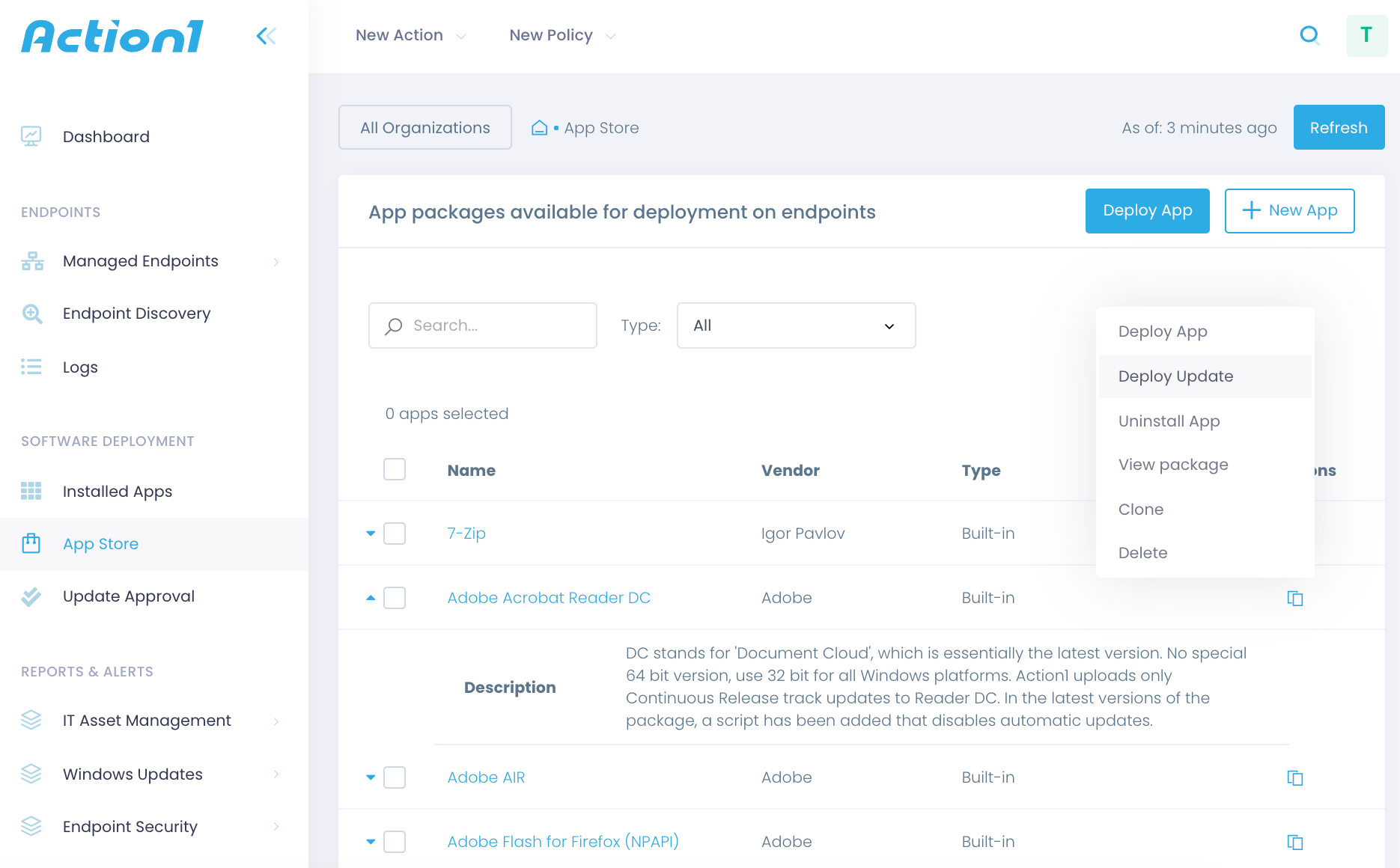 In addition to the apps you have access to out-of-the-box, you can upload as many apps as you need to your private App Store storage. Within a custom app package, you can also keep multiple versions to avoid compatibility issues and cater to all endpoint requirements. Although custom app packages operate in a semi-automatic mode—you still have to upload new versions manually—you can leverage Action1 tools to deliver custom apps to multiple endpoints just as those maintained by Action1. Pick an app and select Deploy Update, specify your target endpoints, and schedule a rollout when it works for you.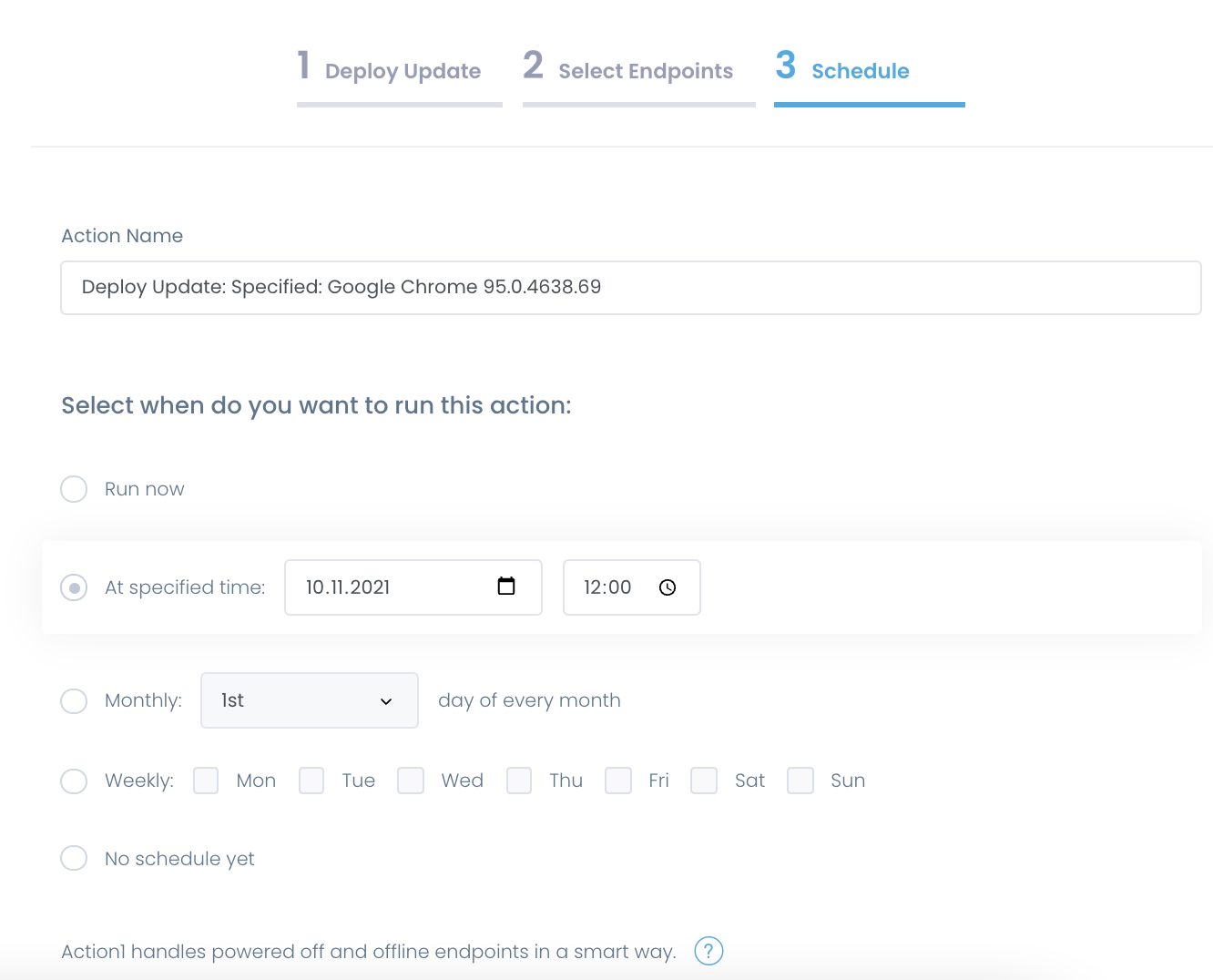 Discovering Third-Party Apps that Need Patching
Action1 scans your network in seconds and provides a precise snapshot of software inventory. On the Installed Apps dashboard, you'll see all deployed apps, with versions and the number of endpoints. The report indicates if there are any pending updates. New versions and patches can be instantly scheduled for delivery thus releasing the stress of 3rd party software patch management.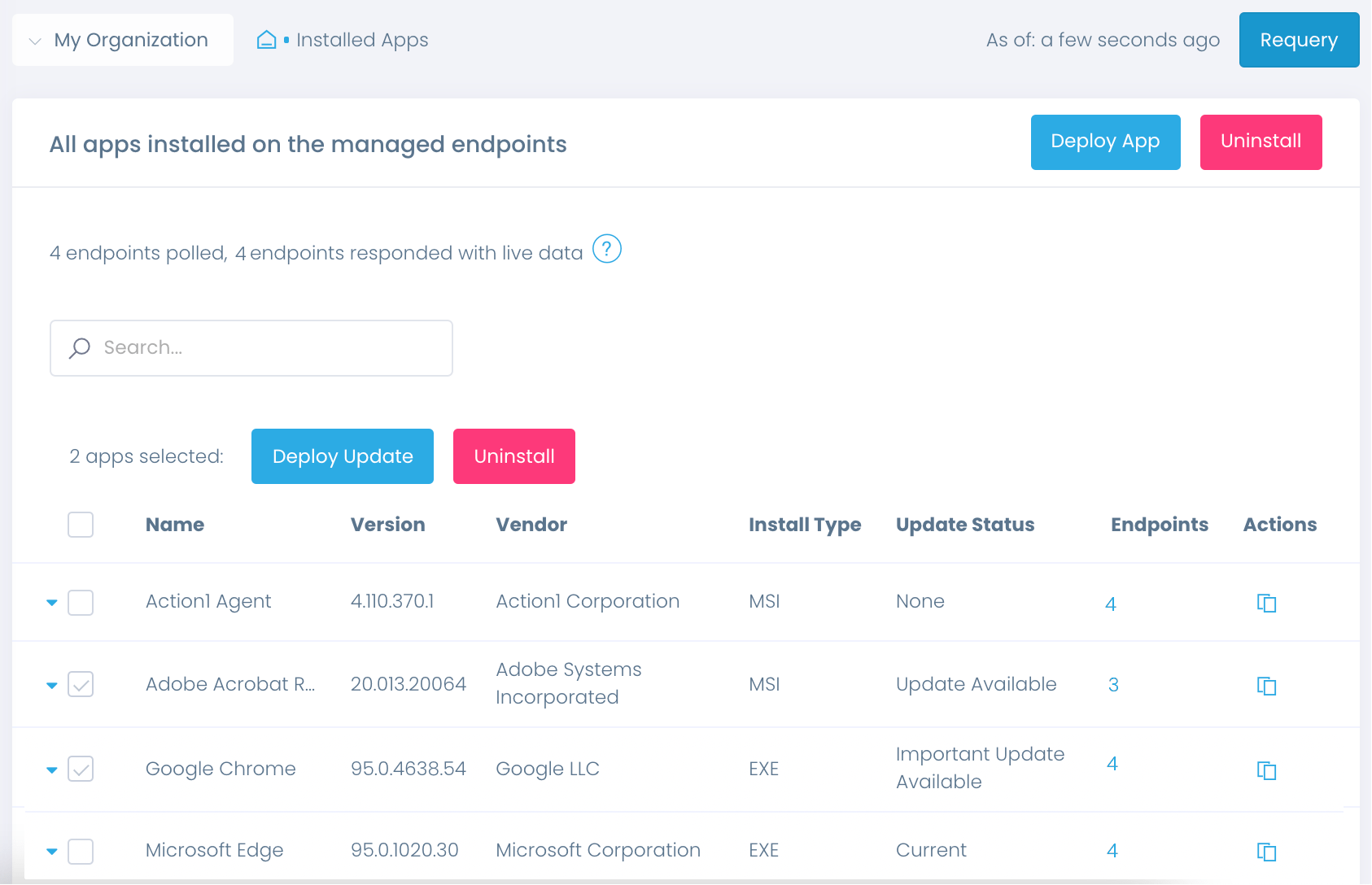 With Action1, we are able to support, manage and patch our endpoints no matter where we are, via any device that has a browser. It is a brilliant product that helps us achieve all we wanted in a very cost-effective way.
Barry Carmichael
System Administrator at Tamborine Mountain College
Risk-based Patch Management
Discover, prioritize and remediate vulnerabilities in a single solution
to prevent security breaches and ransomware attacks.
Setup in minutes to reduce your cyber risks and costs: