Licensing: Free or Subscription?
Is Action1 free?
From the get-go, the Action1 platform is free for organizations with up to 100 endpoints. The free subscription never expires and provides access to all remote support tools available within Action1 solution. For more information, see Free Edition.
What Happens If I Exceed My Quota?
Once you reach the 100 endpoints quota, all new endpoints you add will have the "Unlicensed" status on Endpoints page and Action1 will be unable to pull data from them. In this case, you can either remove some of the connected endpoints to keep their total number under 100 or start paying for excess endpoints.
How Do I Check My License?
To see how many endpoints are currently in use and check your license plan, navigate to the Subscription page. Please note that the number of endpoints is calculated for the entire Action1 account and not per organization.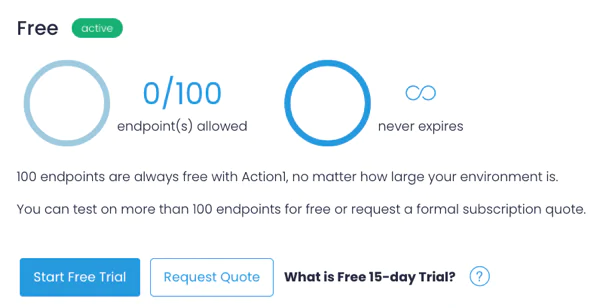 How to Extend My License?
To extend your license and convert to paid subscription, select Request Quote and then complete a small questionnaire. Action1 representative will contact you shortly. New users can opt-in for a free 15-day trial. Please note that you will be paying only for excess endpoints, first 100 endpoints are always free.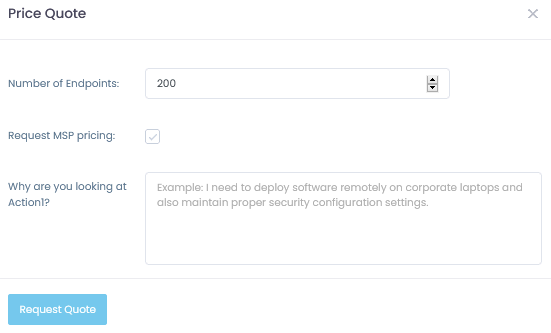 How Can I See the Number of Endpoints per Organization?
To see the number of managed endpoints with the per-organization breakdown, select the Subscription Usage link on the Subscription page. With this page, you can gain better understanding of resource distribution and make informed decisions on how to organize your workflow more efficiently in regards to licensing.