Licensing: Free or Subscription?
What Are the Licensing Options?
You can opt-in for the Free edition or choose a paid subscription. The Free edition is limited to 50 endpoints. Still, it provides access to the same functionality as the paid subscription and does not expire.
For both free edition and paid subscription, we offer 8×5 technical support and updates, including the development of new custom queries and alerts at the discretion of Action1 product management. For more information, see Free Edition.
What Happens If I Exceed My Quota?
If you are a Free Edition user, you are limited to 50 managed endpoints. All new endpoints you add will have the "Unlicensed" status on Managed Endpoints page and Action1 will be unable to pull data from them.
To activate these endpoints, you should either convert to a paid plan or remove some of your currently connected endpoints to keep their total number under 50.
How Do I Check My License?
To see how many endpoints are currently in use and check your license plan, navigate to the Subscription page. Please note that the number of endpoints is calculated for the entire Action1 account and not per organization.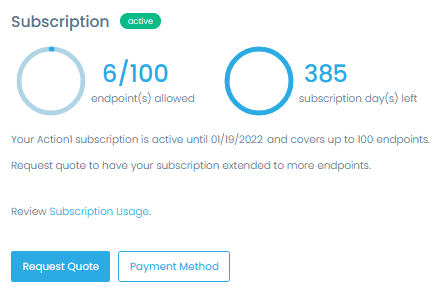 How to Extend My License?

To extend your license and convert to paid subscription, select Request Quote and then complete a small questionnaire. Action1 representative will contact you shortly.