Scheduled Reports & Alerts
In addition to pulling data from live endpoints, Action1 enables you to automate some of your administration and management routines. For example, you can generate reports, or monitor specific events and get notified about them as soon as they occur.
Scheduled Reports
Scheduled Reports or subscriptions give you the ability to run reports regularly and get results automatically via email at pre-determined intervals. For example, you can schedule to receive a list of computers missing security patches every week.
To subscribe to a report, go to the Scheduled Reports page. On this page, you'll typically see all your pending reports. Select new subscription and type your query in simple English. For example, type "installed software", "peripheral devices" or "running processes". Action1 will suggest reports for you. Define the schedule and recipients.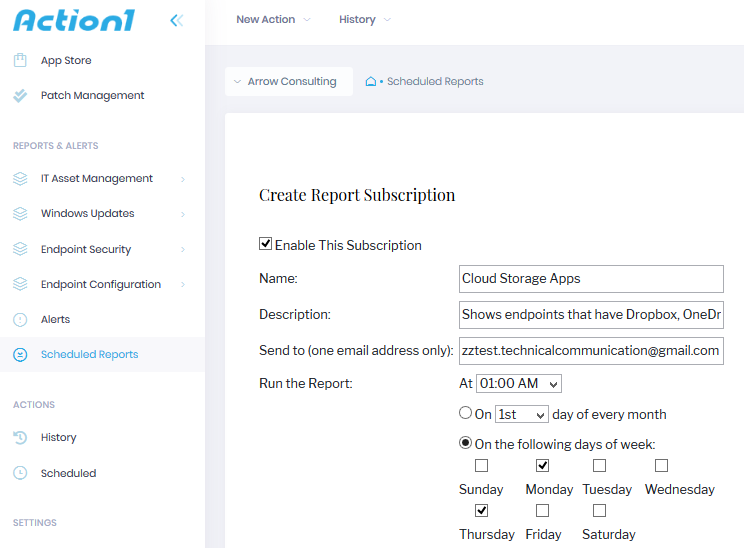 Alerts
Alerts allow you to receive instant email notifications when something important happens, such as a new software package is installed or a network share is opened by a user. Alert rules are created based on queries. Most predefined reports can be configured as alerts, with certain limitations. To create a new alert rule, navigate to Alerts and follow the "new alert rule" link. Browse the report and create an alert based on it. If the report you search for is not available in the list, it means alerting is not supported for it at the moment.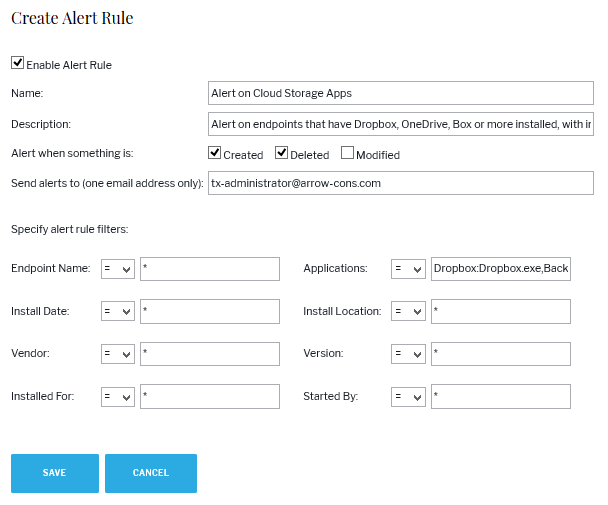 You can create alert rules based on existing queries. If you can't find a suitable query to convert to an alert that you need, please let us know and we'll try to do our best to add it quickly and at no charge to you.