Scheduled Reports & Alerts
In addition to pulling data from live endpoints, Action1 enables you to automate some of your administration and management routines. For example, you can generate reports, or monitor specific events and get notified about them as soon as they occur. Navigate to Real-Time Reports & Alerts / Built-in Reports to see a list of reports Action1 provides out of the box. 
IT Asset Management reports
Software Inventory:
Installed Software
Cloud Storage Apps
Instant Messengers
Web Browsers
MS Outlook Versions
Windows Drivers
Hardware Inventory:
Hardware Summary
Processors
HW Manufacturers
Physical Memory
Motherboards
Firmware
Installed Printers
Disk Drives
SCSI Controllers
Monitors
Sound Devices
Managed Endpoints
Windows Updates reports
Missing Updates
Missing Critical Updates
Installed Updates
Reboot Required
Hotfixes
Update History
Update Statistic
Endpoint Security reports
Users and Groups:
Local User Accounts
Local Groups
Group Membership
Logon Statistics
Logged On Users
Profiles by User
Profiles by Computer
USB Devices:
USB Disk Usage
SD Card Usage
Network:
Open Network Shares
Open Hidden Shares
Antivirus Status
Endpoint Configuration reports
General:
OS Information
OS Install Dates
Boot Configurations
Environment Varibales
Windows Event Logs
Computer AD Domains
Computer Time Zone
Local Time
Applied GPO (RSoP)
Network Connections:
To TCP/IP Addresses
To Internet Domains
Network Settings:
Routing Tables
Network Adapters
Remote Task Manager:
Running Processes
Startup Programs
Windows Services
Process/Memory Stats
Disk and Partitions:
Logical Disks
Disks w/o BitLocker
Disk Volumes
Low Disk Space
Disk Partitions
NTFS Disk Quotas
Bitlocker Key
Scheduled Reports
Scheduled Reports or subscriptions give you the ability to run reports regularly and get results automatically via email at pre-determined intervals. For example, you can schedule to receive a list of computers missing security patches every week.
To subscribe to a report, select Tools / Subscribe. Alternatively, go to the Scheduled Reports page. On this page, you'll see your active subscriptions. Select new subscription and type your query in simple English. For example, type "installed software", "missing updates" or "running processes". Action1 will suggest reports for you. Define the schedule and recipients, for example send reports every Monday at 10 am to the IT security manager.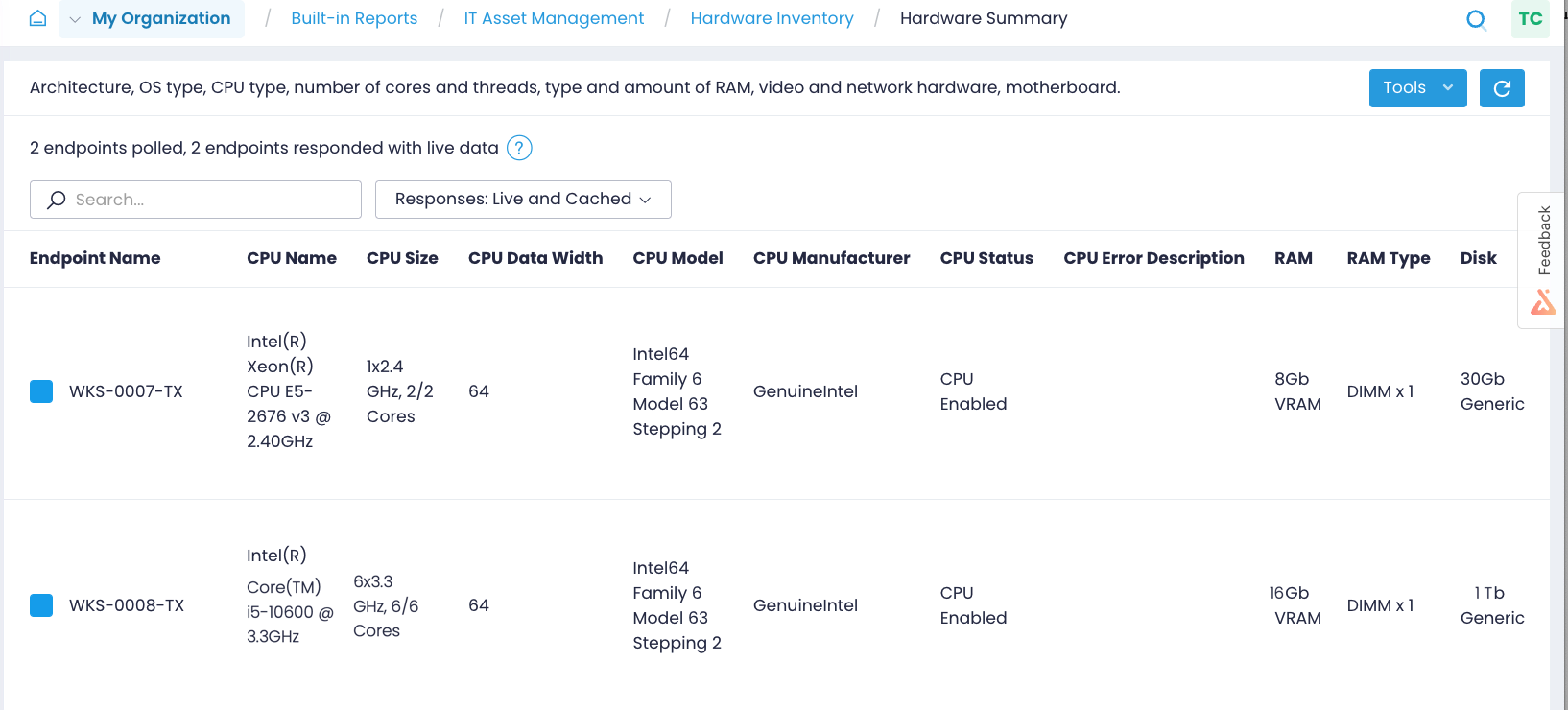 Alerts
Alerts allow you to receive instant email notifications when something important happens, such as a new software package is installed or a network share is opened by a user. Alert rules are created based on queries. Most predefined reports can be configured as alerts, with certain limitations.
To create a new alert rule based on the report, select Tools / Create Alert. Alternatively, navigate to Real-Time Reports & Alerts / Alerts and follow the "new alert rule" link. Input the report name and create an alert based on it. If the report you search for is not available in the list, it means alerting is not supported for it at the moment.
Specify changes to trigger an alert (created, deleted, modified), recipients, and add additional filters and logic that make alerting more precise. For example, you can configure Action1 to send you an alert whenever someone tries to install the Skype instant messenger on a production server.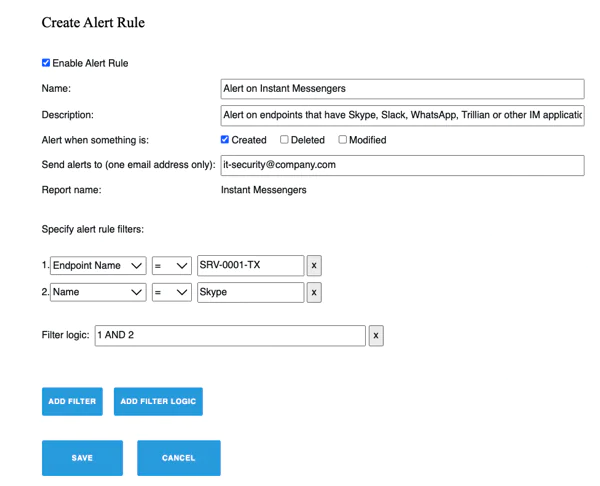 You can create alert rules based on existing queries. If you can't find a suitable query to convert to an alert that you need, please let us know, and we'll try to do our best to add it quickly and at no charge to you.