How-to Guide: Deploy Software to Remotely with Action1
How to Deploy Software to Remotely
What does deploying a computer mean in a world where most employees are remote and work from home? Back in the office days, IT departments would take care of a workspace for a new employee, set up all the necessary apps, configure permissions, mount the appliances, and connect the workstation to a corporate LAN. In our new reality, businesses still need to onboard employees and set up workspaces. This time most employees aren't at their desks, devices are remote, and not even bound to a corporate domain.
With Action1 risk-based patch management tool, IT administrators and helpdesk personnel can assist distributed teams anywhere in the world. It streamlines the application deployment process and helps roll out patches and updates to multiple computers at once. Action1 brings visibility and control to the endpoint management and provides an easy way to configure and manage remote devices almost in a traditional, in-office manner.
Types of Software Deployment: Then and Now
In a corporate world, Windows-based apps are distributed as MSI and EXE packages. In some industries, employees have access to shared app storage and can deploy software on their own. In more regulated fields, IT support teams have to take care of all app deployment procedures. Depending on the company size, they deliver programs to hundreds or thousands of computers. This is impossible without some sort of automation.
The first idea that comes to mind is to deploy software via Group Policy. In this case, you create an installation policy and assign it to a proper security group. With the next computer restart, the group policy will force deploy the distribution file. Administrators often use complicated PowerShell scripts to orchestrate computer restarts and check that the apps were installed correctly. This method works fine as long as all your managed workstations are a part of a domain.
This is no longer an option for most small businesses and enterprises that rely on a 100% remote or hybrid workforce. Remote monitoring and management tools come into play. Action1 allows deploying software from a centralized App Store and scheduling app update delivery. You can control how deployment works on every step: from the moment you upload a new package to the App Store to the final computer restart after uninstalling obsolete and redundant software. In this article, you'll learn about software deployment steps and the advantages of installing software with Action1.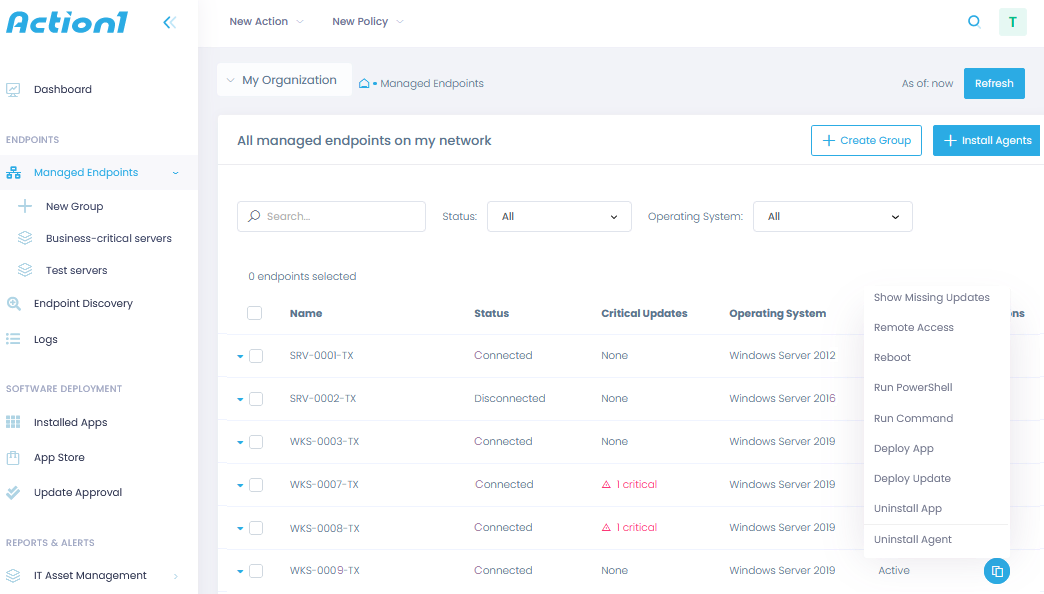 Deploying Software with Action1
The Managed Endpoints page is a hallway to most Action1 features, including remote software deployment and remote desktop. An IT administrator can review and pick the right workstations and servers to roll out the apps on. You always go the other way around and start from the integrated App Store. It is a curated cloud-based library with commonly used office applications. The list of apps keeps expanding, updates appear in the App Store within two or three days after a new stable version is released. The ability to upload custom packages to private storage is handy for MSPs and enterprises that rely on proprietary or industry-specific tools that aren't available in the Action1 App Store out of the box.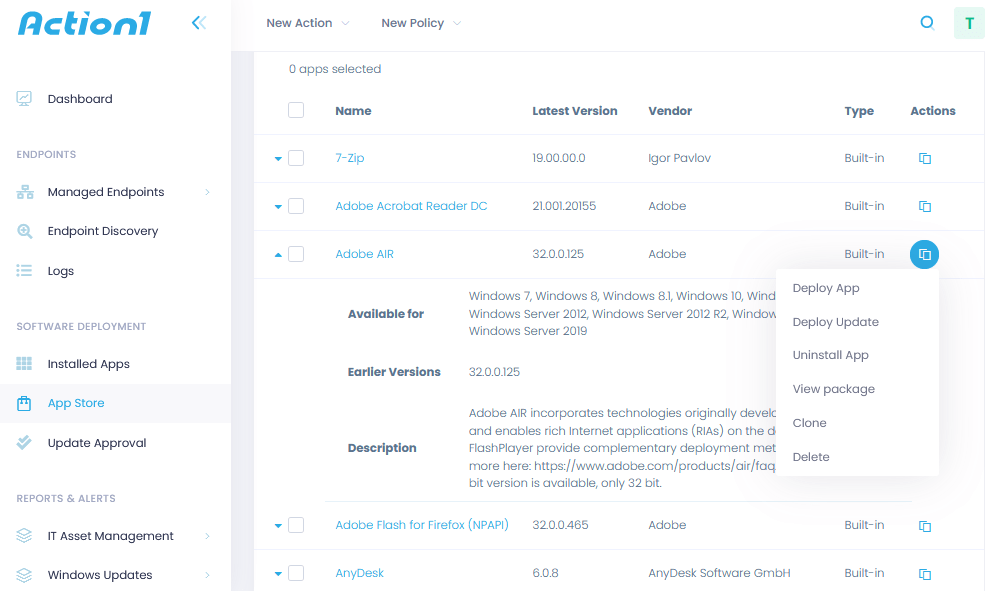 Step 1
To speed up the software deployment process and reduce the downtime, Action1 allows installing apps alongside each other — start with a single app and then add more packages on the go. Configure common reboot options for all pending installations to ensure minimal user distraction.
Step 2
As a next step, specify workstations to distribute the packages to. Small businesses tend to run the installation on all available endpoints simultaneously while bigger companies and managed service providers prefer to deliver software and updates in chunks. For example, to test servers first and then company-wide, or department by department. Action1 enables you to organize your assets into endpoint groups and be as flexible as you need, even when you want to specify computers one by one.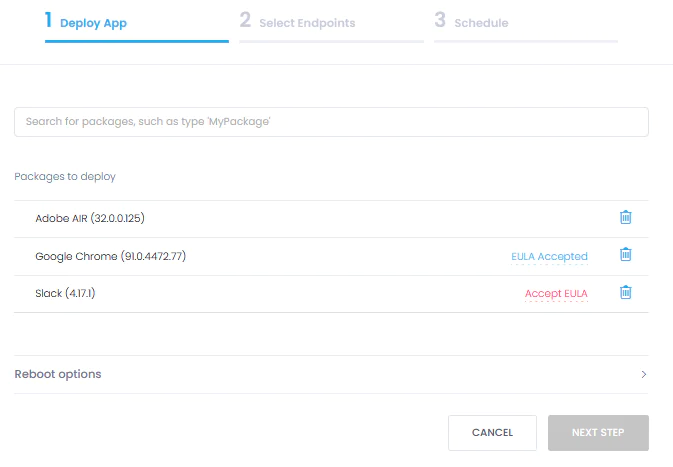 Step 3
Scheduling software delivery is a final step. It's up to you whether you want to execute it immediately, postpone it until the next convenient time slot, or repeat it every week. Action1 provides complete control over your deployment anyway. You can find details about upcoming and unscheduled deployments on the Actions / Scheduled page and see execution results on the Actions / History page.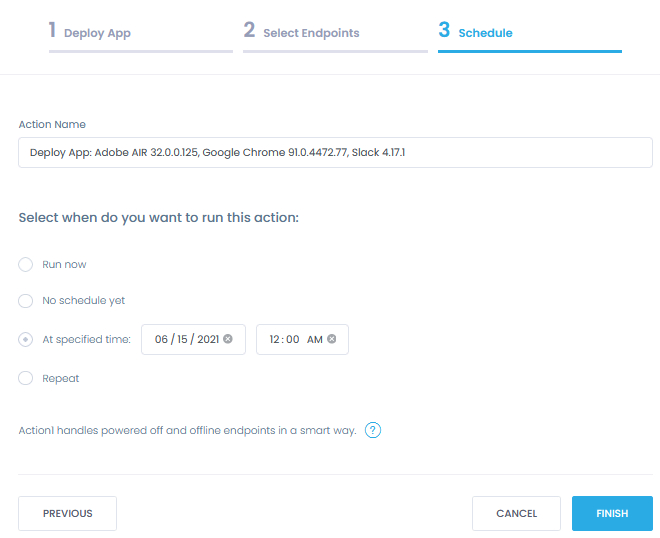 Streamlining Computer Management with Action1
The meaning of deployment in software management shouldn't be underrated. With no physical access to managed endpoints and limited IT administrative personnel, keeping up with recent app updates and maintaining remote employee desktops can be quite a challenge. Action1 facilitates software deployment and turns into a pain-free and accountable process that doesn't require advanced technical skills or supervision. Sign up now to use the entire Action1 functionality for free on up to 100 endpoints.
Action1 gave me — the only person in the tech office who has to wear multiple hats — tons of capabilities to manage those endpoints. I feel better now since I know that our machines are much more secure as a result of utilizing this platform.
Lenny Libitz
Chief Technology Officer, South Bound Brook School District

Risk-based Patch Management
Discover, prioritize and remediate vulnerabilities in a single solution
to prevent security breaches and ransomware attacks.
Setup in minutes to reduce your cyber risks and costs: