Hardware Inventory Management System
Keeping your business battle-ready today requires complete, accurate, and reliable hardware and software inventory management. Action1 RMM delivers all the capabilities you need to achieve comprehensive IT hardware and software inventory management:
 Automatically discover and inventory IT assets in real time.
 Easily manage configuration changes.
 Gain detailed insight into IT assets lifecycles and manage them effectively.
 Achieve full control and visibility with real-time alerts and audit reports.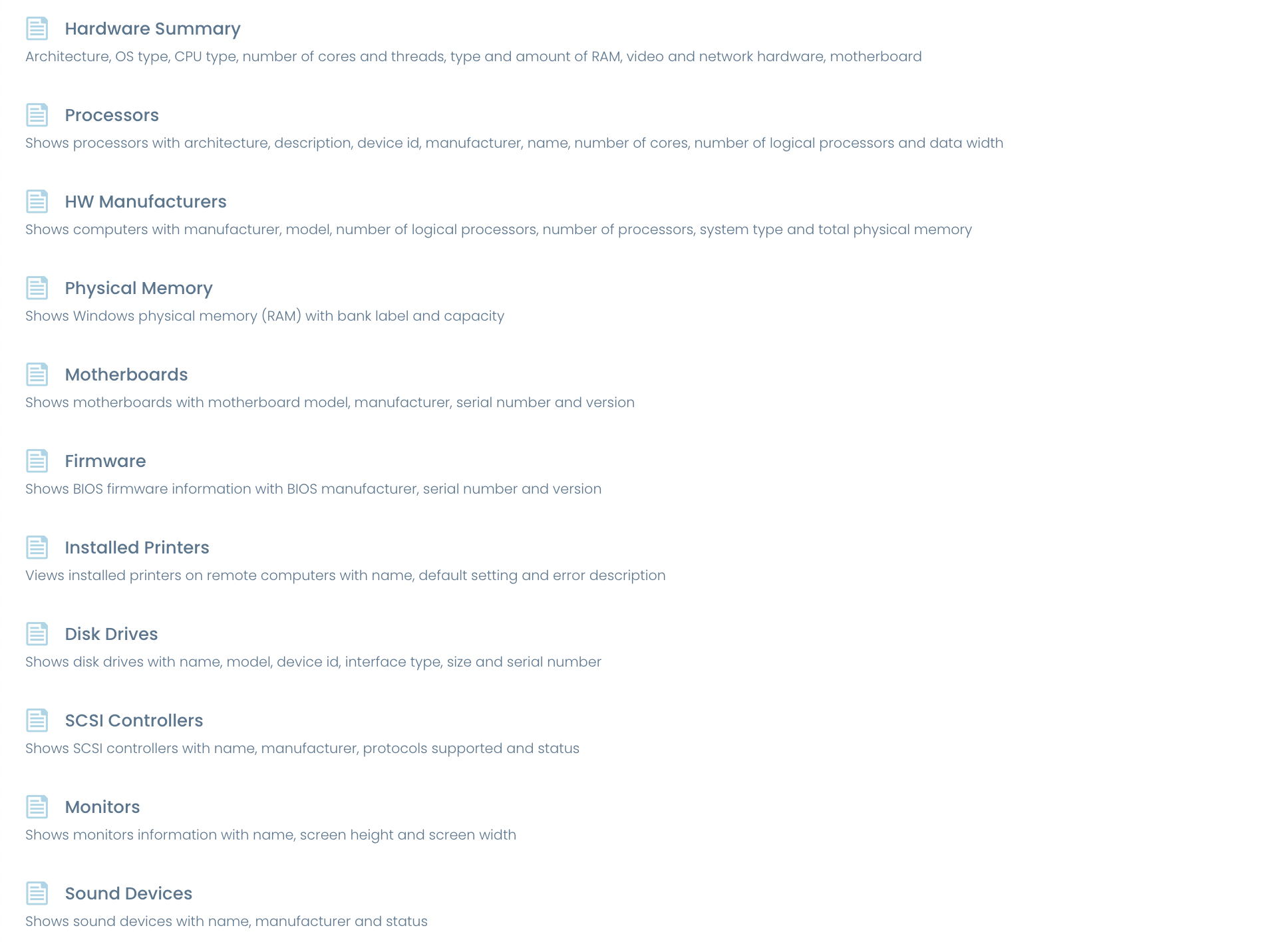 Benefits of Action1 Hardware Inventory Tool
Ease and Reliability through Automation
Automatically discover devices and get immediate, hands-off data on all IT hardware.
Swiftly assess the status of each piece of hardware and strategize updates, maintenance, and replacement on an ongoing basis.
Minimize downtime by eliminating unreliable and inefficient manual processes.
Provide a better experience to your teams with processes and hardware they can truly rely on.
Complete IT Asset Lifecycle Management
Get all the details you need to ensure that each device is functioning at its best. Use the insights to generate service desk tickets for maintenance, repair, and replacement work and to support end-to-end efficiency across your entire device landscape. The Action1 hardware inventory system is designed to be comprehensive, so it will remain your go-to solution even as your business needs change.
Comprehensive Insight and Understanding
Gain a full picture of your IT infrastructure and your hardware inventory by using our RESTful API to integrate Action1 IT hardware asset management software with your current service desk and other solutions. Feed data directly into these tools to achieve a snapshot of your hardware infrastructure in real time. This visibility supports you as you identify areas for development and investment, facilitating a long-term view of your hardware inventory as it evolves and scales.
Intuitive Cloud Dashboard
Action1 RMM's cloud-based architecture enables you to manage remote endpoints and hardware inventory from virtually anywhere in the world directly from your web browser. Support remote employees and manage remote office hardware infrastructure without a single on-site visit. Connect the managed devices to your network by installing the Action1 agent and no longer rely on the corporate LAN connectivity.
Try Comprehensive Hardware Inventory Management
Get started with Action1's IT asset inventory system to gain the comprehensive, data-driven insight you need to control your corporate hardware inventory.
Sign up for your 2-week free trial, or use the solution free for up to 50 endpoints forever, with unlimited features and functionality.
Hardware and Device Inventory Management: Frequently Asked Questions
What is device inventory management?
Device inventory management is the monitoring and management of all of the hardware devices on your system. It includes keeping on top of device usage and status to help plan business strategy and budgets.
Action1's solution is designed to be far more than a bare desktop inventory tool, however. It delivers actionable insight in real time so that you can promptly take steps to keep all of your devices and hardware running in the right way.
Why do businesses need a system inventory tool?
Without the insight and data provided by a hardware inventory program, it is difficult to optimize your infrastructure in the short term and nearly impossible to do so for the long term. Devices need to be monitored and maintained throughout their operational lifecycle, and then retired and replaced. What's more, infrastructure performance needs to be examined in real time so that inefficiencies can be ironed out promptly.
In short, data-driven understanding of IT inventory is essential for a business to scale and grow. Action1's solution delivers this understanding in an accessible and actionable manner.
How does the hardware inventory utility work?
The Action1 IT hardware inventory tool gathers data from linked devices and hardware in real-time. Automated functionality conducts network scans, swiftly identifying devices and bringing them online. The solution then continues to utilize automated scanning and analysis to achieve remote monitoring and management for the long term.
You can set alerts and commission audits on the status of all linked devices. Meanwhile, the automated core of the Action1 platform provides notifications when potential problems are identified, flagging any inefficiencies so that your team can guarantee high levels of performance and effectiveness from your hardware infrastructure.
Does the Action1 desktop inventory software integrate with other solutions?
Because modern organizations rely on multiple business-critical software solutions, it is crucial for hardware inventory management tools to integrate smoothly with these systems.
Action1's hardware inventory tools are designed with this integration in mind. For example, automated network scans are integrated with service desk platforms to generate service tickets. And the solution integrates with enterprise resource planning (ERP) systems to provide wide-ranging insight into business performance.
"Thanks to Action1 RMM, we have improved the productivity of our remote workforce, ensured the security of remote operations and provided the best customer service ever — despite the rapid transformation our company had to undergo due to COVID-19".
Joel Garcia, Chief Technology Officer at AllCode
"Action1 RMM is a great enabler to our business. It streamlines our IT management routine and empowers our technicians to do their job faster and better, ensuring best-in-class service for our customers. With Action1 RMM, I am confident that we can keep our customers' remote devices properly updated and patched, troubleshoot any problem that users experience, and provide high-quality support. Connections are stable and reliable, and we can scale Action1 RMM up as much as we need".
Mario Domeniconi, Chief Technology Officer at Netability
"Action1 RMM has become a game-changer for me. It makes doing my job so much easier — enabling us to manage our endpoints from the cloud, get visibility, install software, deploy patches — and to maintain security as a result. I do not need to visit machines anymore; I can take care of them from anywhere. Plus, it is a cost-effective product that saves us several thousand dollars a year, since we do not have to purchase imaging solutions. It fully meets the needs of our educational institution, and I encourage other school districts to try this software.".
Lenny Libitz, Chief Technology Officer at South Bound Brook School District
"Action1 RMM fully meets my needs in patch management and enables me to provide our remote employees with office-quality IT support, while being an affordable solution. In addition, since the platform is continuously expanding and improving, I am always discovering new useful features that empower me to improve remote monitoring and management in the organization even further".
Chris Delez, Information Systems & Building Manager, Area Agency on Aging of Broward County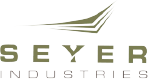 "Because I can quickly roll out updates to address critical vulnerabilities on all machines at once, our environment is much secure.  Plus, Action1 RMM  saves us both time and money.  First, it enables us to manage updates and software across all our endpoints far more efficiently. Second, its built-in remote desktop empowers us to provide our users with IT support, which saves us $10,000 a year as we do not have to purchase an additional remote support platform".
Jeremy Campbell, IT Manager at Seyer Industries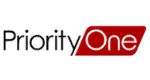 "Action1 RMM empowers us to increase operational efficiency dramatically by streamlining our remote IT management. The elements we love most in Action1 RMM are the power of scripting, the ability to add or remove software remotely, and the software inventory reporting."
Jon Abbott, CEO at Priority One