Automated Software Deployment Tool
Manage your IT Infrastructure remotely with powerful software deployment automation tools from Action1. Action1's automatic software deployment tools are designed to remove the stress from the software roll-out process. Eliminate the delays and hassle usually associated with this process to accelerate IT productivity and businesses growth.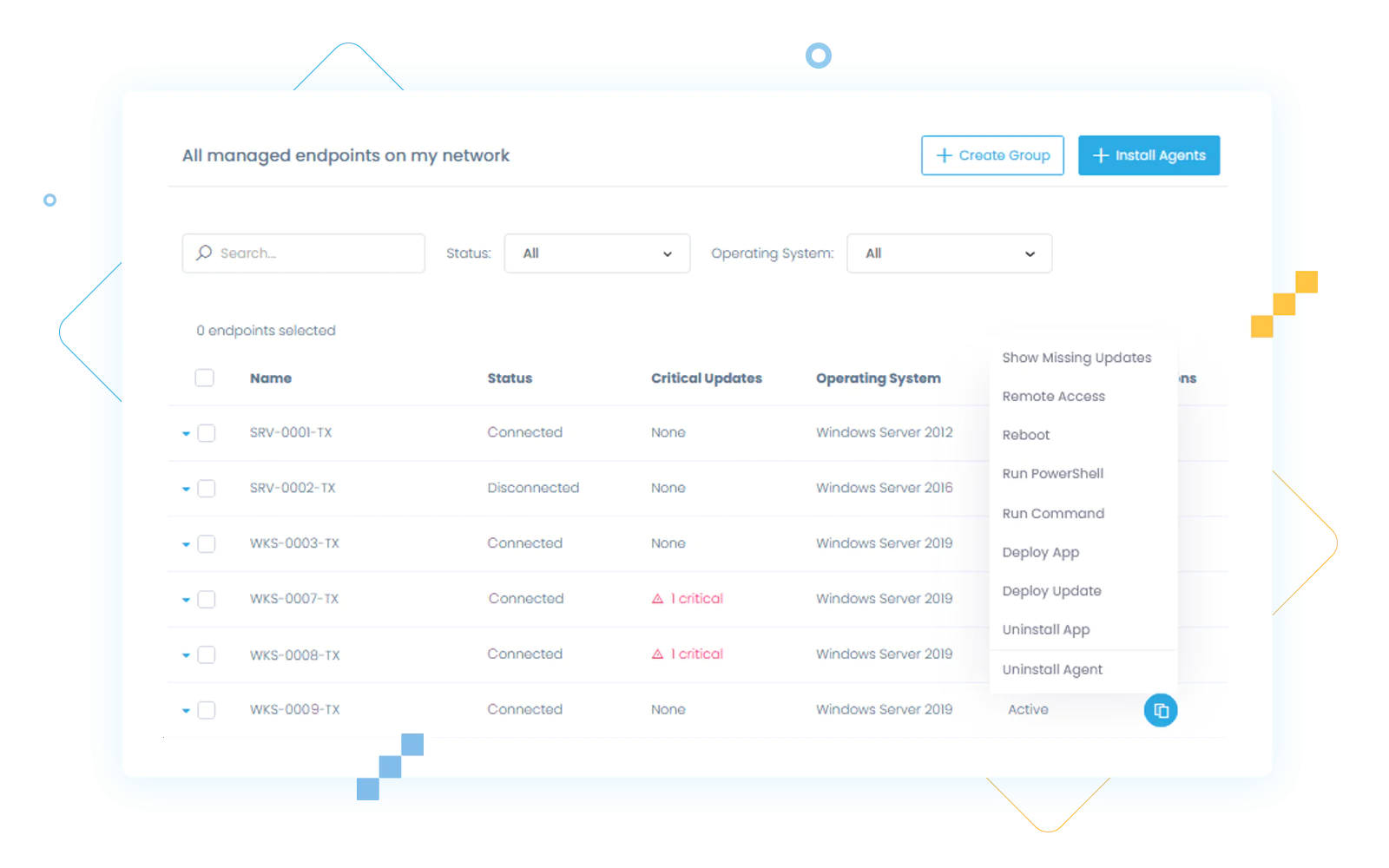 Automated Software Deployment Management
Action1's automated software deployment tool goes far beyond installation — it is built with long-term software management in mind.
Rapidly onboard new users and ensure they have the tools they need with pre-configured installation packages

Easily support your organization's evolving business needs by installing and uninstalling software remotely

Maintain security and business continuity with automated updates and alerts that keep you on top of health and performance across your entire software estate

Support the productivity of both remote and in-house teams by configuring automated updates for off-work hours.
Get started with a free trial of Action1's software deployment automation tools today.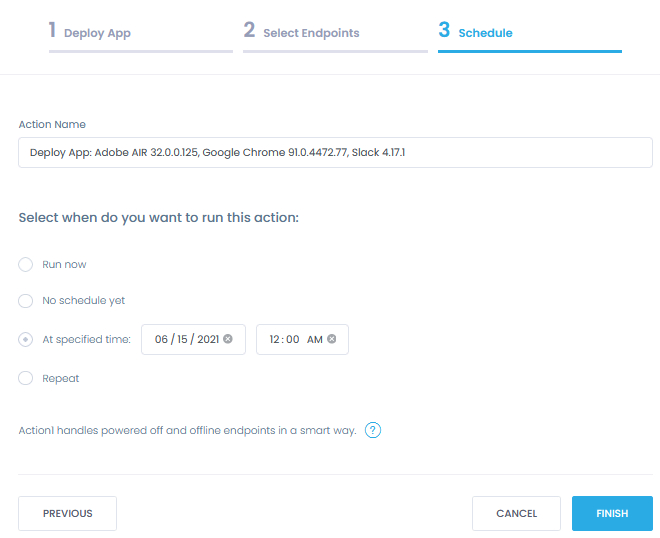 Software Deployment Automation Tools — The Benefit for Your Business
As your business grows, your infrastructure grows too. This means more devices, more workstations and other endpoints, and a more acute need for swift deployment. As a result, automation is essential. With the right tools on your side, you will be able to install the software your users need with minimal friction, bypassing the manual functions that have traditionally made deployment slow and error-prone.
Action1 RMM's automated software deployment capabilities make rapid, reliable deployment easy to achieve, even at scale. The solution is built to flexibly support your business as it evolves, covering remote, in-office, and hybrid working models.

Complete visibility and control
Get a comprehensive view of your software inventory and the power to maintain it properly. Easily manage and deploy updates and patches across both in-office and remote devices, and promptly identify and uninstall any unwanted or potentially dangerous software.

Increased productivity
Support remote teams without a single on-site visit. Automate task execution, manage software distribution schedules, and control reboot preferences to reduce downtime for end users, all from a central cloud dashboard.

Proactive security
Automated security alerts delivered in real-time ensure you know when new patches become available and empower you to stop unsanctioned software installs.
Try Action1's Free Automated Software Deployment Solution
Get started with Action1 RMM to see for yourself how our automatic software deployment tools can benefit your IT team productivity. Sign up to
use the solution free
for up to 100 endpoints forever, with unlimited features and functionality.
Why Free?
Unlike many "free" products, Action1 is NOT a disguised free trial bait, and your data is never sold for ads. Every organization – small, large, MSP – gets 100 endpoints free, forever. Subscribe any time to cover beyond 100.
Who benefits and why?
Small: Grow big first. We'll reap the growth benefits together later.
Large/MSP: Start small. Subscribe company-wide when needed.
Action1: Word-of-mouth displaces old RMMs and propels Action1 to the top.
Everyone: Feedback from free users builds the best RMM in the world.