Built-in App Store Library and Software Repository
What Is a Software Repository?
Messaging software, file and task management tools, CRM and CMS solutions run on dozens of computers in your company. To ensure successful and secure IT governance, these apps should be carefully inventoried and kept up to date. IT administrators typically rely on centralized software repositories where they can store all the necessary office software and manage its versions and licenses.
A shared folder on a corporate server is a simple and traditional way to set up an on-premises program repository. Yet, with the recent WAH trend, it's no longer efficient since most, if not all, employees work remotely. IT administrators and helpdesk personnel don't have access to their work devices, computers aren't connected to a corporate domain. Whenever a new employee joins a company, the IT department cannot assist them in configuring a personal desktop.
Cloud-Based Software Repository Tools
The repository software with cloud storage helps organize your app library and make it accessible and easy to maintain. Action1 software deployment solution comes with the App Store that includes commonly used office applications out of the box and enables IT administrators to deploy them to hundreds of remote computers at once. Additionally, you can upload custom software packages to your private library within Action1 to cater to your specific company needs.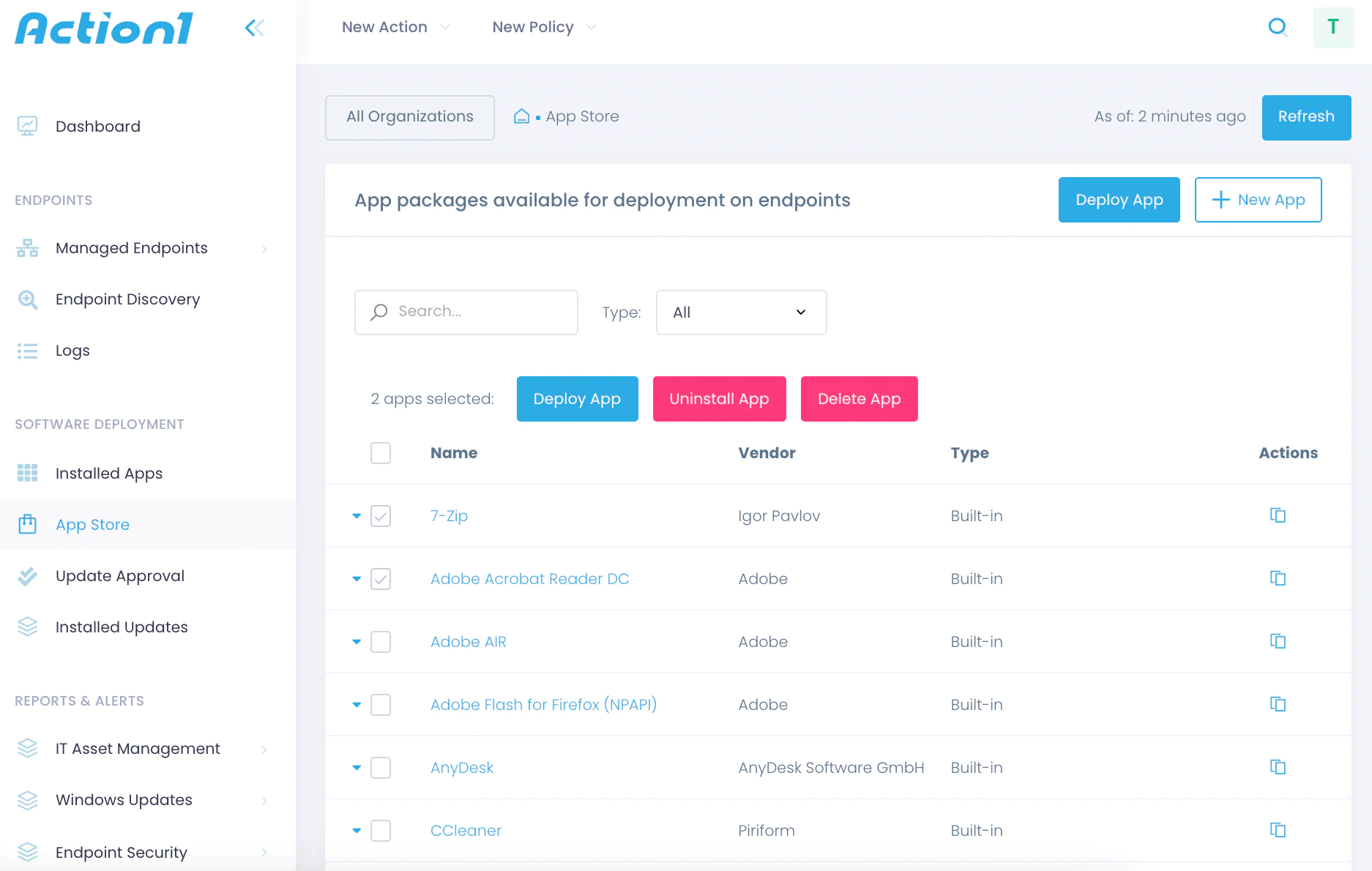 Benefits of Action1 Cloud-Based App Library

Always up-to-date
Action1 constantly monitors new versions and application patches and updates the App Store. New stable versions and hotfixes are typically available within two days after they are released by a vendor.

Access to the App Store
Unlike corporate servers that can be off, Action1 ensures you have access to the app library all the time.

Saving on maintenance costs
Action1 takes the burden of managing on-premises servers.

Zero dependency on AD domain
Your IT personnel can distribute software and updates to remote devices that aren't connected to a corporate domain or network.
Action1 gave me — the only person in the tech office who has to wear multiple hats — tons of capabilities to manage those endpoints. I feel better now since I know that our machines are much more secure as a result of utilizing this platform.
Lenny Libitz
Chief Technology Officer, South Bound Brook School District


No activity spikes and network bandwidth issues
The app library resides in the Cloud and doesn't consume your corporate network resources when the packages are delivered to your endpoints

P2P distribution
Action1 handles software distribution from the App Store in a smart way. With peer-to-peer software and patch distribution technology, the endpoints download small chunks of data and exchange them. It significantly reduces the overall amount of data downloaded by each endpoint.

Designed for automation
Action1 enables you to automate software distribution. You can create packages presets and thus simplify onboarding and desktop setup for new employees. Or you can schedule automated patch rollouts to keep your apps secure and up to date with recent updates.

Integrated reports and dashboards
Action1 provides detailed reports on your IT software assets as well as the Installed Apps dashboard that helps you check the update status for all apps deployed on your managed endpoints.
Risk-based Patch Management
Discover, prioritize and remediate vulnerabilities in a single solution
to prevent security breaches and ransomware attacks.
Setup in minutes to reduce your cyber risks and costs: