Patch Management Solution
Cloud RMM for Modern IT Environments with Hybrid Workforce
Minimize the risks of cybersecurity breaches and vulnerability exploitation by deploying OS and 3rd party patches tested by Action1.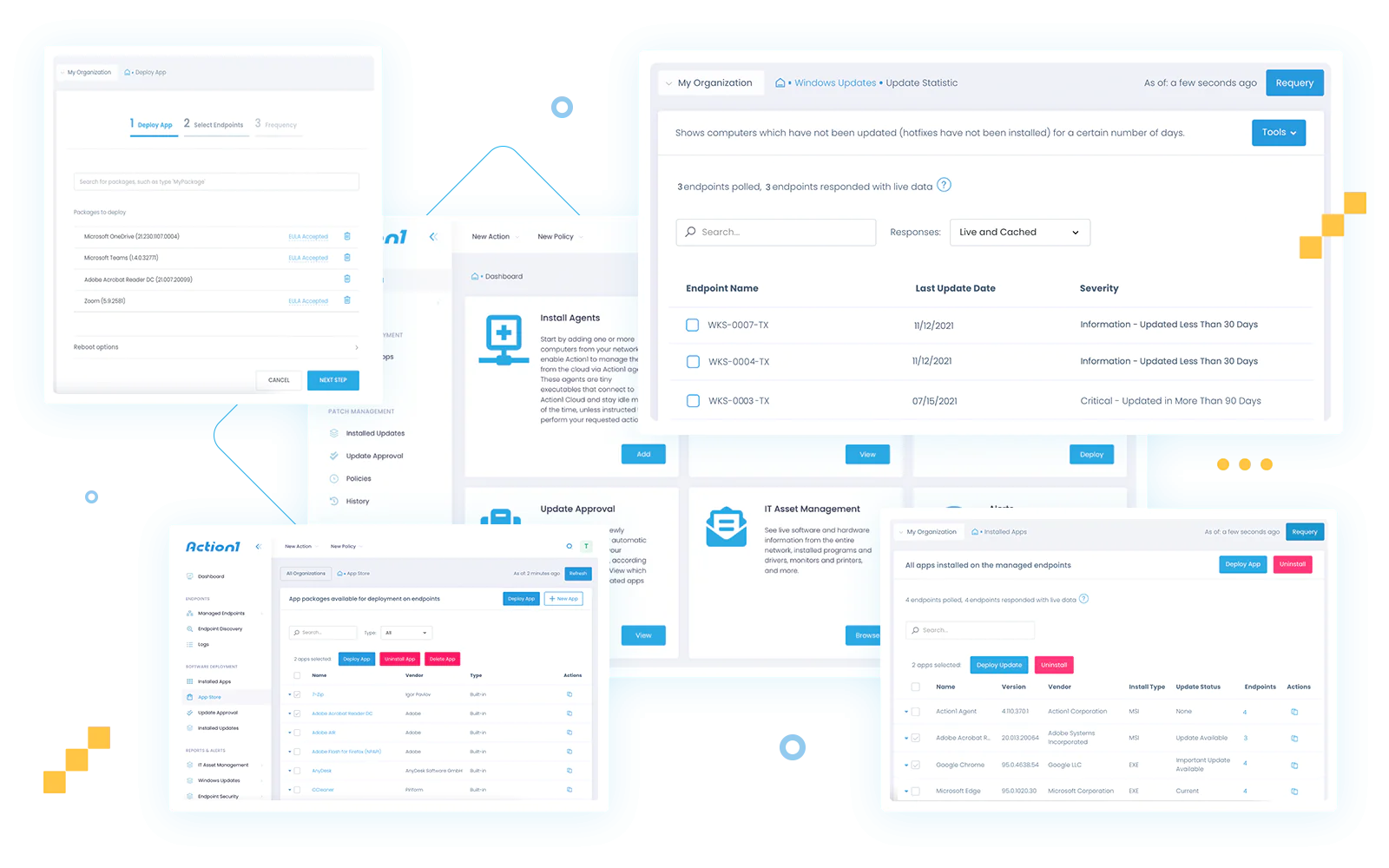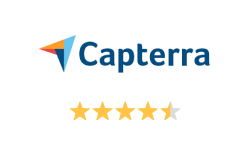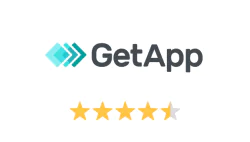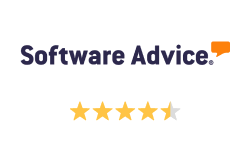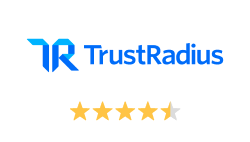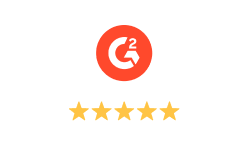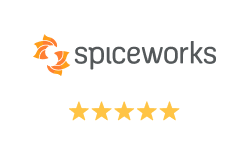 Centralized Patch Management
Step away from expensive legacy solutions and leverage more efficient cloud patch management tools. The Action1 encompasses all required features for remote monitoring and meticulous control over the entire patch management process to keep your endpoints updated and secured from vulnerability exploitation.
Automate the entire patch management deployment cycle from identifying missing updates to compliance reporting.
Review pending updates, approve or decline patches, and define deployment schedule based on the update severity.
Manage and distribute updates for the applications and software installed on your managed endpoints.
Get a complete list of Windows KBs, hotfixes, available patches, pending OS and software updates.
Update Windows OS on endpoints disconnected from the local network without establishing VPN connection.

Maximize efficiency and productivity for a fraction of the cost required to maintain legacy solutions.
Achieve regulatory compliance with comprehensive reports on installed updates with update history and statuses.
Customize patch policies and enforce approved patches in accordance with corporate security standards.
Automate monitoring of newly released updates and receive alerts whenever a new patch is ready to be deployed.
See The Product In Action
Why IT Pros Сhoose Action1 RMM Tool
Action1 RMM delivers a comprehensive suite of remote management functionality in a single cloud-based platform. With Action1 cloud RMM software, internal IT teams and MSPs can efficiently support the modern in-office, remote, or hybrid workforce from virtually anywhere in the world.
Why patching and vulnerability management is important?
With the shift to remote work around the world, the need for effective endpoint patch management strategies has taken on a new urgency. Cybercriminals are eagerly exploiting vulnerabilities to wreak havoc in your organization. According to a 2019 survey by Ponemon Institute, 60 percent of breach victims said they were attacked through unpatched software vulnerabilities. When you have hundreds or even thousands of devices to manage, it can be a real challenge to stay ahead of them.
Developing solid patch management strategies and implementing OS and application patch management software into your workflow should help you seal off vulnerability-related risks and other issues.
How can MSP leverage patch management by Action1 RMM?
MSP can leverage patch management software from Action1 in order to significantly cut expenses, boost profits and streamline service delivery.
Action1 MSP patch management allows the service providers to automate patch management cycles from a single web-based RMM dashboard. As a result, with Action1 cloud patch management MSP no longer need to:
Hire additional staff when onboarding new clients due to automation features.
Travel to clients' offices to manage their IT infrastructure due to cloud architecture.
Overpay for multiple tools or users due to Action1 straightforward pricing policy where all RMM features become available in the pay-per-manged-endpoint pricing model.
Is Action1 patch management software free?
Action1 offers its patch management software for free to organizations or for personal use. If you intend to use Action1 RMM on up to 100 endpoints, you may do so entirely free of charge, with no commitments, without providing credit card or corporate information. The free version never expires, does not show ads, and does not contain any hidden upsells.
You may upgrade and scale up at any point simply by getting in touch with our sales department.
How to get started with Action1 patch software?
Getting started with the Action1 computer patch management system takes a couple of effortless steps.
Sign up

 

to Action1 and create an account
Install

 

patch

 

management

 

agents to the desired endpoints
Find more details on how to get started with Action1 in the Documentation.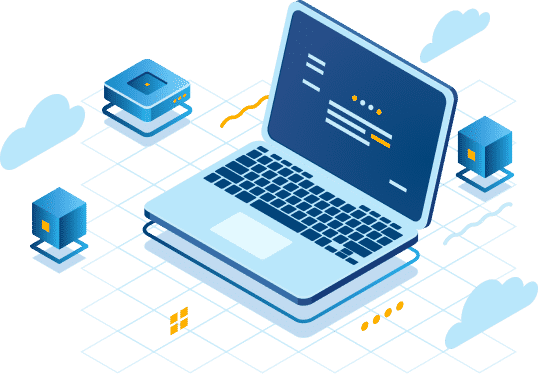 Try Action1 Free Patch Management Tool
Deliver desktop patch management services to up to 100 endpoints free of charge without functionality limitations. No credit card is required to sign up, and the free Action1 patch management program never expires.
Why Free?
Unlike many "free" products, Action1 is NOT a disguised free trial bait, and your data is never sold for ads. Every organization – small, large, MSP – gets 100 endpoints free, forever. Subscribe any time to cover beyond 100.
Who benefits and why?
Small: Grow big first. We'll reap the growth benefits together later.
Large/MSP: Start small. Subscribe company-wide when needed.
Action1: Word-of-mouth displaces old RMMs and propels Action1 to the top.
Everyone: Feedback from free users builds the best RMM in the world.
Action1 helped us save about 125 hours per month by automating patch management. That's a huge enabler to our business; as an MSP, the more you automate, the more money you save, and the more savings you can pass on to your customers.
I gotta tell you that Action1 RMM has changed how I install updates — I feel like now I can sleep, knowing my clients are patched.
With Action1 RMM, I'm saving hours every week and bringing in better control and consistency across everything that we do. It was also very easy to deploy; I was able to quickly install it and ensure nothing was missed.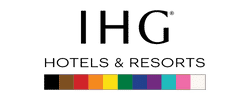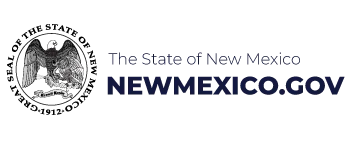 What Is Patch Management?
Patch management is the process of remediating software vulnerabilities by sourcing, distributing and applying software updates. Patching is the most important part of a vulnerability management program, and its purpose is to fix vulnerabilities in operating systems and applications before they are exploited by threat actors. The patching process involves identifying missing updates, testing, approving, scheduling and deploying patches, as well as generating status reports.