Striving to distribute security and application updates as quickly as possible, many organizations remain unconscious about the risks of deploying unstable, conflicting, or incompatible patches. Without prior assessment and testing, a random KB can jeopardize the productivity of the entire department or company.
Patch testing before the rollout is one of the crucial activities in software operability testing. Introducing procedures that allow you to test and approve updates before a companywide rollout saves you a lot of trouble, including:
compatibility issue
system downtime
data loss
bandwidth issues
inconsistencies after failed migrations
urgent rollbacks
Action1 helps you deal with these issues by enabling you to test updates on a small group of endpoints first. Start with preparing a test environment – servers and workstations, one for each typical configuration of OS and apps. Test endpoints should mimic your business infrastructure but must not contain any important data or critical services. Navigate to the Managed Endpoints page and create an endpoint group for your test servers.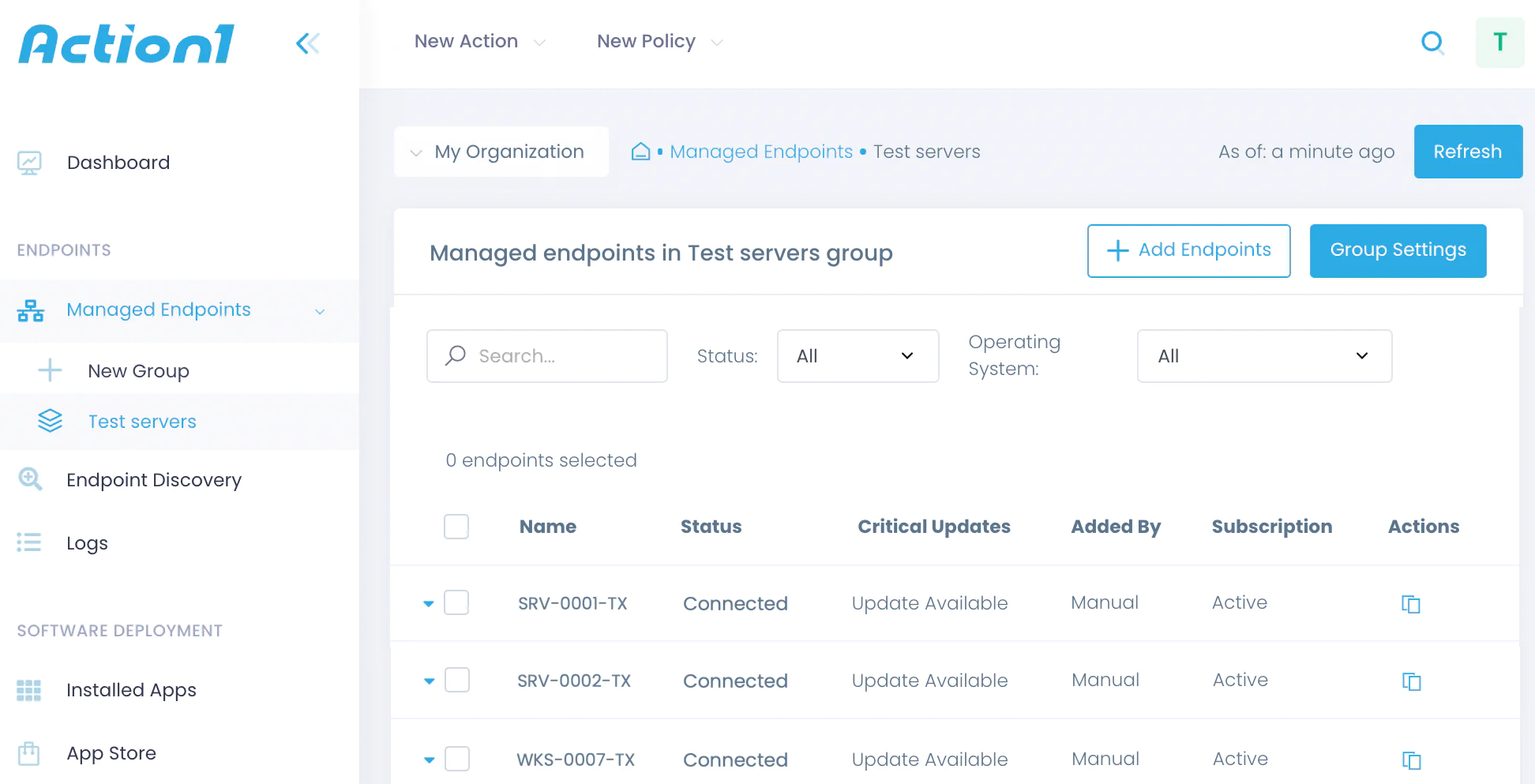 With your test lab all set and ready, release the updates to this endpoint group first. To do it, pick the patches you are currently reviewing and select Deploy Update. Make sure to specify your test endpoint group on the Endpoints step. After monitoring the installation procedure, check our test servers. If no breaking changes appear, you can safely roll out these updates companywide.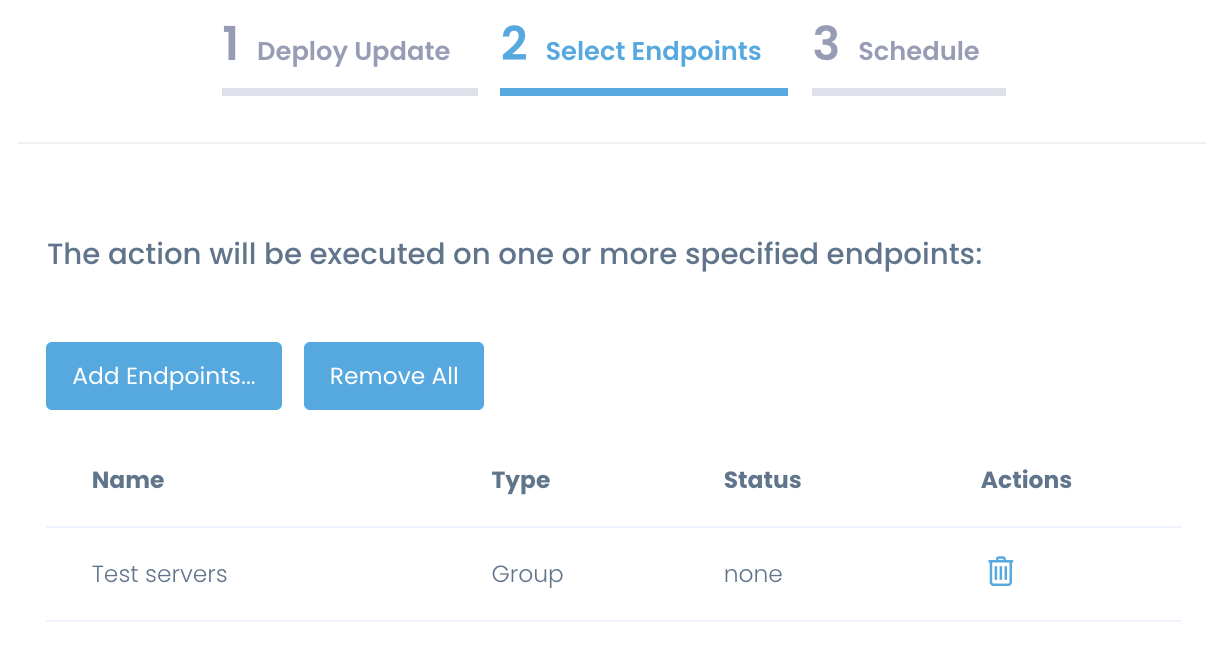 To further
automate patching
process, Action1 suggests creating a
Deploy Update
policy that will push new patches to the test group automatically – all you have to do is verify the results and check server operability. If your software patch testing process requires authority clearance, the CIO or the IT manager can mark updates approved or declined depending on the test group rollout results. Action1 recognizes approved patches and enables system administrators to create a policy specifically to distribute approved and safe updates to the entire organization.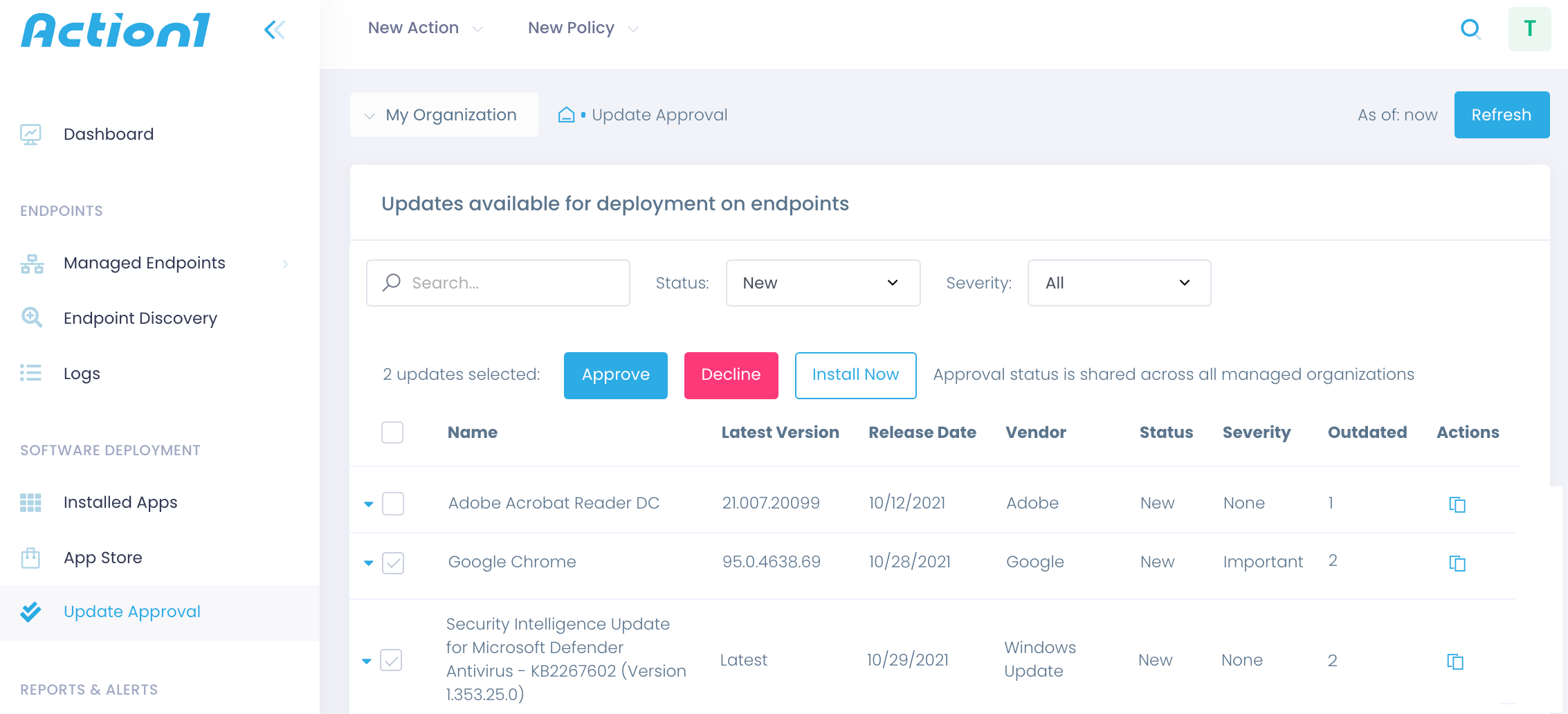 Try Action1 Free Patch Management Solution
Reduce maintenance costs, strengthen data security, and accelerate IT team productivity. Use our free OS and software patch management solution for 100 endpoints with no functionality limitations, expiration, or commitment. Sign up with no credit card or corporate details below.
Why Free?
Unlike many "free" products, Action1 is NOT a disguised free trial bait, and your data is never sold for ads. Every organization – small, large, MSP – gets 100 endpoints free, forever. Subscribe any time to cover beyond 100.
Who benefits and why?
Small: Grow big first. We'll reap the growth benefits together later.
Large/MSP: Start small. Subscribe company-wide when needed.
Action1: Word-of-mouth displaces old RMMs and propels Action1 to the top.
Everyone: Feedback from free users builds the best RMM in the world.