Patch Management Policies
Save your IT team the hassle of manually tracking patches and updates — modernize your update distribution processes with Action1 RMM's patch management policies.
Automate patch discovery, testing, and distribution from a centralized cloud dashboard. Action1 RMM will ensure that all the proper updates, patches, and hotfixes are deployed on time to all endpoints, with zero dependencies on LAN connectivity or VPN.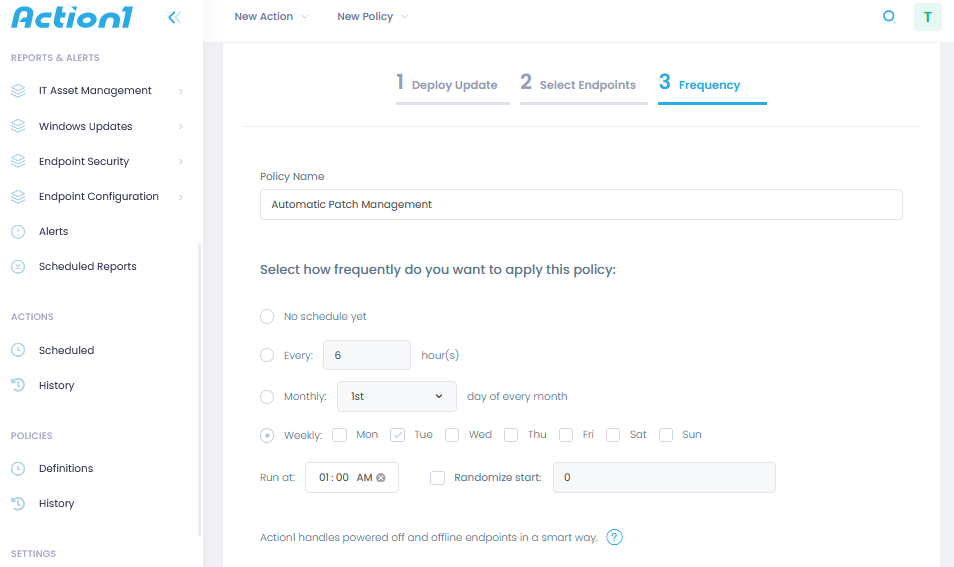 What Is a Patch Management Policy?

Every software application needs improvements from time to time. Vendors release patches and updates to fix bugs, plug security vulnerabilities, and improve usability or add capabilities. IT teams need to have a reliable process for acquiring, testing, installing, configuring, and tracking all the patches for all the applications on their endpoints — not just once, but continuously.
A software patch management policy helps ensure the job gets done right. It provides a set of procedures and rules for IT teams to follow to keep all enterprise applications up to date with the latest or most relevant patches and software updates.
Why Is Patching Important?

Today, running even one outdated application poses serious risk to your organization. Implementing a solid patch management policy process is essential in order to:
Maintain Security
Patches help protect your data by fixing security flaws, including zero-day vulnerabilities.
Guarantee Uptime
Fixing security gaps helps prevent intruders from getting into your network and causing damage. In addition, some patches directly improve application stability and reliability.
Ensure Compliance
Some data security compliance standards require a comprehensive patch management policy.
Unlock New Performance Upgrades
Some patches and updates enhance an application's capabilities, performance, and usability.
What Does The Patch Management Policy Process Entail

Here are the key steps in an effective IT policy for patch management. However, remember that each step is not a once-and-done task; the patch management process needs to be continuous, since both your IT environment and the threat landscape are constantly changing. Here is a simple patch management policy sample:
Step 1: Discover and inventory your IT assets
First, take a thorough and accurate IT asset inventory. Include all the devices on the corporate network, along with all the software applications installed on them, including OS, firmware, drivers, and user apps. Don't forget to list each component's model and software versions. Be sure to record the date each time you make a new inventory.
Step 2: Standardize your IT assets.
Next, review your inventory for different models of the same hardware and different versions of OS and other software, and standardize as possible. Having a largely homogenous IT infrastructure simplifies and speeds the patch management process and minimizes errors.
Step 3: Identify and classify risk around your IT security controls.
As part of your broader IT risk assessment process, be sure to identify and track all your patchable IT security controls, including firewalls, antivirus and antimalware tools, network traffic monitors, and web gateways. Prioritize these security risks based on severity.
Step 4: Monitor and test patches and updates.
Monitor reliable channels for information about software vulnerabilities and ensure you get patches for all your IT assets as soon as they become available. Ideally, you should then install them in a sandboxed environment and determine whether the patch actually fixes the vulnerability without causing harmful side effects.
Step 5: Deploy patches and updates.
Once your testing gives the green light, you can roll out the patches and updates. In some cases, you may have to reconfigure systems in order to accommodate a particular patch. Develop a process that minimizes disruption to users and business processes
Step 6: Review and revise your process.
Document your entire patching process. Regularly review how well it is working, test revisions to the process, and implement changes that improve it.
How the Action1 RMM Patch Management Solution Can Help

Action1 RMM patch management enables IT teams to efficiently implement the corporate patch management policy. With Action1'spatch policy configuration management, you can:
Automate Patch Deployment
Automatically deploy patches and updates based on their severity, or choose updates manually. Stable updates typically become available in the Action1 RMM dashboard within two days after release.
Configure Patch Approval
Specify whether updates have to be manually approved before they are scheduled for distribution, as well as set the timeframe before updates are deployed automatically.
Customize Reboot Options
Allow or skip rebooting after patch installation. Moreover, you can configure the timing of the reboots, along with notifications for users whose computers are going to be restarted.
Deactivate Updates in Windows Settings
You can choose to disable Windows Update and deploy patches and updates only through Action1 RMM.
Select Endpoints
Choose whether to deploy updates on all endpoints or just specific machines or groups of machines.
Determine Delivery Schedule
Push updates once a month or every week on a certain day. Select the time that works best for your teams to avoid business disruptions and lost productivity.
Monitor the Patching Process
Check patching results in the Update Statistic report or on the Policies / History page.
Get Started with Action1 RMM Patch Management Tools
Sign up for your 2-week trial, or use Action1 RMM for free on 50 endpoints with no expiration date or functionality limitations!
Patch Management Policy Best Practices

Patching success comes down to how well you can manage your patches and updates. Here are the best practices for creating an effective automated patch management policy template:
Stay up to date with news and updates from vendors.
Software vendors, developers, and security researchers constantly review software applications for security and usability flaws. Whenever one is detected, a patch is quickly developed and announced, usually via social media and press releases.
In addition, some software vendors also release patches and updates for their products on a regular schedule. For instance, Microsoft and Adobe release patches on the second Tuesday of every month ("Patch Tuesday"). Even so, you'll still find some out-of-band releases to fix urgent errors or vulnerabilities.
It's essential to stay informed about all patches and updates for all your IT assets. Follow our blog for monthly Patch Tuesday news and other updates from Microsoft.
Take a holistic approach to patch management.
It might seem that patching is more important for some software products (such as ERPs and remote collaboration tools) than for more mundane applications (such as a document reader). But the truth is, hackers will exploit any vulnerability they can find to get a foothold in your network. Therefore, ensure that your patch management efforts touch on every inch of your IT footprint, including:
Server patch management policy
Application patch management policy
Desktop patch management policy
Components of a patch management policy
Computer patch management policy
Information security patch management policy
Firewall patch management policy
Maximize patch deployment speed.
Prioritize speed and efficiency in your patch deployment policy, especially for patches that address critical vulnerabilities. According to Ponemon, it takes only 43 days to see an active cyberattack following a patch release, but it still takes an average of 12 days for organizations to install a critical patch. The lesson is clear: Acquire patches promptly, test them right way, and deploy them as soon as possible.
Always test before deploying.
Patching quickly does not necessarily mean installing patches everywhere at once. In fact, doing so can be quite reckless. Every IT ecosystem is unique, so it's not always obvious how a particular patch might affect other systems. Although patches are always well-intentioned, they can inadvertently cause harm by messing with things like compatibility settings and interface drivers.
When it comes to patching critical systems, it's always wise to err on the side of caution. Test the patch on a smaller system or in a sandboxed environment to see how it works with your setup and configurations and determine whether any changes are needed to make the patch work correctly.
Be careful when making patch exceptions.
On occasion, you'll probably find that some of your endpoints require reconfiguration or additional software to accept a particular patch, or the patch can't be installed at all. When you run into these patch exceptions, it's crucial to take extra precautions: Limit the app's permissions (especially access to the internet) or separate it from the IT ecosystem altogether until you have investigated the issue and found an effective solution. Leaving an unpatched application online and fully operational is a risk not worth taking.
Have a rollback plan.
No matter how carefully you source, test, verify, and install a patch, there is always a chance it could cause unexpected problems. When this happens, the only solution is to uninstall the patch and roll back the app to its previously stable version. Be sure to include a rollback plan in your system patch management policy.
Try Action1 Free Patch Deployment Policy Solution
Strengthen data security, minimize business disruptions, and improve IT team productivity.
Action1 offers free cloud patch management for up to 50 endpoints with no functionality limitations and no expiration.
"Thanks to Action1 RMM, we have improved the productivity of our remote workforce, ensured the security of remote operations and provided the best customer service ever — despite the rapid transformation our company had to undergo due to COVID-19".
Joel Garcia, Chief Technology Officer at AllCode
"Action1 RMM is a great enabler to our business. It streamlines our IT management routine and empowers our technicians to do their job faster and better, ensuring best-in-class service for our customers. With Action1 RMM, I am confident that we can keep our customers' remote devices properly updated and patched, troubleshoot any problem that users experience, and provide high-quality support. Connections are stable and reliable, and we can scale Action1 RMM up as much as we need".
Mario Domeniconi, Chief Technology Officer at Netability
"Action1 RMM has become a game-changer for me. It makes doing my job so much easier — enabling us to manage our endpoints from the cloud, get visibility, install software, deploy patches — and to maintain security as a result. I do not need to visit machines anymore; I can take care of them from anywhere. Plus, it is a cost-effective product that saves us several thousand dollars a year, since we do not have to purchase imaging solutions. It fully meets the needs of our educational institution, and I encourage other school districts to try this software.".
Lenny Libitz, Chief Technology Officer at South Bound Brook School District
"Action1 RMM fully meets my needs in patch management and enables me to provide our remote employees with office-quality IT support, while being an affordable solution. In addition, since the platform is continuously expanding and improving, I am always discovering new useful features that empower me to improve remote monitoring and management in the organization even further".
Chris Delez, Information Systems & Building Manager, Area Agency on Aging of Broward County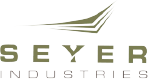 "Because I can quickly roll out updates to address critical vulnerabilities on all machines at once, our environment is much secure.  Plus, Action1 RMM  saves us both time and money.  First, it enables us to manage updates and software across all our endpoints far more efficiently. Second, its built-in remote desktop empowers us to provide our users with IT support, which saves us $10,000 a year as we do not have to purchase an additional remote support platform".
Jeremy Campbell, IT Manager at Seyer Industries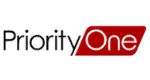 "Action1 RMM empowers us to increase operational efficiency dramatically by streamlining our remote IT management. The elements we love most in Action1 RMM are the power of scripting, the ability to add or remove software remotely, and the software inventory reporting."
Jon Abbott, CEO at Priority One