Successful IT security management starts with identifying missing
patches
. Action1 helps you build a reliable process that scans your entire fleet of endpoints, instantly locates pending updates, and thus reduces the time between their discovery and delivery. Sign up for a zero-obligation, free version today and start managing patches for up to 100 remote devices from a central dashboard.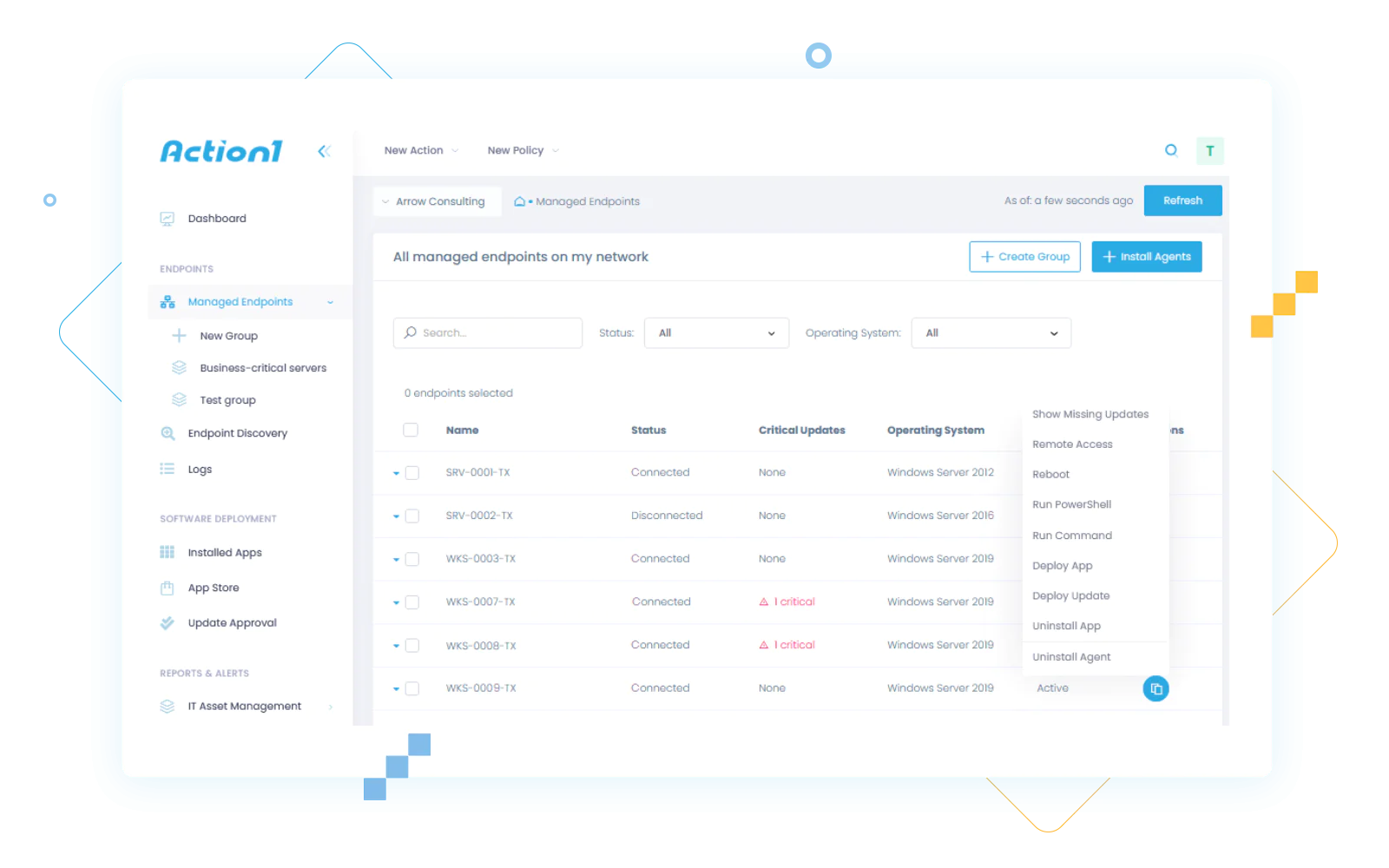 Scan your endpoint for missing patches
Depending on your workflow, you can identify and review patches for one server in a row or see pending updates with the list of outdated endpoints. Find missing patches faster and keep your infrastructure secure at all times.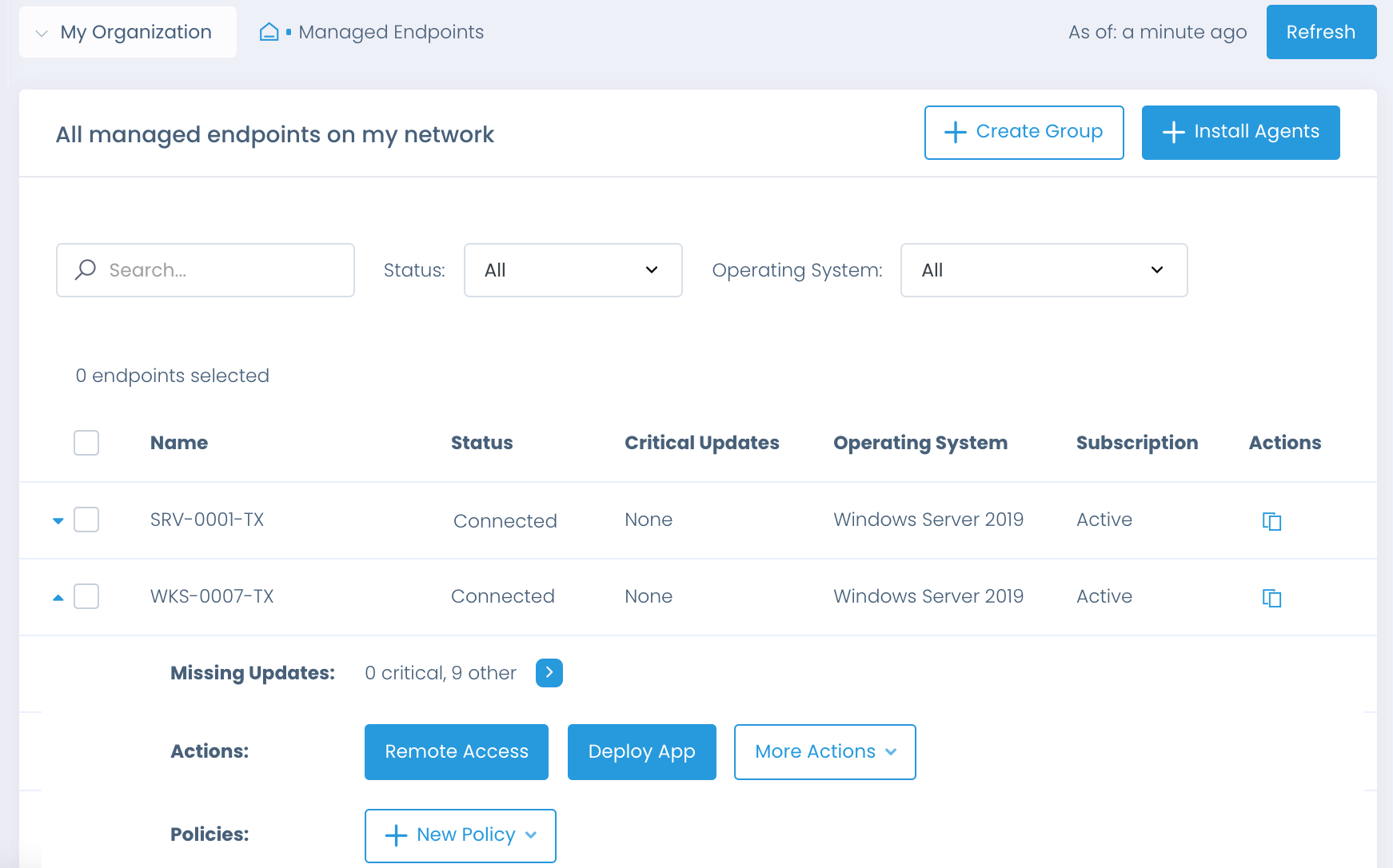 The Managed Endpoints dashboard has much more to offer besides displaying the list of servers connected to the Action1 cloud. For each endpoint, a system administrator can see the number of missing critical updates. If there are none at the moment, don't forget to expand the endpoint details. Action1 lists the overall number of missing patches. From there, proceed to the Missing Updates report that outlines all pending patches exclusively for this endpoint. This option is handy for IT administrators who prefer to have a patch overview for each endpoint individually and install updates one by one.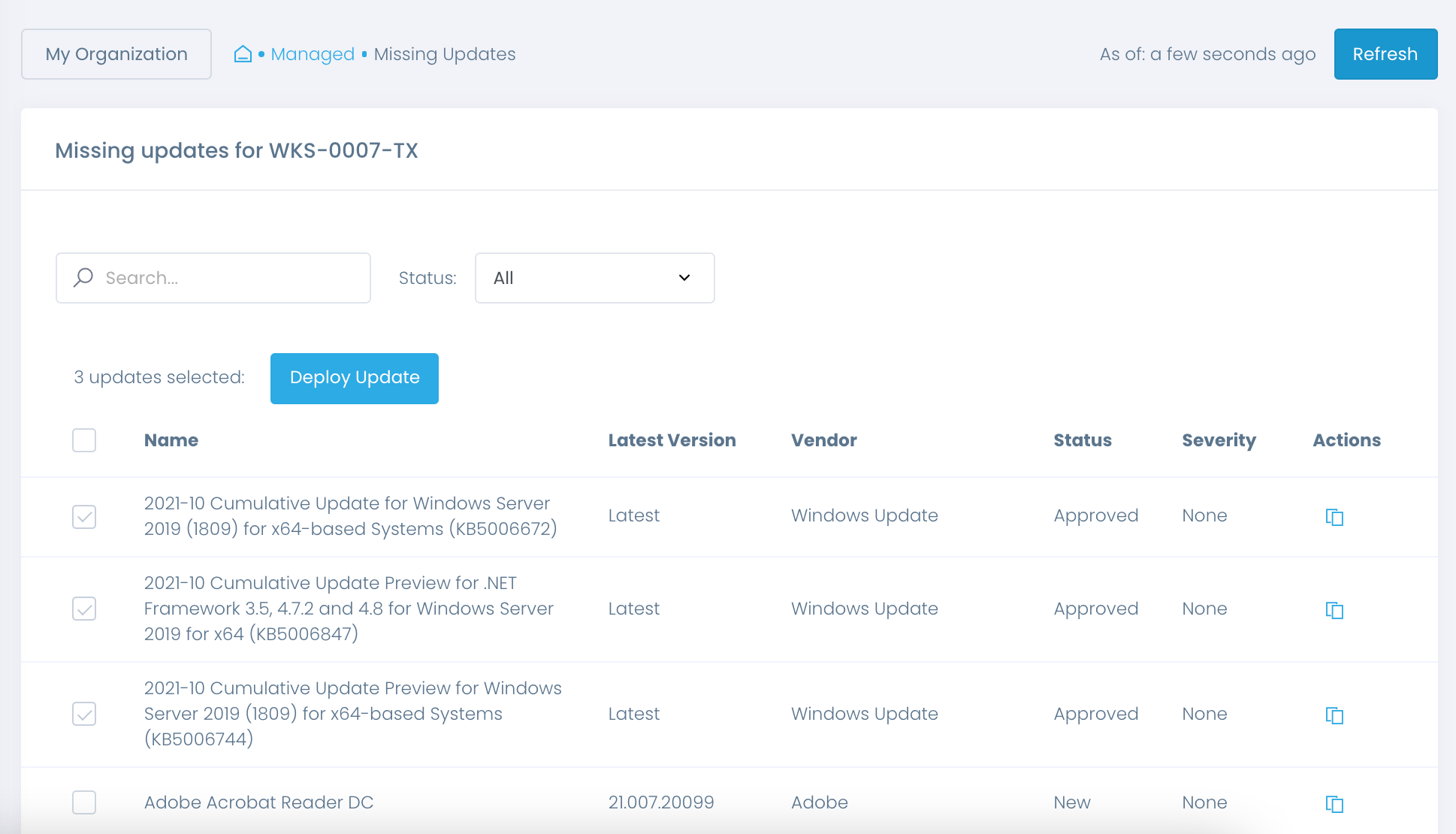 Identify missing patches in your network
Action1 constantly scans connected endpoints and verifies software against the latest version in the App Store. The Update Approval page keeps track of pending hotfixes and new versions of the apps installed in your network. For each entry, you'll see:
Name: the name of the app or its hotfix such as "Security intelligence update for Windows Defender"
Latest version: the most up-to-date version of the app
Release date: the date the update was released by its vendor
Vendor: the application manufacturer or developer
Status: the current review state of the update, e.g., Approved
Severity: the importance of the update – typically, critical updates contain security-related fixes and must be urgently installed in your system
Outdated: the number of endpoints running outdated software.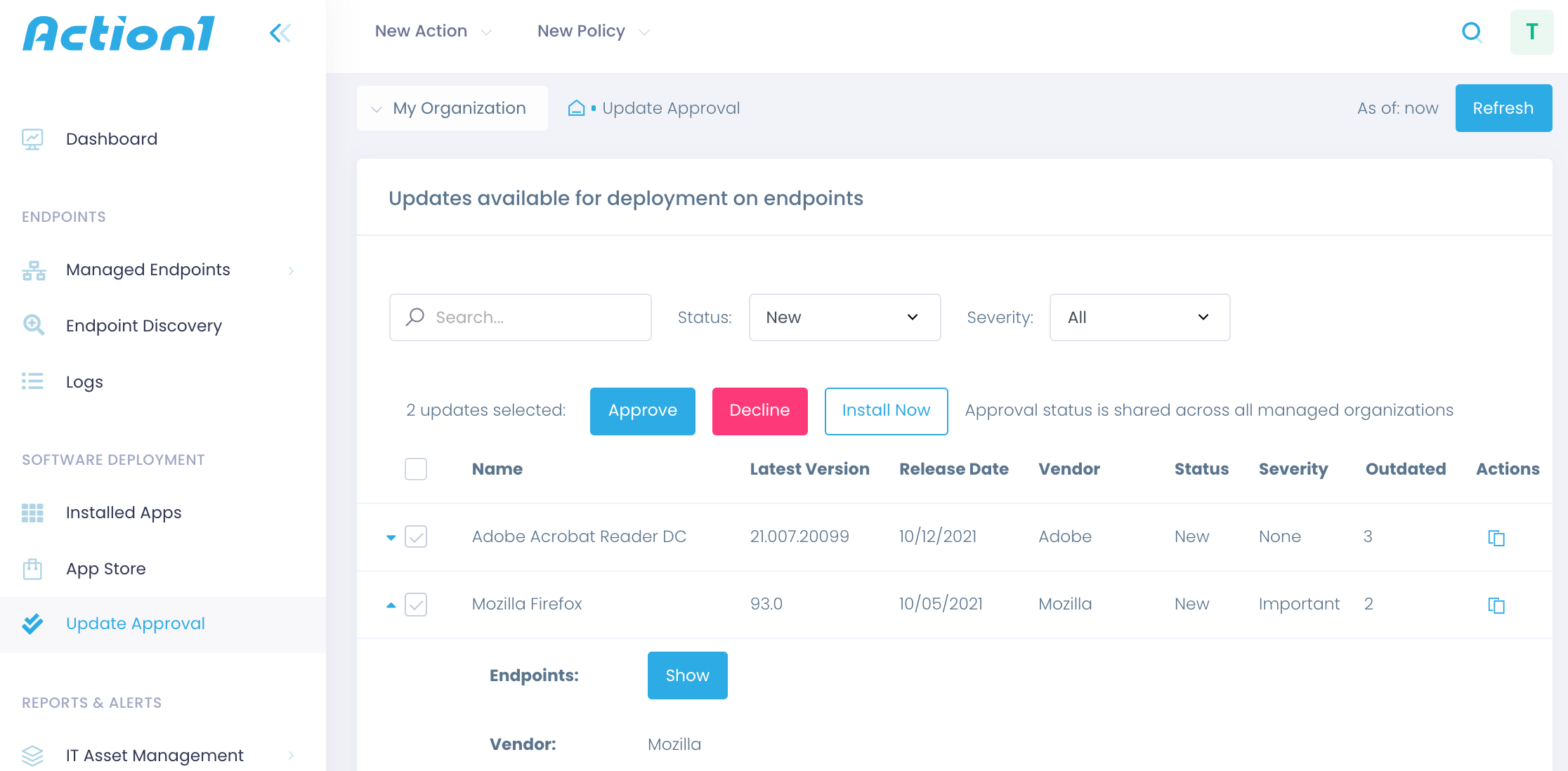 Expand details to see the names of affected computers or simply invoke Actions and schedule a patch rollout to all managed endpoints at once.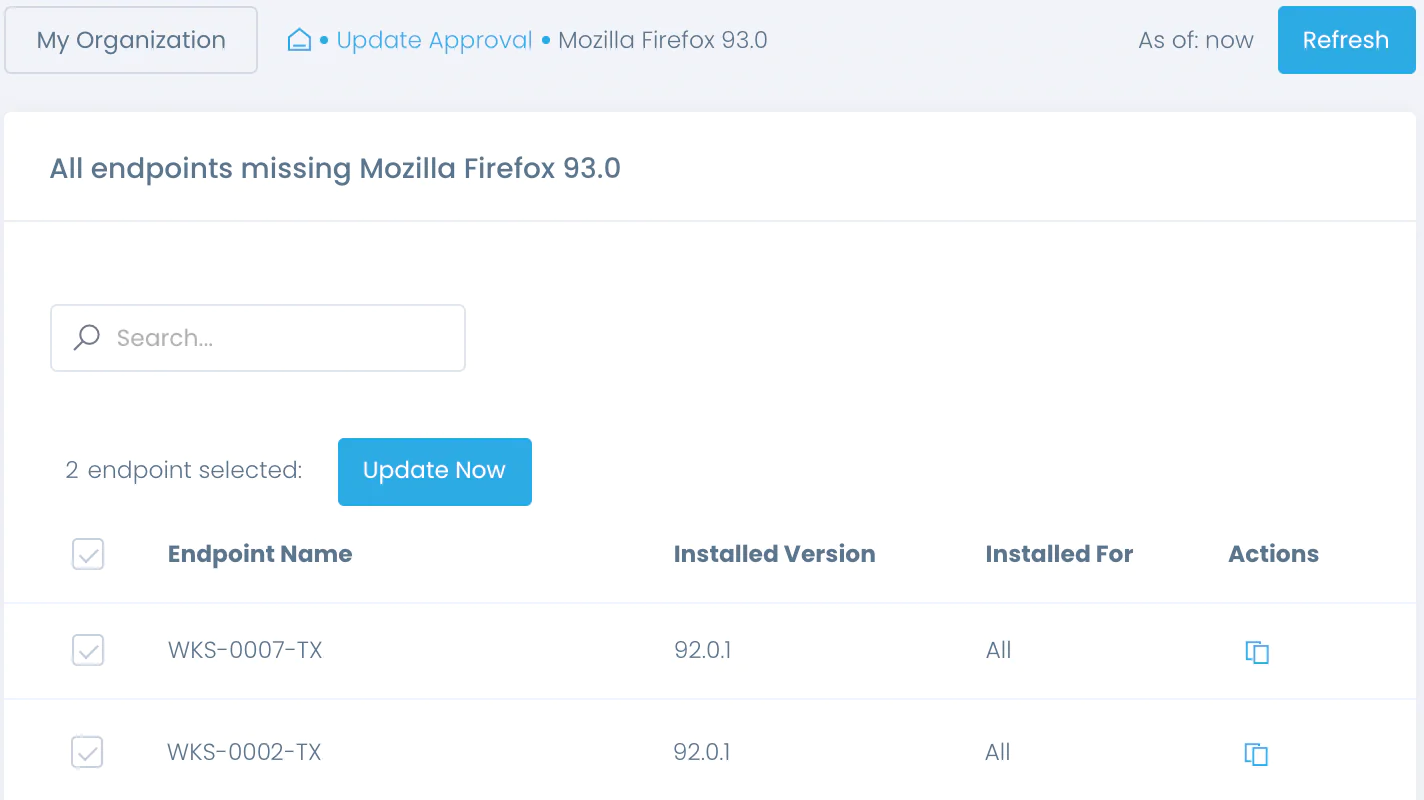 With Action1, we are able to support, manage and patch our endpoints no matter where we are, via any device that has a browser. It is a brilliant product that helps us achieve all we wanted in a very cost-effective way.
Barry Carmichael
System Administrator at Tamborine Mountain College
Risk-based Patch Management
Discover, prioritize and remediate vulnerabilities in a single solution
to prevent security breaches and ransomware attacks.
Setup in minutes to reduce your cyber risks and costs: