Automated Patch Management Solution
Protect your in-office and remote endpoints from software vulnerability attacks with Action1's automated patch management tools. Action1 RMM is a powerful cloud-based platform designed to simplify patch management and deployment at scale.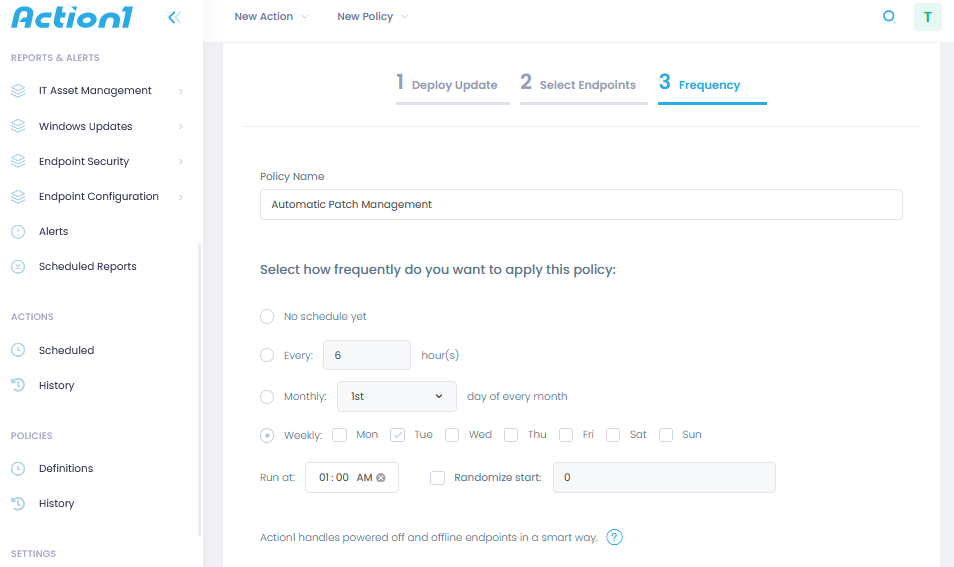 Action1 Automatic Patch Management Features

Action1 automated patch management software streamlines all patch processes, from scanning each endpoint for vulnerabilities and missing updates to installing all necessary patches to reporting on deployment status. It enables you to source, test, and deploy multiple patches to any number of devices in mere minutes — all from a central dashboard. Action1 RMM empowers IT administrators, security teams, and CIOs to efficiently manage and secure IT assets while saving time and budgets.
Automated Patch Management Lifecycle
When you manage software patches and updates with Action1 remote monitoring and management, the platform does all the heavy lifting. Once the initial configuration is complete, the built-in tools will automatically take over all patch management processes, including:
Scanning all endpoints and servers for vulnerabilities
Identifying missing or uninstalled patches
Checking for new patch releases from vendors and developers
Testing and installing discovered patches
Documenting the whole process and reporting the relevant outcomes
Flexible Patch Policy Configuration
You can easily customize the patch management automation processes to match
 your
patch management policies
.
Action1 RMM gives you complete control over patch management workflows: You can prioritize certain updates over others, approve or decline patches, and schedule patch installations. These configurations help ensure that patching never cause unnecessary delays or disrupt users during working hours.
Real-time Alerts and Notifications
Get real-time alerts and notifications straight to your inbox when something important happens, such as the installation or modification of software on an endpoint. You can set up custom rules for the changes you'd like to be notified about. For instance, you can get alerts when something is created, modified, or deleted on any device. And you can really narrow down a notification by specifying multiple alert rule filters.
Scheduled Update Statistics Reports
In addition to alerts, you can also receive patch and update reports via email. You can easily design a report query using dozens of built-in templates and set the reporting frequency. For example, you can get a daily report showing details about missing, new, and installed updates. Also, most predefined reports can be made into alerts.
Easier Compliance
If you're keen on data and IT security compliance, then the Action1 automated patch management system is the right tool for you. Most cybersecurity regulations, standards, frameworks, and guidelines — including GDPR, NIST, PCI, and ISO 27001 — require a consistent and provable patch management routine. The Action1 patching tool gives you in-depth software patching and updating reports that clearly demonstrate your strong IT security posture and compliance.
Benefits of Using Action1's Automated Patch Management Solution

We believe in simplifying IT management through automation. Our values and mission are rooted in helping businesses realize and utilize their true IT potential efficiently and — more importantly — safely. Our automated patch deployment system brings value to your enterprise in the following ways:
Provides Clear Visibility into Remote Endpoints
You can easily identify the software applications and operating systems installed on every end-user device and know exactly which ones are missing important security updates. Through automated server patch management, you can do this with servers, too. Action1 RMM does this by providing software inventory reports both on schedule and on demand. Visibility into endpoints helps you measure and control the security status of your devices, especially remote workstations.
Saves Time, Money, and Effort
Manually installing patches on every endpoint quickly becomes impractical, expensive, and tedious at scale. Even if your team could manage patches for hundreds of devices and software applications, there is no telling how reliable or effective the manual process would be. Automating patch deployment with Acton1 RMM saves your team all the hassle and time wasted on endlessly tracking software updates. Action1 RMM automates patch deployment and eliminates human error from patching processes. And since the platform is cloud-based, your IT administrators can manage patches from anywhere, even across a remote IT infrastructure.
Does Not Strain Bandwidth Usage
If you're wondering how much load Action1 RMM's automated patching will put on your network, it's almost none. Action1 RMM's update automation and patch deployment processes use a resource-cautious peer-to-peer (P2P) distribution approach. P2P is an efficient file distribution method that minimizes bandwidth usage and strain on a network. So, there's absolutely no reason to worry about overloading your corporate network when installing patches with Action1 software.
Try Action1 Automated Patch Management Solution
Sign up for your 2-week free trial, or use the solution free for up to 50 endpoints with unlimited features and functionality
Creating an account does not require your credit card info, and the free version never expires.