Cloud-Based Patch Management
Protect remote endpoints with ease and peace of mind. Deploy updates to any workstation within your organization. No matter if the employees work from home, travel, or are based remotely, with Action1 cloud
patch management
you and your IT team will effortlessly harden systems and eliminate OS and software cracks that can be maliciously exploited.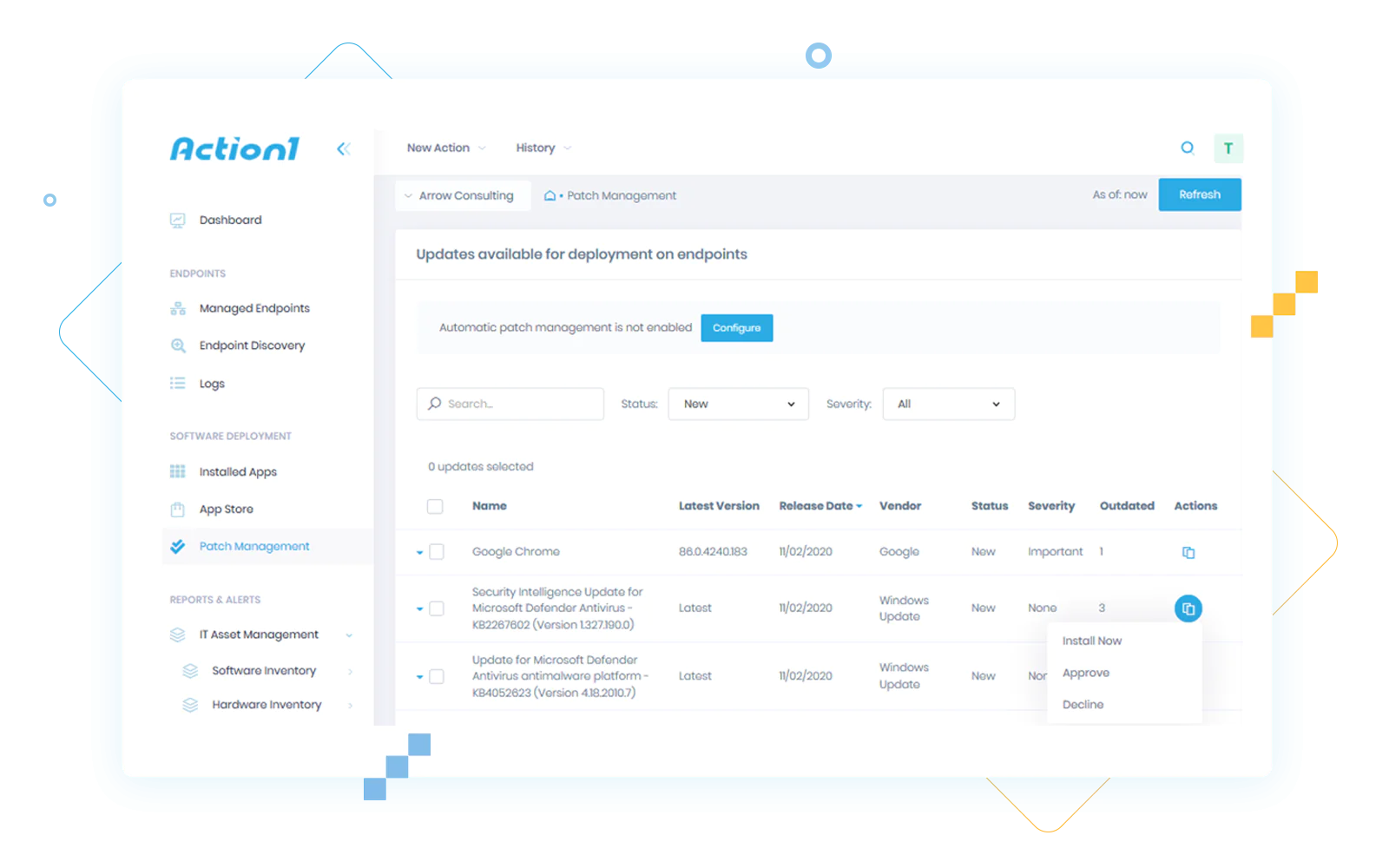 Benefits of Action1 Computer Inventory System

Growth-oriented computer inventory management system
Your computer inventory system needs to support your business as it grows and changes, keeping you on top of all new hardware and software, including third-party applications. The Action1 IT asset inventory solution can automatically discover and monitor all hardware and software on your network, so you can manage it effectively and efficiently.

Support a complex and diverse network
Action1 gathers data on your managed software and hardware automatically and provides real-time insight on an intuitive cloud dashboard. You can track status and changes, manage configurations, and deploy and uninstall software as required.

Visibility to IT assets inventory
Always know which endpoints have software that needs to be updated and get alerts on potential security risks. Detect undesired or harmful software and immediately uninstall it in one click without any nuisances. Action1's peer-to-peer (P2P) software distribution infrastructure and Windows Update Delivery Optimization work together to make software deployment more efficient and not place strain on network bandwidth.

Full compliance through automated computer inventory tools
Maintain complete visibility into your software inventory and keep applications properly patched to meet industry compliance standards. Identify and remove unsanctioned software. Generate extensive reports to satisfy even the most fastidious auditors. The Action1 computer inventory program is designed to help you achieve, maintain, and demonstrate compliance and provide a solid foundation for your business growth and development.

Cloud-based architecture
Action1's cloud-based interface empowers you to manage endpoints and hardware inventory directly from your web browser, regardless of LAN connectivity or geographical location. Connect managed devices to your network by installing the Action1 agent and manage your hardware and software assets remotely without ever stepping foot on site.
Capabilities of Action1 Cloud Patch Management
Modernize your approach to update distribution and forget legacy patching tools such as WSUS and SCCM. With Action1 cloud patch management, IT teams can optimize workload, endpoint security, and task delivery for a fraction of on-premise patching solutions cost.

Central dashboard
Available from your web browser, Action1 keeps all of your managed endpoints accessible at your fingertips virtually from anywhere in the world.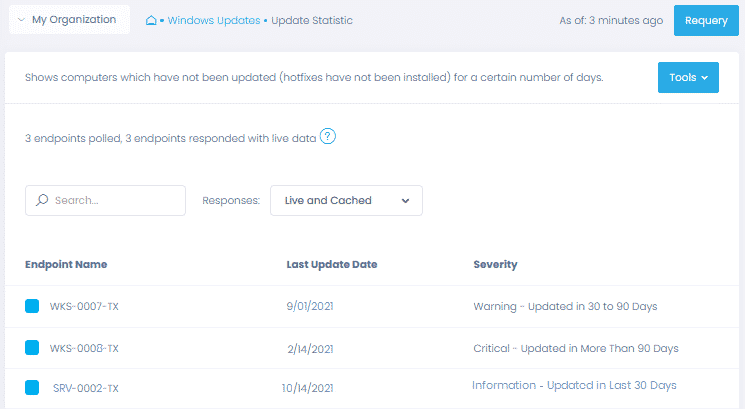 Robust and flexible automation
Define policies for automated patch deployment with a variety of flexible settings: approve or decline patches, schedule planned update deployment on a certain day and time, and keep track of update statuses.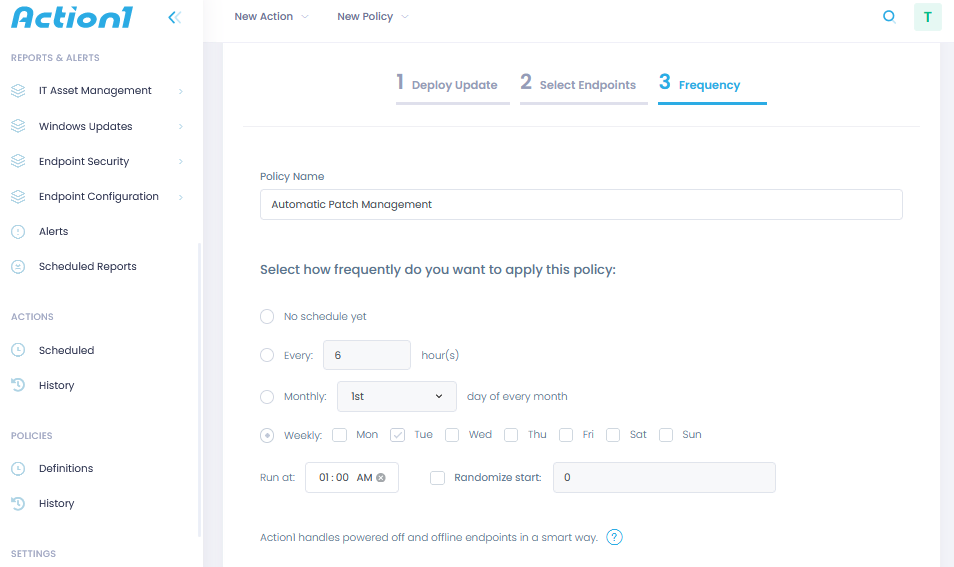 Visibility with reports and alerts
No need to manually examine each endpoint for required updates. Run Missing Updates report to immediately view available missing patches and prioritize the deployment of critical updates. Configure to receive these reports directly to the mailbox as frequently as you require so no crack goes unnoticed.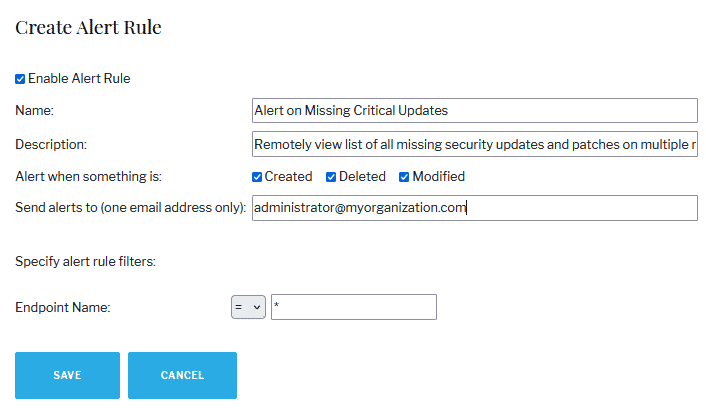 First cloud patch management
Are you managing a small fleet of endpoints? Are you an MSP and manage small clients' organizations? Are you not ready to commit but would like to test Action1 on a small number of endpoints first? Sign up for the free version of the Action1 cloud patch management solution — it never expires and is forever free for up to 100 endpoints ready to scale up whenever you are.
With Action1, we are able to support, manage and patch our endpoints no matter where we are, via any device that has a browser. It is a brilliant product that helps us achieve all we wanted in a very cost-effective way.
Barry Carmichael
System Administrator at Tamborine Mountain College
The Benefits of Cloud-Based Patch Management over Legacy Solutions
Legacy Patching versus Cloud-Based Patch Management
Any application can contain bugs that hackers can exploit to access the device and steal sensitive information. Vendors periodically release patches designed to fix the errant code and seal the vulnerable entry points. Updating operating systems and third-party applications are some of the most critical cybersecurity best practices. Nevertheless, legacy patching tools such as Microsoft System Center Configuration Manager (SCCM) and Microsoft Windows Server Update Services (WSUS) have several pitfalls when it comes to efficiency and cost-effectiveness.
Legacy Patching Is More Expensive
According to the 2020 TCO Study of Microsoft WSUS & SCCM report, Microsoft endpoint management patching tools require twice as much investment as cloud-native patch management solutions. The on-premise patching tools directly influence the total cost of ownership (TCO) through hidden costs associated with legacy patching such as licensing, software, hardware, staff, and training. According to the report, WSUS and SCCM hardware and operational requirements cost organizations $11 per endpoint per month on average.
On-Premise Patch Management Hinders Operational Productivity
The IT burden goes beyond costs when it comes to WSUS and SCCM legacy patching. It also affects productivity, as manually tracking and patching OS and applications is a tedious, time-consuming routine. Legacy patching solutions prove to be inefficient in sustaining and scaling remote work and hybrid workforce environments. With the shift to remote work and the growing workforce, IT teams with only on-premise patching tools often struggle to protect endpoints efficiently due to a lack of visibility into endpoints and software assets. The response time can be a crucial factor in hardening endpoints against vulnerability exploitation and this is not the only factor causing IT pros to seek out alternatives to WSUS patching. Without a flexible and accessible way to manage remote endpoints centrally, organizations put IT infrastructure at serious risk.
Advantages of Cloud Patch Management Solutions
Gartner predicts that cloud-native platforms will serve as the foundation for more than 95% of new digital initiatives by 2025 — up from less than 40% in 2021.
Cloud-based patch management solutions, on the other hand, solve the aforementioned problems. The report stresses that "selecting a SaaS-based patch management system over a legacy provider minimizes the risk of financial impact." Leveraging cloud patch management software facilitates effective risk management through automated patch deployment, streamlines IT productivity, significantly reduces TCO and IT cost burden.

Cost effectiveness
Cloud patch management solutions require no on-premise visits, no training, and no on-premise infrastructure to maintain. By adopting a patch management cloud service, internal IT and MSP no longer have to set up servers, maintain databases, or curate on-prem patch catalogs, reducing IT-related costs by tenfold.

Operational flexibility
Suitable for both in-office, hybrid, or remote workforces, cloud-native patch management tools are accessible from anywhere in the world, require no on-premise infrastructure, and demand minimal maintenance. Regardless of the geographical location, patching remote endpoints is an effortless task. Cloud-based patch management software requires no VPN connection and enables administrators to manage workflows, install Windows updates remotely, monitor OS and third-party patch statutes, and generate patching compliance reports from a single browser-based application.

Improved productivity
IT cloud-based patch management solutions enable system administrators to minimize on-site visits and manage every step of the patching process remotely:
Identify missing updates in real-time
Configure patch management policies
Approve and decline patches based on their severity
Automate patch deployment
Schedule update distribution without disrupting end-user productivity.
Risk-based Patch Management
Discover, prioritize and remediate vulnerabilities in a single solution
to prevent security breaches and ransomware attacks.
Setup in minutes to reduce your cyber risks and costs: