Windows update failed errors are frustrating for anyone who uses Windows. Whenever you experience Windows update failing repeatedly and see a blue screen with a message indicating problems updating Windows, this article will help guide you through fixing Windows update errors.
Why Windows Updates Fail?
The Windows 10 update failure to install is not uncommon but what causes win 10 update errors? There are several reasons why Windows updates keep failing:
Corrupt Update Files. In this case, try deleting the flawed file and see if that resolves the issue.
Overload in Update Queue. Perhaps, Windows require several updates at a time. Try rebooting the machine to troubleshoot the issue.
Limited Space on Your Drive. The lack of free space on your drive can be a reason why Windows update keeps failing. See if you can free up some space on your drives and try running the Windows update once again.
Conflict with Drives or Hardware. Try disconnecting any connected devices such as drives, USB, or printers that may be causing Windows updates to fail every time.
Why Should One Install This Critical Update?
It automatically installs crucial drivers and updates whenever they are available. To keep Windows endpoints up to date, the best practice is to automatically install Windows updates.
How to Fix Update Error
When you wonder how you can install Windows update that keeps failing, there are certain steps you should try to finally update OS on your computer. Give a go the steps described below in the following order until your Windows update error is fixed.
1. Restart the Computer and Run Windows Update Again
Most updates run smoothly, but from time to time, several updates might queue and try to run at the same time, causing Windows update failure. For instance, a servicing stack update has to install first, and then you have to reboot the machine before running the next update installation.
2. Check for Driver or Hardware Conflict
As mentioned earlier, the connected peripheral devices may cause conflicts and be the reason why Windows is unable to update. Disconnect all printers, USBs, webcams, reboot your machine, and then try to run Windows update again. 
3. Vacate Space on Your Drive
It is possible that your drive simply lacks free storage space to install the update. See if you can make space by decluttering or using an exernal drive, reboot the machine, and give a Windows update another go.
4. Try the Windows Update Troubleshooter Tool
Windows 10 comes with a designated tool to assist in troubleshooting Microsoft updates issues. Access it easily by simply typing troubleshoot in the taskbar search field. Go to the settings and click Windows Update, then Run the Troubleshooter. Then follow the prompts with instructions.
5. Stop Updates
Step 1 — Go to Settings
Step 2 — Click Update & Security
Step 3 — Click Windows Update
Step 4 — Click Advanced Options button
Step 5 — Switch the Pause Updates toggle off
Step 6 — Restart your computer
Step 7 — Rerun Windows Update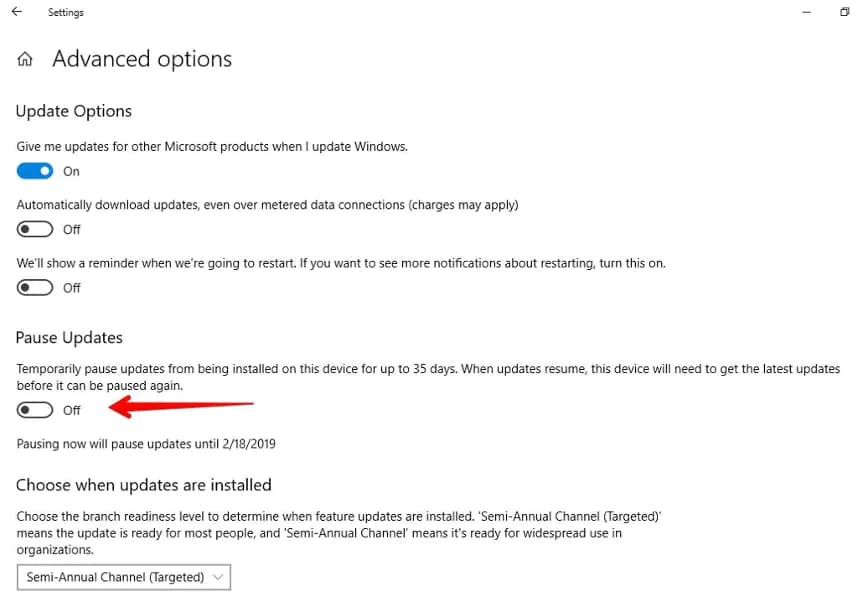 6. Erase Software Distribution Log
Step 1 — Restart computer in safe mode
Step 2 — Open File Explorer, and navigate to C:\Windows\
Step 3 — Locate and delete the Software Distribution folder
Step 4 — Restart your computer, and run Windows Update
7. Download the Latest Feature Update from Microsoft
When Windows Update keeps failing, you should consider visiting the Microsoft site to download the update file. Once you have downloaded the update, run it manually.
8. Run the System File Checker (SFC) Scan
The System File Checker is a default tool in Windows 10. Also known as "SFC scan," it's your fastest method to fix corrupted system files and other problems. Run it to attempt to fix any potential issues with Windows installation.
9. Restore Windows 10 from a Backup
If you are not successful at fixing failed Windows updates, we suggest that you check for a Restore Point on your system. Use it to restore the device to a state when the Windows Update was installed correctly. You can then update the OS to the latest version from that point.
Why Installing Windows Updates?
Microsoft regularly rolls out updates that include bug fixes, feature upgrades, and security patches to improve Windows operating systems usability and security. 
Operating system updates patches protect from newly uncovered security vulnerabilities that hackers can exploit. Essentially, by delaying updating your system, you increase the risks of vulnerability exploitation.
Can I Skip Windows Update?
As a standard directive, it is advised to consistently install Windows updates once they become available. However, there are certain exceptions. If you happen to have a problematic update, then you might want to pick between bypassing the update and performing an installation of Windows 10 from scratch.
Consider Action1 for Remote Update Deployment
Give Action1 a try if you need to install Windows updates to remote endpoints. Action1 risk-based patch management solution is developed to simplify and automate distributions of patches and updates and boost IT management efficiency. Action1 is free to use on up to 100 endpoints and is easy to onboard in minutes.