IT asset management is not yet another buzzword but a real set of practices that can help your organization maximize the use of IT resources and avoid potential risks. Sounds interesting? If you have wondered what is ITAM, this post will introduce you to IT asset management definition and help you navigate your way towards a tangible IT asset management strategy.
What is Asset Management In Its Essence?
You might have heard the term asset management from financial advisors and market analysts who mostly use in relation to stocks and real estate. But what is an asset anyway? The asset is literally anything that has some value and can be traded, exchanged, or used for business activities. For example, stocks, a house, a laptop, copyright are assets because you can sell them or utilize them to get money. As an owner, you take care of the resources available to you and ensure they are profitable. For example, you'd want to repair a roof of your house, renew car insurance, or sell the car if it's no longer a good investment. This is what asset management is all about — around the clock care about the resources that are available to you.
On the company level, asset management deals with real estate, machinery, equipment, intellectual property, devices, technologies, etc. To keep these assets profitable, the company should be diligent about building maintenance strategies.
The Definition of IT Asset Management
But what is the definition of ITAM? Are IT assets and approaches to managing them somehow different? Actually, they are a part of the bigger picture. IT asset management (ITAM) aligns with corporate asset management but adds a special flavor to it. Information Technology Asset Management is a set of business tactics and strategies aligned to sustain life cycle management and decisions made for the IT environment. Some IT assets such as computers and servers, hardware components, peripheral devices, disks are physical just like traditional assets. Software, licenses, files, databases, Cloud-based storage, user profiles and settings are also considered to be assets even though they are not feasible. These assets are intellectual property and have great business value in the digital economy. The asset management techniques that are specifically focused on IT assets and keeping them secured and cost-effective are known as IT asset management.
Why Do You Need ITAM?
If you are still unsure whether you need IT asset management, then look around. Does the company you work for rely on communication technologies, data storage, planning or finance apps? It's a safe bet that the vast majority of company business operations is held over the network and on computers. The amount of data can be overwhelming and can easily spiral out control if the IT assets aren't supervised. Unlike traditional assets, IT assets have a higher level of mobility. Laptops are passed from one employee to another, financial files are shared between departments, and licenses are floating. At the same time, most IT assets require regular maintenance and servicing to keep them running. With no management, if something goes wrong in this melting pot, it will be hard to remediate the problem and trace its cause. IT asset management safeguards business operations and streamlines the work of the IT department. On top of that, it facilitates overall corporate governance ad service management.
Types of ITAM
ITAM is not a newcomer and has been here for quite some time. It has a professional organization (https://www.itamstandards.org) and standards, such as ISO/IEC 38500 and ISO/IEC 19770. ISOs provide guidelines on managing, labeling, auditing of specific groups of IT assets:
Management of hardware and devices, including mobile devices. Servers, cellphones, printers should be accountable and scheduled for regular service checkups.
Management of software and licenses. For this category, it's important to keep track of installed software and its license status to validate compliance with industry regulations as well as roll out updates and security patches.
Information management. This category is translucent but needs your special attention. Business documents, corporate email addresses, user profiles are subject to privacy regulations. This data tends to be a valuable resource and should be secured against misuse and access violation.
Cloud management is a recent yet important add-on as more and more businesses rely on cloud computing.
IT Asset Management Processes
IT asset management processes center around the asset lifecycle and work towards optimizing each stage while mitigating risks and potential loss. Here are the asset lifecycle stages and IT asset management practices associated with them.
Planning is a preliminary stage when the asset doesn't yet exist. Based on the stakeholders' interests and corporate policies, IT manager plans and budgets for adding new assets to the IT infrastructure. For example, soliciting requirements for a new server, finding the right configuration of hardware, setting up a budget and timeframe, finding the right supplier, and finally acquiring the asset.
Deploying in the IT environment is the stage when the asset is introduced on a companywide level. IT manager has to set it right, ensure all licenses are in place, and configure access permissions. At this early stage, asset management is especially important. New assets should be accountable and easily traceable. For example, at this point new corporate cellphones should be labeled, added to the device database, assigned to users, their configuration should be described and approved. With no governance and supervision, devices soon will be scattered among employees, have malicious software installed, or violate internal security standards.
Maintenance and support is the longest stage of the asset lifecycle. During its lifespan, the asset requires multiple examinations, updates, repairing. For software assets, you'd want to renew licenses or transfer them to other users, roll out version updates and security patches. The goal of the management efforts on this stage is to keep the asset profitable as long as possible. As IT manager, you'll also want to reevaluate assets individually and all together and consider a replacement if the asset no longer fits the company requirements. IT asset management practices will always convey higher-level governance and compliance principles employed in the company and prioritize certain decisions over others. For example, when it comes to reducing costs, your company may prefer buying a new device instead of fixing existing an old one and vice versa.
The disposal stage is the last stage of the asset lifecycle within a given company. Keep IT asset hardware inventory to track outdated devices that are no longer used can be recycled, put to the storage, or sold. Deprecated technologies or compromised software products are taken out of use, files are archived. Even though the retirement stage is the last one, it is critical for IT asset management to keep it accountable. For example, when a laptop is put to the storage, it should be clearly labeled as retired.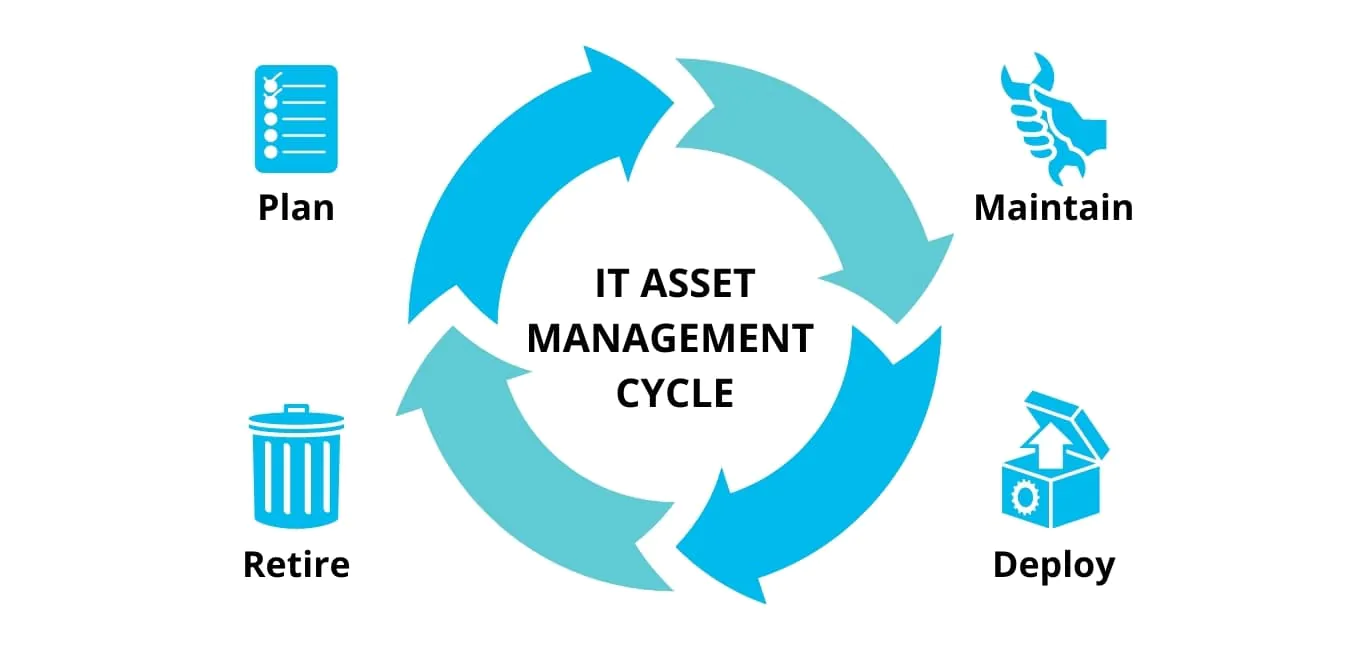 IT Asset Inventory Tools
Keeping a neat inventory is a bread-and-butter of IT asset management. How can one possibly manage IT asset inventory without information on what assets are available, where are they located, who owns them, etc. While you can create an inventory manually in any form of a spreadsheet, there are inventory tools that significantly speed up the process. Basically, there are two approaches to building inventory and inventory tools that help you with it.
Descriptive tools such as many service desk applications provide you with a straightforward interface for cataloging your managed assets. It means you'll have to enter them yourself, one by one. On the contrary, the discovery tools can automatically locate your assets, acquire their configurations, and provide you with detailed reports.
Neither of them is sufficient without another as alone they can provide misleading results. With the descriptive tools, you get an ideal snapshot of your IT system: the assets you have, configurations, assigned users, versions. Unfortunately, it is extremely difficult to keep this list up-to-date as IT assets keep circling. This is where the discovery tools come to help. They show the real situation if some assets were changed or redistributed. If something falls through the cracks, you'll find it with discovery tools. But discovery tools provide no clue on missing assets as they are simply not in the scope.
Combining both approaches and respective tools helps you gain insight into what assets you have and where they actually are and identify missing or uncatalogued assets faster.
IT Asset Management Best Practices
Obviously, the best possible outcome is when the asset management plan you have on the paper and the way your assets are distributed are nearly identical. Sticking to these basic best practices will help you archive that:
Inventory-first approach. First things first, add an item to the asset inventory as soon as it's acquired.
Make assets accountable. Stick labels and barcodes to your hardware assets or assign tags in the software inventory tool.
Mark & map. Clearly mark the status of your IT assets and map assign them to users or locations. You should have a feasible way to check whom the laptop belongs to, how many users run the software, or who has custody of the shared folder. The chances to roll out security updates on a laptop that goes from one employee to another are diminishing if you don't have a clear system to assign assets to people. Alternatively, you can map less mobile devices such as printers, IP phones, etc. to locations, not people.
See the bigger picture. Consider creating clusters of assets such as hardware plus software and manage them as one. You can also identify relationships between IT assets and traditional assets and take them into account as well. IT asset management is tightly integrated with IT service management and you can make great use of business process management routines.
Summary — the Benefits You'll Get by Employing ITAM Practices
IT asset management can be an independent activity or it can be a part of the companywide governance framework. Either way, it's beneficial for IT departments to utilize IT asset inventory tools since it ensures that information resources and related technology are used in the most transparent, risk-free, and cost-efficient way. When performed right, ITAM brings visibility in IT assets usage patterns and thus helps mitigate risks and plan upgrades in a timely manner.