How to Automate Patch Distribution with Action1 Patch Management Solution
Automatically installed updates are the ultimate goal of any IT manager. Executing a patch strategy is laborious in modern hybrid work environments where most computers aren't joined to a corporate network. IT administrators and managed service providers have to adjust deployment workflows and employ endpoint management solutions.
Platforms like Action1 win over traditional Windows administration utilities. With Action1, you can establish the patch management system and automate delivery to remote endpoints.
How to Review Critical Updates Prior to Installing Them Automatically?
Action1 provides detailed reports on hardware, installed software, and updates missing on connected devices. MSPs find it handy to organize client's endpoints into organizations and switch among them. While the "Missing Updates" and "Missing Critical Updates" reports focus on Windows KBs, the "Update Approval" page lists pending patches for the apps installed on your managed computers. For each app awaiting maintenance, you'll see the vendor, the severity, and the number of affected endpoints.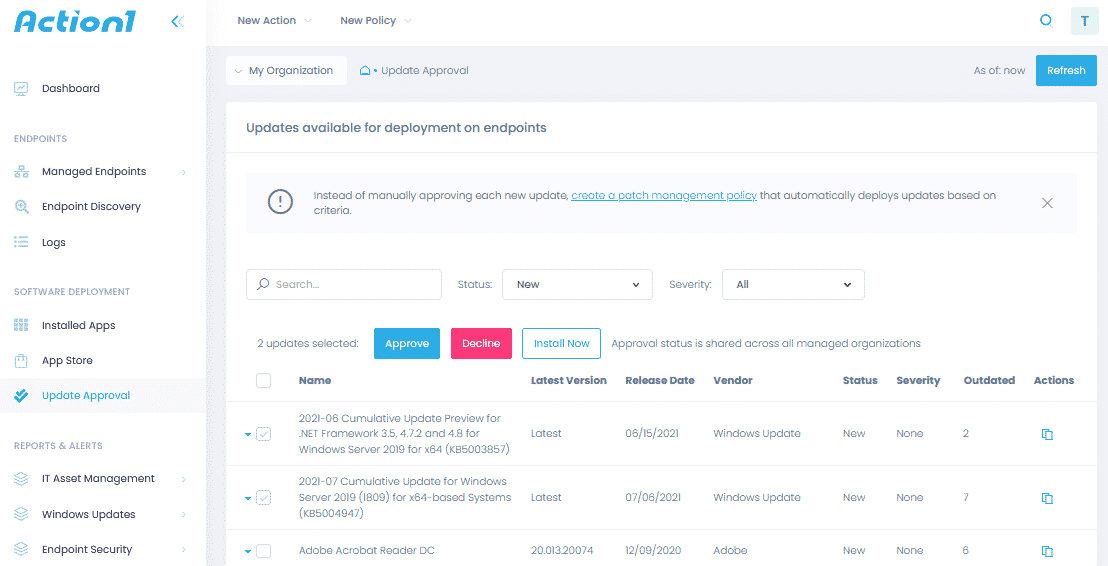 How to Make Updates

Install Automatically?
Being an internal IT administrator or an MSP with hundreds of remote workstations in service, you might struggle with planning up rollouts. Action1 provides a pain-free alternative to pushing hotfixes manually. Set up a patch management policy to automatically distribute critical system updates to your fleet of endpoints.
Step 1
Start by selecting "New Policy / Deploy Update" and pick the type of patches to deploy: all or critical. Depending on your company security guidelines, they may or may not require explicit approval before delivery. For example, many MSPs have to consult with their clients first and administrators need clearance from a security officer. If you opt-in for approval, you'll have to manually review and approve pending hotfixes before they can be scheduled for delivery.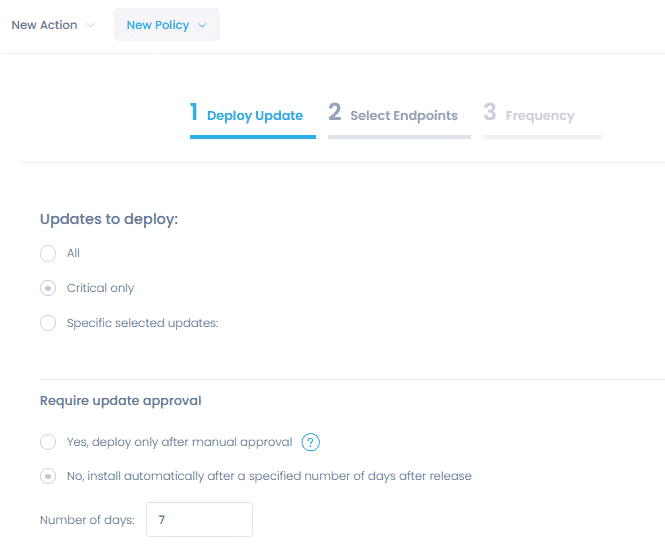 Step 2
As a next step, specify the policy scope: pick computers one by one, select groups, or enable the policy for the entire organization you manage.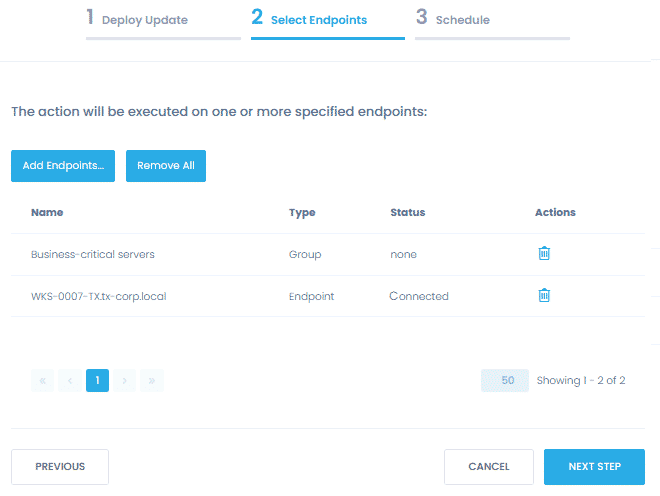 Step 3
Finally, craft a policy schedule that works for your company. Many organizations deliver updates on a set day of the week, for example, every Tuesday. For systems that must be up-to-date with the latest security patches, IT managers can configure a different timetable and deploy updates twice a day. Once the policy is on, Action1 will scan your devices for missing updates and install them according to a preset schedule.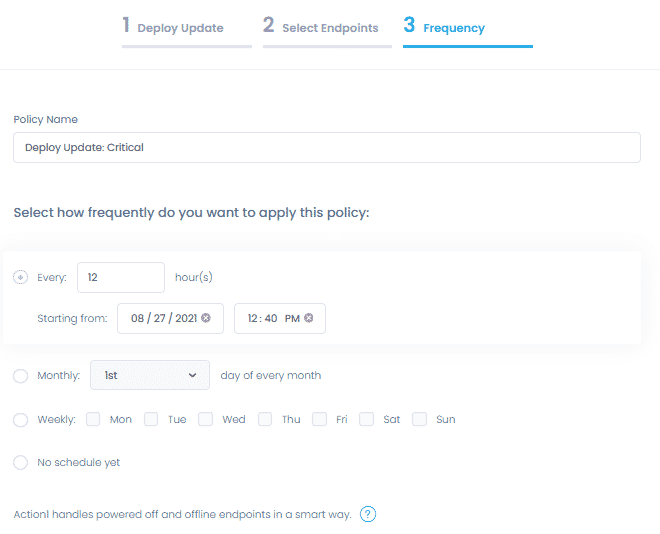 How to Change Automatic Install Updates
Settings?
There is no "one size fits all" and Action1 encourages you to adjust policies on the "Definitions" page. Depending on your business structure and procedures, you can create several auto-update workflows. For example, divide employee devices into groups and set up a policy per department. MSPs working with numerous organizations can switch among them and create organization-specific workflows. Action1 is flexible and helps you achieve your endpoint management goals with no hassle.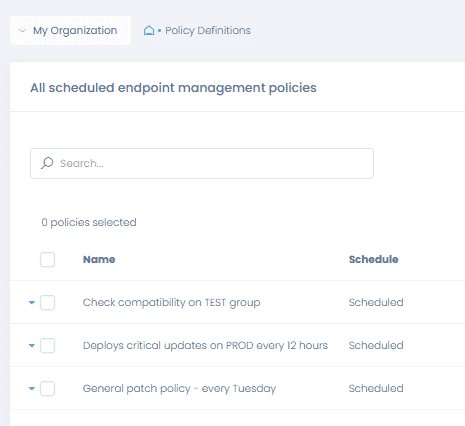 With Action1, we are able to support, manage and patch our endpoints no matter where we are, via any device that has a browser. It is a brilliant product that helps us achieve all we wanted in a very cost-effective way.
Barry Carmichael
System Administrator at Tamborine Mountain College
Risk-based Patch Management
Discover, prioritize and remediate vulnerabilities in a single solution
to prevent security breaches and ransomware attacks.
Setup in minutes to reduce your cyber risks and costs: