Manage more while doing less with Action1 MSP platform
Manage patches, deploy software, gain visibility into IT assets, utilize remote desktop compliant with privacy laws, and more. At the same time, increase profitability of your business by increasing IT technicians' efficiency, slashing maintenance, labor, and travel costs.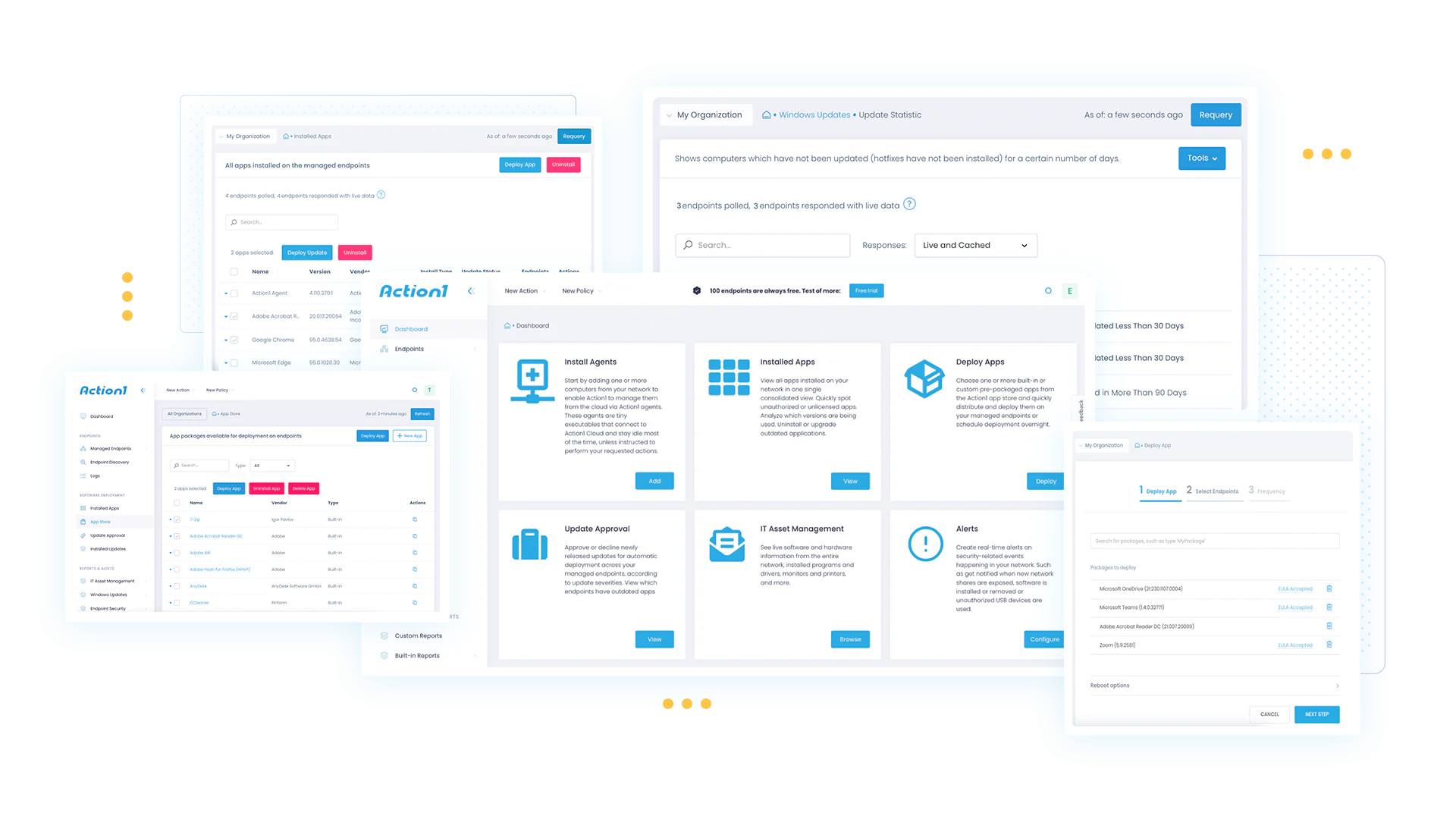 Ultimate MSP Software Toolkit
Deliver high-class customer service from anywhere in the world by utilizing cloud RMM software for managed services providers.
Get a complete list of Windows KBs, hotfixes, available patches, pending OS and software updates.
Define patching policies to boost your technicians' efficiency through automating patch management routines such as scans, tests, and deployment.
Deploy software remotely via a built-in cloud app store and gain insights into installed applications with customizable software asset reports.
Define roles and assign granular levels of access for any number of administrators at each managed organization, all under the same Action1 account at no extra cost.
Securely connect to your users' machines even if the end-user is unavailable directly from the Action1 web console — no need to install additional software.
Gain complete visibility into vulnerabilities and IT assets. Proactively monitor systems in real-time to minimize downtime and cybersecurity risks for managed organizations.
Achieve regulatory compliance with comprehensive reports on installed updates with update history and statuses.
Action1 is cloud-based and enables 100% remote operations. Save budgets on maintenance, hardware, labor, associated travel costs, and more.
Action1 IT management service software employs data encryption, multi-factor authentication (MFA), app security, and complies with industry cybersecurity standards.
Risk-based Patch Management
Discover, prioritize and remediate vulnerabilities in a single solution
to prevent security breaches and ransomware attacks.
Setup in minutes to reduce your cyber risks and costs:
I turned to Action1 because it was a highly customizable all-in-one solution. Thanks to Action1, we have improved the productivity of our remote workforce, ensured the security of remote operations, and provided the best customer service ever.
Action1 empowers us to increase operational efficiency dramatically by streamlining our remote IT management. We were able to fully automate our workstation build process — making it 9 times faster whilst increasing quality.
With Action1, I'm saving hours every week and bringing in better control and consistency across everything that we do. It was also very easy to deploy; I was able to quickly install it and ensure nothing was missed.