For IT Administrators, Helpdesk, and MSPs
Action1 empowers IT professionals to help their users anytime, anywhere. Its remote support capability enables MSPs, helpdesk teams, and IT pros to reduce troubleshooting time, resolve complex IT issues, support end-users, and control remote desktops, right from their web browser.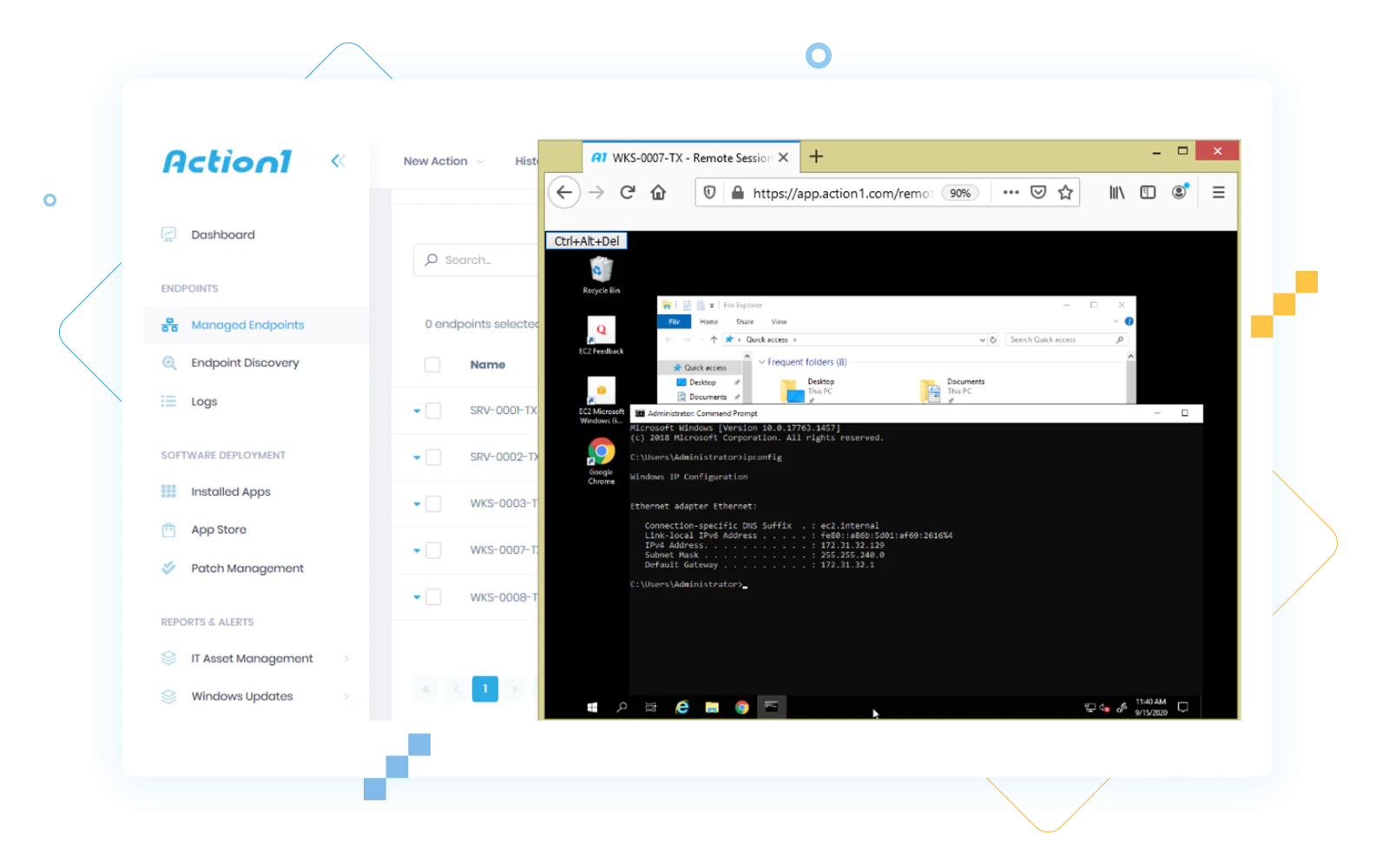 Powerful Remote Assistance Solution
Action1's remote support solution is crafted for easy integration: IT professionals connect to the platform directly from the cloud-based web console. No additional software installation, VPN, or firewall configurations are required.

Remote access
With the Action1 Remote Access feature, IT professionals can easily collaborate with users to troubleshoot issues and provide remote support, no matter where they're located. The remote assistance services give the IT pro access to:
The user's monitor or monitors
The user's mouse and keyboard
The User Account Control (UAC) prompt
A shared clipboard
File sharing (coming soon).
Unattended access
Action1's remote support enables IT teams to run routine system maintenance tasks when a device is unattended. Once the unattended access connection is established, the admin can:
Track processes and services
Access Windows command prompt
Run PowerShell scripts
Reboot computers
Roll out system updates
Manage software and update distribution for remote support of applications.
Strong security
Action1 understands the necessity of protecting sensitive information, so our remote support system comes with the highest level of security. Our proprietary end-to-end security technology keeps each remote assistance session stable and intrusion-free, even if the devices aren't connected to the corporate domain or LAN.
Multi-factor authentication (MFA)
Secured with TLS protocol
End-to-end encryption
Private encryption key and certificate.
Efficiency and scalability
Action1 provides a remote support solution that's easy to implement and will grow alongside your business. Our commitment to delivering the best cloud technology for risk-based patch management includes providing quarterly feature updates and product improvements. We eagerly seek out feedback from our customers and strive to provide the best experience for our users.
Action1  saves us both time and money.  First, it enables us to manage updates and software across all our endpoints far more efficiently. Second, its built-in remote access empowers us to provide our users with IT support, which saves us $10,000 a year as we do not have to purchase an additional remote support platform.
Jeremy Campbell
IT Manager at Seyer Industries

Get Started with Action1 Remote Support Software
Try Action1's software for remote support and see for yourself how easy it can be to manage and monitor all of your endpoints remotely.