The cybersecurity landscape is evolving quickly, and business owners need to work hard to remain protected and agile in the face of this rapid development. With this in mind, let's take a look at some of the current cybersecurity trends impacting businesses in 2022.
Shifts to a Remote Landscape Bring Opportunities and Challenges
Back in 2021, Gartner predicted that the United States market will lead the world in terms of remote work, with 53% of American workers working from home for at least one full day each week. As a comparison, the global average is expected to be 32%.
This is certainly very exciting for businesses, which can expect to reap the benefits of reduced costs and improved operational agility. Workers too will feel the benefit, enjoying more free time and better flexibility in their working week. But there are security issues to consider here, including:
Bring your own device (BYOD) policies
A lack of standardized enterprise security solutions
Physical security threats such as device theft and loss
Difficulties in monitoring and assessing user behaviors
Insufficient patching and updating
While there are many advantages to remote work, these security issues can put businesses at risk. Companies will need to rise to the associated security challenges if they are to avoid exposure in 2022 and draw upon patch management services and remote assistance software to stay protected.
Ransomware Attacks Become More Frequent and More Extensive
Ransomware has been high on the security agenda for several years now. In 2020, there were estimated to be around 304 million ransomware attacks around the world, with 127 new ransomware families discovered during the same year. For 2022, however, the threat is evolving, and ransomware continues to be a key cyber security industry trend.
Triple extortion is a relatively new concept that is causing significant concern in 2022. This occurs when one business is targeted in a ransomware attack and data from a business partner or the third party is stolen. The cybercriminals then target this partner or third party with another ransom demand. 
In the face of this information security risk trend, businesses will need to remain acutely aware of who they are partnering with. While remote monitoring and management solutions can help businesses protect their own systems, it will be necessary to extend these high standards of cybersecurity to all partners and associated organizations.
Biometrics Become More Common as Traditional Passwords Fall Out of Favor
Multi-factor authentication (MFA) is one of cybersecurity's hot topics and has been for quite some time. This is due to two critical business needs — the need to protect systems and the need to make these systems available to those who should use them. A difficult balancing act, perhaps, and one that is becoming more difficult to execute effectively as operations accelerate and security risks grow.
This is why we are seeing a move towards more efficient forms of access, such as biometrics. Rather than relying on employees memorizing a large number of passwords, businesses can deploy fingerprint scans, iris recognition, and other biometric tools to grant or deny access. When deployed alongside existing MFA digital infrastructure, access and authentication become almost immediate, while unauthorized viewing and manipulation of systems are reduced.
Attackers Seek to Exploit Hidden Vulnerabilities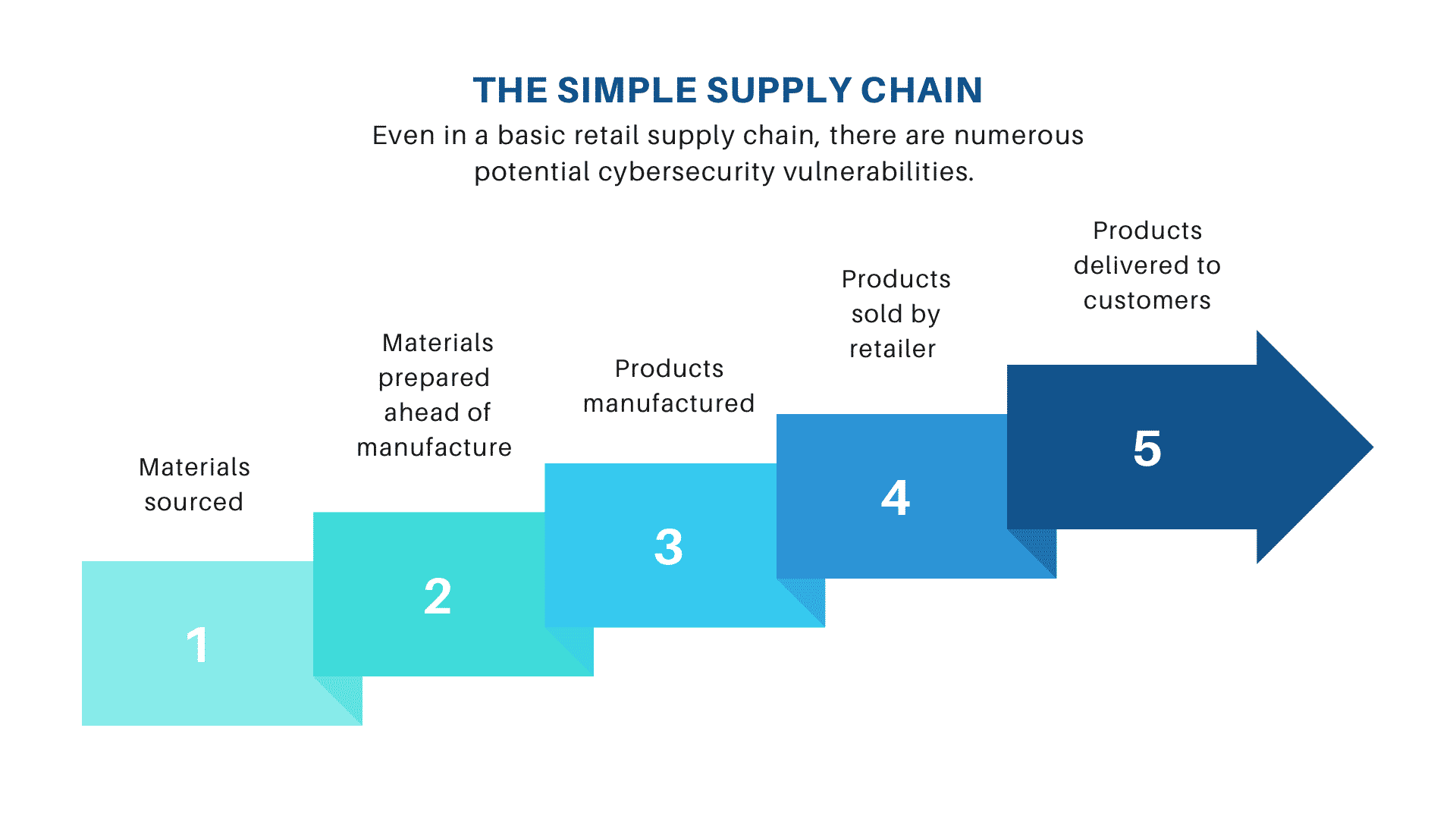 Modern businesses are complex structures, relying on integrations with both internal and external systems in order to achieve seamless operation. As this complexity and sophistication increases, cyberattackers are becoming more and more creative as they seek out vulnerabilities ripe for attack. This brings us to one of the latest cybersecurity threats — attacks on supply chain weak points.
This emerging cyber threat sees malicious actors exploiting vulnerabilities up and down the supply chain. For example, a business may have a robust set of cybersecurity defenses in place, so attackers will search upstream and downstream in the supply chain until they find a chink in the armor. Following the principle of the path of least resistance, this is where they are likely to strike. If attackers can bring down even just a single link in the supply chain, businesses along the chain will suffer.
We've already touched upon the concerning trend of triple extortion in cyber security, and this is a key factor here. It is likely that your data is stored by your partners within your supply chain — this data storage is crucial for the efficient execution of the processes along the chain. In effect, this means that any data storage weak points within your supply chain are data storage weak points within your own company and should be treated accordingly.
Blockchain Tech and Decentralization Increases Security Challenges
Blockchain technology has revolutionized currency structures and payment services, most notably through cryptocurrencies such as Bitcoin. However, this decentralized tech could become a cybersecurity talking point in 2022 as malicious entities use blockchain-based software to shield their activities and transactions.
If attackers use structures such as the blockchain, they will become increasingly difficult to detect. This could be a gamechanger for cybersecurity in 2022, and defenses will need to become more robust in response.
Businesses Seek to Hedge Security Bets with Hybrid Storage
Hybrid cloud storage structures could become one of the top trends in cyber security for 2022. This is because business owners are waking up to the dangers of placing all of their digital eggs in one basket, and are instead seeking to spread their data assets across a more complex set of storage solutions. By deploying physical servers, private clouds and public clouds together, businesses will be able to secure their business-critical data more effectively while ensuring seamless access to the data used in day-to-day operations.
This acts as a strong defense that will help businesses move closer to the gold standard of 100% uptime for their clients. In addition, it will make data backup and access simple and straightforward, helping to achieve rapid disaster recovery if the worst does occur.
Protect Your Business in a Dynamic Landscape
Understanding the current challenges of cybersecurity and future trends is only part of the battle. Businesses need powerful solutions, such as remote assistance software and deployment software tools, to ensure that their teams are able to reap the benefits of today's digital landscape while simultaneously mitigating the risks. Reach out to our team today to discover more about Action1's solutions and to demo them within your own business.