Managed IT services is one of the fastest-growing and most lucrative sectors of the business tech industry. The global IT services market is on track to hit $1.1 trillion by 2026, registering an 8.02 CAGR between 2021 and 2026. Although the managed IT market is booming, many MSPs are still struggling with customer acquisition and retention. The 2020 Global MSP Benchmark Report highlights customer churn rate and pricing pressure as some of the main challenges facing managed services providers today.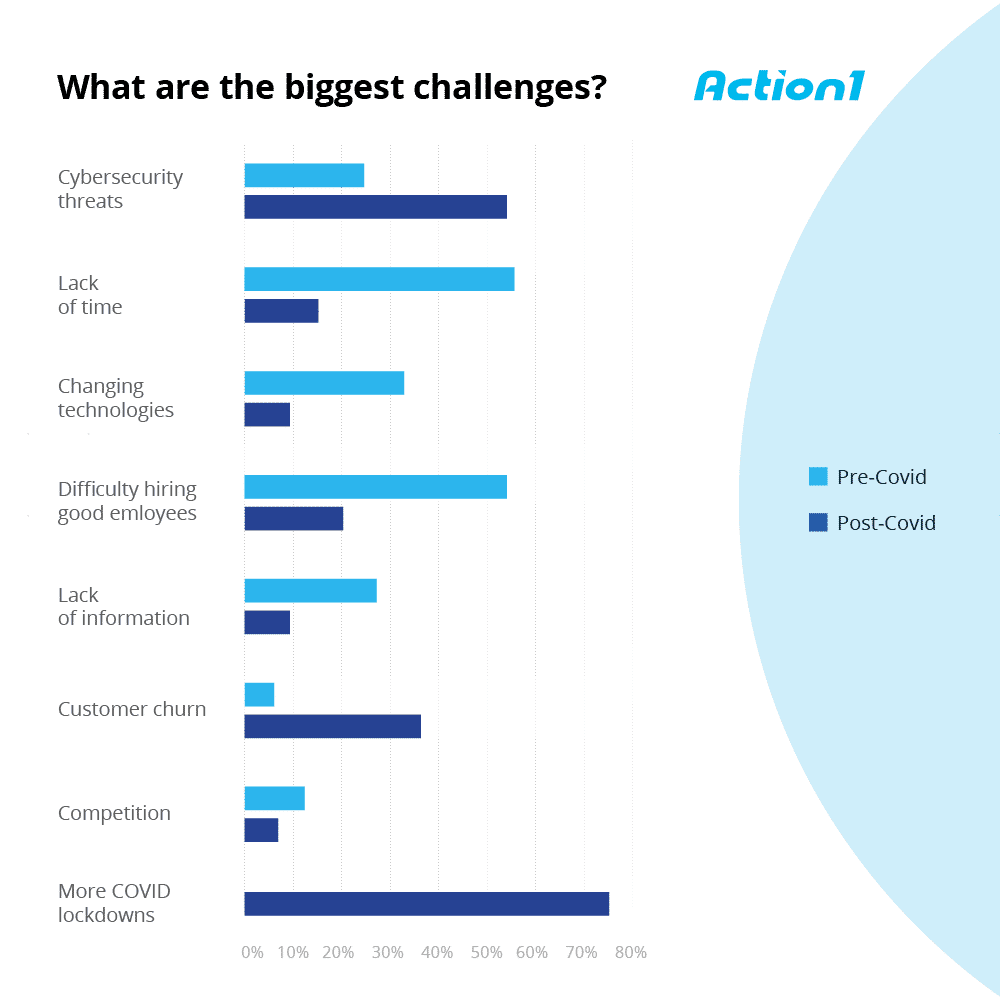 Part of the problem is that customers have exceedingly high expectations of MSPs, and the IT services space is quickly getting overcrowded and increasingly competitive. Plus, the MSP role has evolved into that of a critical business pillar for most customers.
MSPs typically compete on one of two main fronts—services and prices. For general IT providers, pricing is a more effective selling tool since there are little to no distinctions between the services offered by different brands.
Pricing is about more than just the price tag. The MSP pricing structure is just as important as the cost of MSP. For most businesses, the pricing model has a massive impact on the final MSP spend. Managed IT pricing is a delicate balancing act between setting fair profit margins and modeling the costs to fit different consumer scenarios. Here are the common MSP pricing models favored by most service providers:
Break-Fix Support Pricing
The break-fix solution is the simplest IT support model and the easiest to price. In a break-fix partnership, the MSP serves as an emergency repair service for the client. Whenever the client's software, hardware, or network goes wrong, the MSP swoops in, fixes the problem, and bills the client afterward. The charge usually depends on the work's scope, the nature of services rendered, repair time, and other considerations such as the site's location.
A break-fix contract is so basic that it doesn't require a service-level agreement (SLA). In fact, most MSPs do not consider break-fix clients as part of their managed IT customer base.
Break-fix prices may be easy to structure, but it's impossible to project revenue generated through this service model. It's also unsustainable, and more companies are moving from break-fix support to more proactive managed services.
Per-Device Pricing
This is a straightforward and popular managed service pricing model. The MSP charges a flat fee for every device covered by the managed service. For instance, the MSP may charge $X per server, $Y per workstation, and $Z for every laptop.
Per-device pricing is easy for the client to understand and for the MSP to track. Also, the price scales up as the customer adds more devices, increasing the MSP's revenue as the managed infrastructure expands. However, the growing MSP costs can only get so high before the customer starts to see diminishing returns. Another problem with per-device pricing is that it doesn't cover managed IT offerings that do not involve physical or virtual devices.
Per-User Pricing
Per-user MSP pricing is quite similar to per-device pricing. But in this case, the MSP charges the client a flat fee for every user, regardless of the number of devices they have.
This pricing model favors businesses with employees who need ongoing IT support for multiple devices at the same time. It also makes economic sense for companies with huge inventories of shared or redundant IT devices. For MSPs, per-user pricing makes it easier to manage permissions, especially for cloud-based services such as VoIP and SaaS. However, this pricing model can be difficult to apply in some situations, such as those where the lines between users are a bit blurry.
Monitoring Only
Monitoring only is a cost-effective service model for companies that already have an active internal IT department. The MSP monitors the client's network, endpoints, servers, data systems, and security frameworks and alerts them to any arising issues. Monitoring alerts can range from system failures and unusual network traffic to signs of imminent cyberattacks. Once alerted, the in-house IT team can take the necessary remediation actions. The same MSP may also assist the client in resolving some issues at an extra fee through a break-fix service delivery style.
This service and pricing modeling only works with both the client and service provider in mutual agreement about each other's responsibilities. It also adds to the complexities of working with remote monitoring and management tools.
Value-Based Pricing
This comprehensive pricing model is quickly gaining popularity among MSPs and organizations looking to do away with in-house IT support completely. In this scenario, the MSP charges a flat fee to take over the management of an organization's entire IT infrastructure. The MSP basically acts as an outsourced IT department responsible for every aspect of IT support, including help desk support, IT monitoring, security, IT planning, and routine maintenance.
Setting costs with value-based pricing does not revolve around a single factor. It combines several considerations such as the scope of service, number of users, and services/tools required. But the MSP may not list the prices for individual services in a package. Some customers could perceive this as a lack of transparency.
All You Can Eat
In the all-you-can-eat approach, the MSP provides all on-site and remote IT support services for a flat monthly fee. Unlike value-added pricing, the client gets all the services in the package whether they need them all or not.
Although this model eliminates billing headaches, it can quickly become unsustainable in the long run. It's mostly used by new MSPs to attract customers.
Tiered Pricing
Tiering is a common practice in tech products, software, and services distribution. The MSP packages IT services into various classes (tiers), whose prices vary depending on the scope or quality of the service within. Prices can range from free trial versions, low-priced basic packages to premium service bundles.
Tiered pricing covers a wide range of businesses with different IT needs and budgets. The biggest problem with tiered pricing is drawing lines between the different service levels to avoid leaving large gaps between adjacent tiers.
A La Carte
This IT service pricing model lets the customer choose their desired services from the MSP's offerings pool. Most customers prefer this MSP model, as it helps optimize costs since they only pay for what they need.
However, this open buffet approach limits the MSP's ability to up-sell and cross-sell to their customers, reducing potential earnings. Also, onboarding a new customer can be a frustratingly long process. And the custom service packages and their prices only complicate billing and bookkeeping.
Which Is The Best MSP Pricing Model?
Unfortunately, there is no single ideal managed services pricing template. This is the reason why many MSPs have multiple pricing models for the same services. Most MSPs base their pricing structures and figures on three factors—the cost of service, profit margins, and the prevailing market influence. Competition pressure, the target market, growth projections, and the nature of offerings can all have a stake in an MSP's cost and how customers pay for the IT services.
There is no question that pricing (both the figure and the billing model) directly influences customers' decisions to partner with an IT service provider. After all, many organizations outsource IT support to cut operational costs. Knowing that their success largely hinges on pricing, some MSPs are willing to sacrifice high-profit margins and service delivery simplicity to capture their target customers. Additionally, more and more MSPs are now looking into cost-saving options, such as RMM software for MSP, to optimize and streamline their prices.