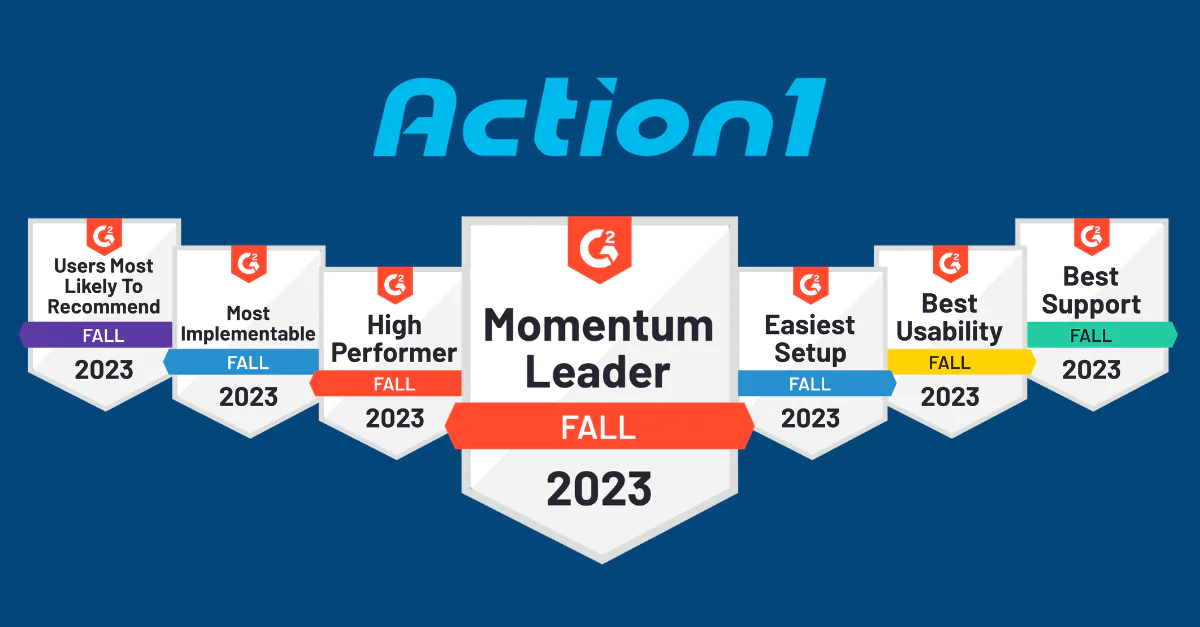 G2, the world's largest and most trusted software marketplace, has recently published its Fall 2023 Report. This time, in addition to maintaining its position as a High Performer in Patch Management for six consecutive quarters, Action1 has also been recognized as a Momentum Leader in the Patch Management category. In total, our platform has secured an impressive 81 badges across five categories.
G2's Momentum Grid identifies products that are on a high-growth trajectory based on user satisfaction scores, employee growth, and digital presence. With Action1 consistently achieving rapid year-over-year growth, securing the Momentum Leader position marks Action1 as a trusted front-runner and an upcoming leader in the dynamic patch management market.
Along with the Momentum Leader, G2 has provided Action1 with top positions within the Patch Management category based on a range of criteria, underscoring its qualities that set us apart from competition. Specifically, Action1 was rated as:
Easiest Patch Management solution to use, according to the cumulative score based on multiple trusted reviews of Action1 customers on G2.
#1 choice for Patch Management based on the Implementation Index: Action1 is given both Easiest Setup and Most Implementable awards showcasing its simple and fast implementation.
#1 in Relationship Index: Action1 now holds the top spot in the overall relationship score in the Patch Management category based on user satisfaction, maintaining its leading position in the quality of support .
This recognition serves as evidence that our users highly appreciate our services and the support we provide. It marks Action1's ability to thrive in a fast-paced technology landscape, providing an exceptional patch management platform proven by impressive customer satisfaction results.
We are extremely proud to be underscored by our users on G2 and thankful for their invaluable feedback, as this is what inspires Action1 to keep growing and constantly raise the bar.
With a steady dedication to customer satisfaction at the core, we strengthen our vision to maintain the position as the #1 risk-based patch management solution and are eager to succeed together with our trusted user community.
Visit our page on G2 to learn more about the customer experience or leave your review, and stay tuned for more exciting updates from Action1!