Customer Profile
ThreatAware offers an agentless cybersecurity intelligence platform that enables IT teams to manage all their systems from a single pane of glass by connecting with enterprise security tools, such as anti-virus and web proxy solutions and pulling data from them.
Headquarters
London, United Kingdon
Website
The Challenge
The ThreatAware threat intelligence platform helps both internal IT departments and managed service providers (MSPs) streamline cybersecurity management. It connects to multiple security systems, pulls valuable data from them, and surfaces critical alerts for all those systems in one aggregated view.
Naturally, having endpoint management integrated into this single pane of glass would be immensely valuable for IT teams. As ThreatAware customers were using Action1 to manage updates and software on their endpoints and provide IT support, they requested that ThreatAware integrate its platform with Action1.
The Solution
Jon Abbott, CEO of ThreatAware, decided to combine Action1's powerful endpoint management capabilities with the agility offered by ThreatAware's single pane of glass.
The Results
Thanks to Action1's RESTful API, Jon's team was able to connect two solutions with ease. Now ThreatAware customers can get a valuable overview of data collected by Action1 — such as the number of managed endpoints, their patching status and missing updates — right in ThreatAware's aggregated view.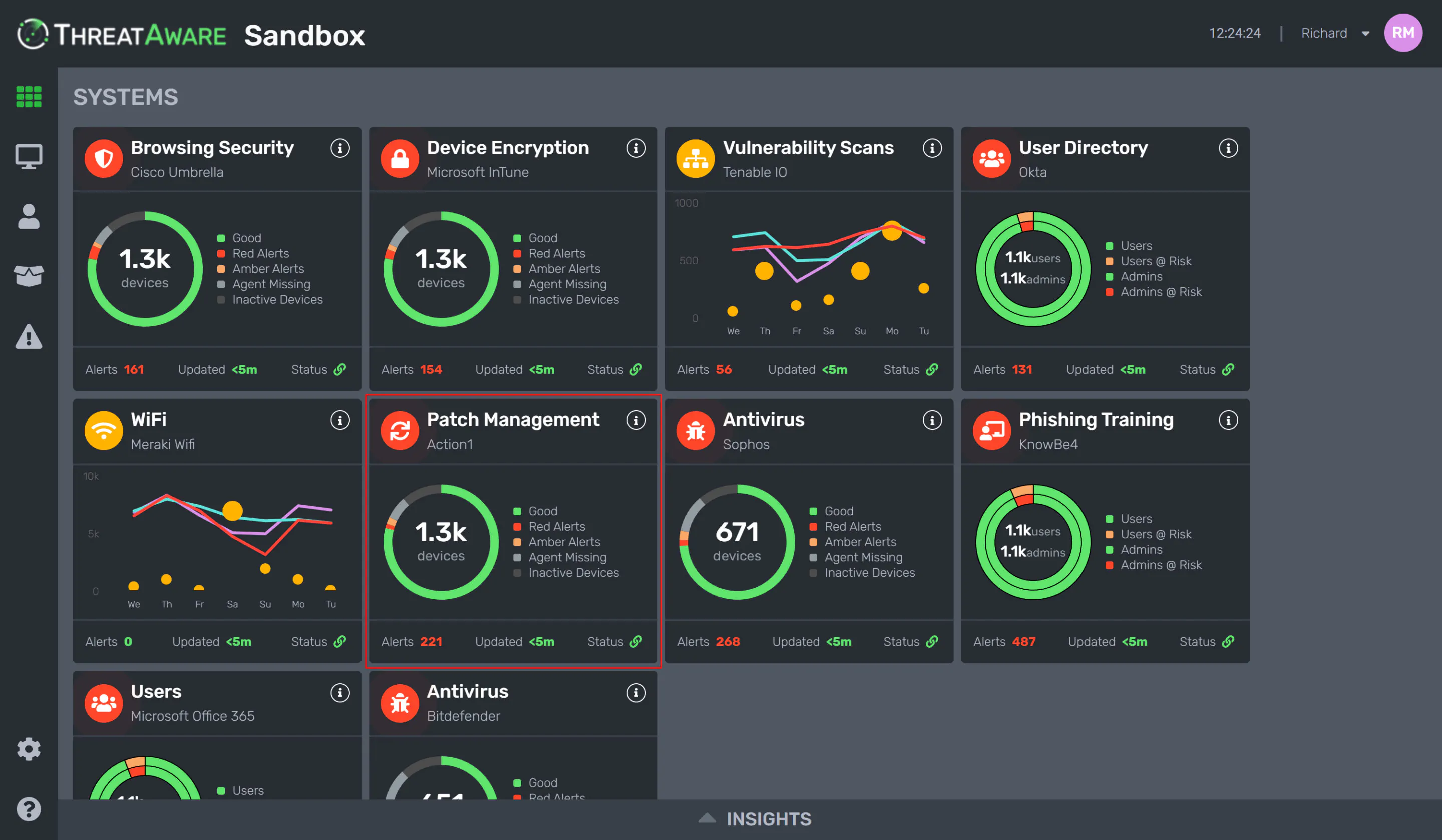 Simply by clicking on the Action1 view, IT pros can easily drill down to get more detailed information about their endpoints, such as pending updates, patching statistics, logged-in users, and software and hardware inventory. As a result, they can easily spot issues and validate their IT controls across their entire IT estate.
Moreover, they can manage and remediate patches across all their endpoints with minimal effort, as well as connect to users' machines and provide office-quality IT support remotely, all right from the Action1 view in the ThreatAware platform. As a result, ThreatAware customers can save a lot of time while strengthening security, ensuring business continuity and delivering exceptional IT support for their users.
"

By delivering the integration with Action1, we were able to provide our customers with a more extensive security and endpoint management offering that includes remote support

.
Jon Abbott, CEO and Co-Founder of ThreatAware
The integration has turned out to be particularly helpful for new ThreatAware customers who worry about the patching status of their systems. Now they can get this information in a few clicks, on top of the other cybersecurity intelligence provided by ThreatAware. They simply use ThreatAware's agentless discovery service to find all their endpoints and install Action1 agents across their systems, and then leverage Action1 to seamlessly identify and patch missing updates.