Patch Management for Windows Servers
Deploy patches to your Windows servers with confidence and reliability. Action1's Windows Server automated
patch management
tools deliver robust processes that enable you to retain full control over patch configurations and cycles:
Leverage patch policy configurations and automate workflows while maintaining complete control of nuances
Leverage patch policy configurations and automate workflows while maintaining complete control of nuances
Generate detailed reports that deliver valuable insight into your security strategy and demonstrate regulatory compliance.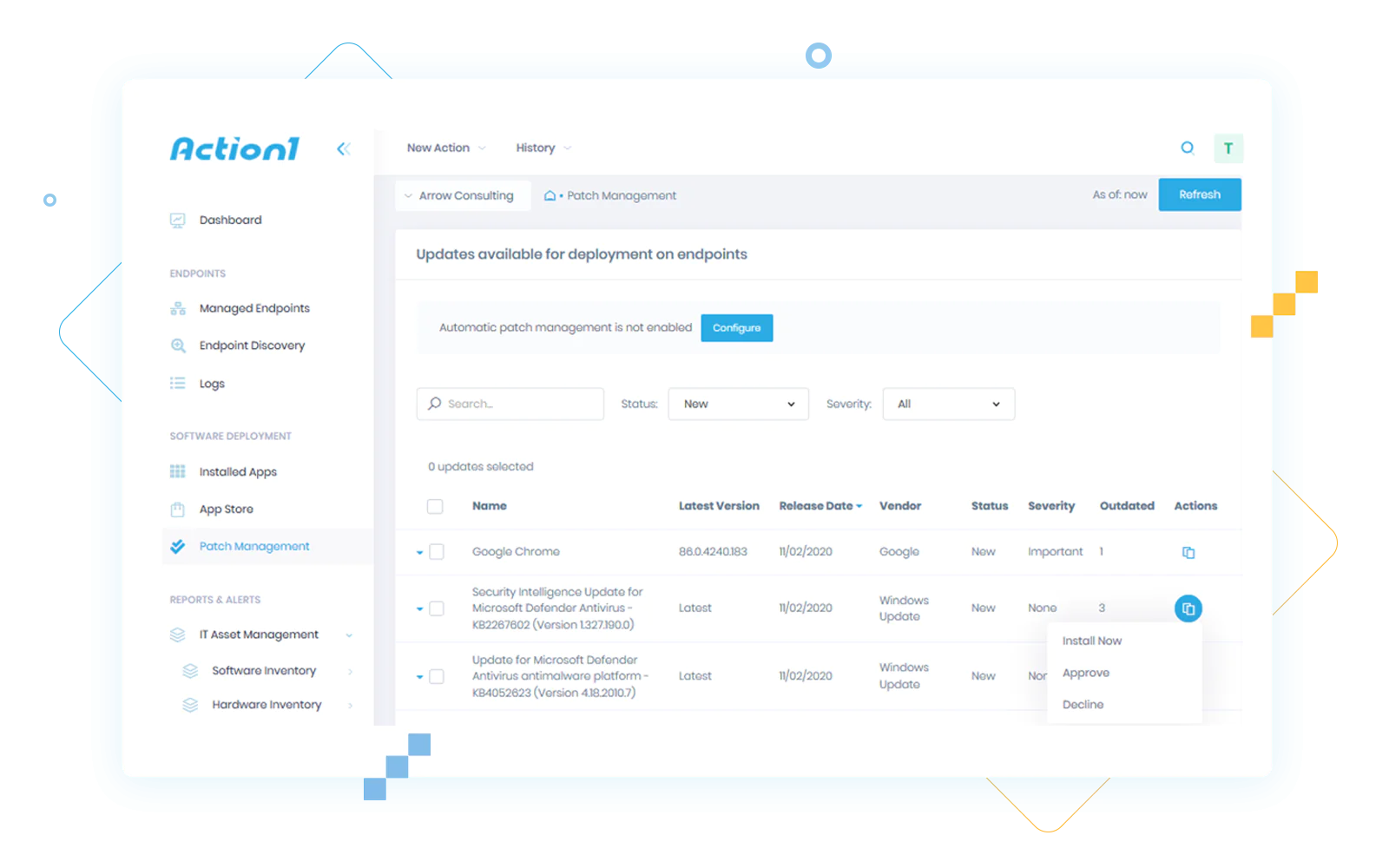 Cloud approach to patching Windows servers
Adopt a proactive stance on vulnerability remediation and achieve effective patching for Windows servers with cloud patch management. Deploy patches and hotfixes at any time, from any location to maximize endpoint security and performance.
Best alternative to WSUS patching
Unlike on-premise patch management, Action1 cloud Windows server patch management software enables IT professionals to significantly cut down the cost associated with legacy solutions. Reduce staff, hardware, maintenance, and travel expenses by leveraging more efficient alternatives to WSUS patching.
Complete control over patching processes
Ensure that no area of your endpoints is left exposed with robust insight into the update status of all your endpoints. Easily identify missing updates, schedule or force security patch deployment based on severity levels,  and analyze the statuses and statistics of deployed updates to maximize the efficiency of your endpoint hardening.
Minimum downtime for the business
Embrace flexibility and leverage patch management automation and scheduling to allocate time outside of business hours for your maintenance routines. Plan your patching schedules in advance and create maintenance windows to bring the corporate and user downtime to the minimum.
Flexible patching policy configurations
Action1's Windows Server patch management software facilitates robust and reliable automated patch distribution. Its automated processes help organizations achieve a watertight system of patch management while retaining complete control over patch configurations. Define patch management policies that work with the IT security strategy of your business — determine the frequency of vulnerability scanning, configure approval procedures and reboot options, define deployment time and reporting.
Real-time alerts and notifications
Configure automated reports to receive alerts to your inbox whenever a new patch becomes available to keep your endpoints protected from vulnerabilities. Examine individual endpoints or groups of endpoints manually or automate the detection of missing updates. 
Scheduled update statistics reports
Receive patch and update reports via email. You can easily design a report query using dozens of pre-built templates and set the reporting frequency. For example, you can get a daily report showing details about installed updates, missing patches, etc.
With Action1, we are able to support, manage and patch our endpoints no matter where we are, via any device that has a browser. It is a brilliant product that helps us achieve all we wanted in a very cost-effective way.
Barry Carmichael
System Administrator at Tamborine Mountain College
Risk-based Patch Management
Discover, prioritize and remediate vulnerabilities in a single solution
to prevent security breaches and ransomware attacks.
Setup in minutes to reduce your cyber risks and costs: