Special keys allow you the silent installation of software without pop-ups and unnecessary user questions.
Each system administrator constantly has to install various kinds of software and everyone wants to simplify this process as much as possible because at this moment you need to activate the checkboxes, choose a path or items from the drop-down lists, configure the look and language of the interface, the type of launch, answer the wizard questions, press the buttons, fill in the fields and much more. There are frequent cases when an employee of the company owns advanced rights and tries to install programs on his own, while he does not know the necessary settings, which entails either call with questions or reconfiguration of programs. In this case, you can avoid a number of troubles and facilitate your work due to automation, because almost all installation files have special keys that make the installation process hidden, simpler and easier.
Silent installation of software can be applied manually from the command line directly on the employee's computer or by connecting remotely, using Group Policies, as well as using Configuration Manager.
There are 2 ways to automatically install the software in SCCM: Package and Application. One of the main differences between them is working with different types of executable files. In our case, the deployment of programs is used packages.
Although the settings for batch distribution of programs have Hidden mode, however, it is not always possible to hide or suppress all pop-up windows. Therefore, it is better to use silent installation keys directly in the SCCM wizard or create a separate CMD file.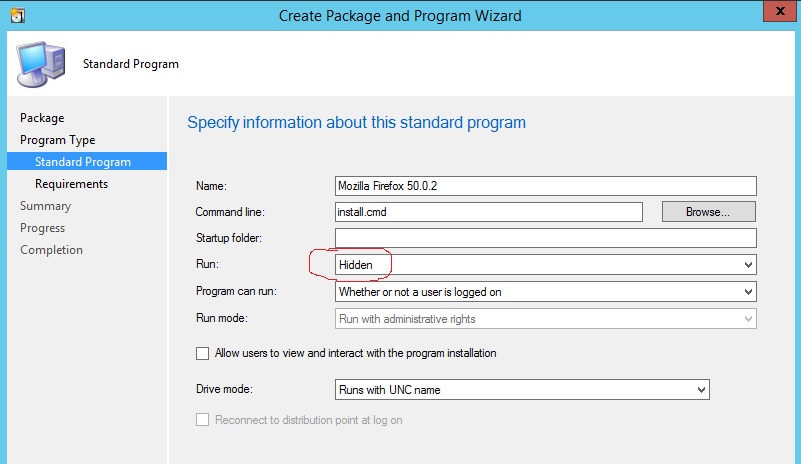 We list the commonly used keys for automatic installation of programs:
/silent, /s, /quiet, /q, /qn, /verysilent
% ~ dp0 - means that you need to use the launched file from the current folder.
If you need to specify the exact installation location, then /D or /DIR is used, which are written after /silent, /quiet, /s /q. For example, install.exe /s /q /D = "C:\NewFolder\123\".
The /LANG = language is used when explicitly specifying the program language. For example, Setup.exe /LANG = Russian (or /LANG = RU).
The presence of /NOICONS prohibits the creation of shortcuts in the Start menu. Example: Setup.exe /NOICONS.
Some applications require a reboot after completing the installation. But this can be avoided (and rebooted later) by using the /norestart or /noreboot switches, REBOOT = ReallySuppress along with /qn, enclosing the expression in quotation marks. For example, setup.msi "/qn REBOOT = ReallySuppress".
There are a lot of programs with keys for "silent" installation on the Internet, but they are not on my list, if the versions of the programs do not match, other keys can be used, and there are also slight differences when installing with SCCM manually, so I want to share my examples of batch files.
ABBY FineReader 11 - a program for scanning and/or text recognition.
%~dp0Setup.exe /q
FSViewer 51 is a program for viewing and editing graphic files of the jpeg, png, bmp format, etc.
%~dp0FSViewerSetup51.exe /S /I
Acrobat Reader 11 - a program for viewing documents in PDF format.
%~dp0AdobeReader11.0.9.exe /S /Q
rem exit /B 0
exit /B% EXIT_CODE%
AutoCad2013 - a product for the design of models, objects, circuits, etc.
%~dp0AdminImage\Setup.exe /W /Q /I %~dp0AdminImage\AutoCAD2013x32.ini /language en-US
exit /B% EXIT_CODE%
Far 3 - file manager.
%~dp0Far3_x64.msi /qn
xcopy "\\sccm03\SMS_DDD\Source\Far3\Addons" "C:\Program Files\Far Manager" /q /e /s /y
rem exit /B 0
exit /B% EXIT_CODE%
Oracle Client is the client part of the Oracle database.
start /b /wait%~dp0setup.exe -silent -noconsole -force -nowait -responseFile "%~dp0serv6\oracleclient10203"
exit /b
Changes to the registry also occur using a CMD file. For example, you need to change the default input language from Russian to English:
reg add "HKU\.DEFAULT\Keyboard Layout\Preload" /v 1 /t REG_SZ /d 00000409 /f
reg add "HKU\.DEFAULT\Keyboard Layout\Preload" /v 2 /t REG_SZ /d 00000419 /f
After creating the CMD files in Configuration Manager, packages (or applications) are created for further distribution to employees' computers. For greater convenience, packages can also be added to TaskSequence so that the installation of Windows and a number of programs goes in one step.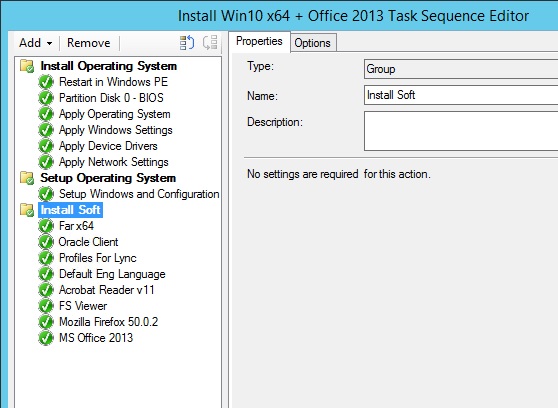 When deploying programs from the SCCM client console, the package is first downloaded from the Distribution Point to the local computer in the C:\Windows\ccmcache folder, then the batch file is launched, the installation process appears in the operating system processes and nothing distracts the employee from the routine.
For more experienced users, we can say that it is possible to install the program from the console yourself, which is located in Start-> Microsoft System Center-> Software Center, only by clicking on Install button at the same time, it will not be able to make any errors when choosing the settings offered by the wizard.
Advantages: the user will not make mistakes when installing the software, saving time.
Disadvantages: initially a lot of time is spent searching for the necessary keys, writing and testing CMD files, the ccmcache folder is not automatically cleared.
Conclusion: the "silent" installation of the software does not allow the user to take an active part in the installation process, which means that he will not make any mistakes and will not call with unnecessary questions. In Configuration Manager, this feature can be used both when reinstalling the operating system, adding packages to the task sequence, and distributing it to a working computer. This type of automation eliminates a considerable amount of trouble and saves the time of the system administrator.