Remote Desktop via Web Browser
Action1 RMM gives MSPs and IT teams the tools they need to solve complex IT issues and quickly resolve end-user problems via a remote desktop web connection anywhere, any time. They can immediately connect to endpoints that aren't accessible from their local network — including endpoints working remotely over the internet — in order to provide effective remote support, run diagnostics, troubleshoot, and otherwise assist users.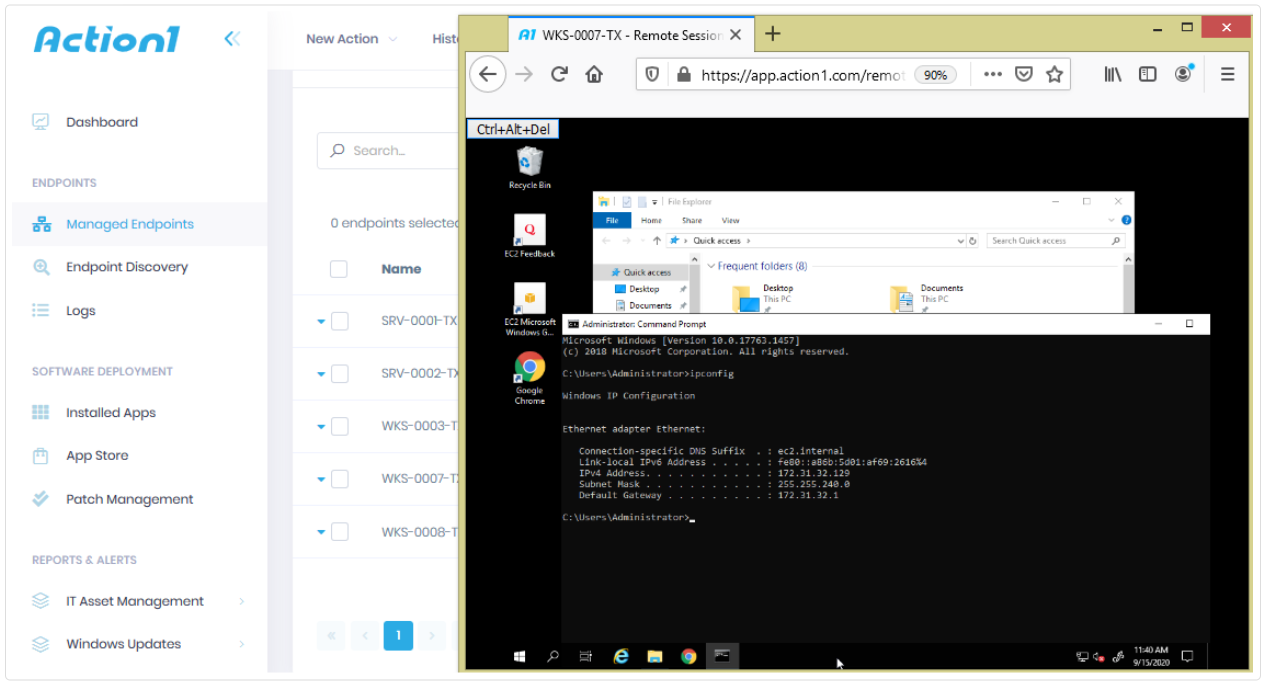 All-In-One Remote Desktop Web Connection
Action1 RMM is your all-in-one solution to access and support remote endpoints anywhere in the world, right from your browser. It's easy to use, completely secure, and works with any internet connection. With our browser-based remote desktop client, IT pros can quickly and easily access endpoints that aren't connected to the same network to run diagnostics, troubleshoot problems, and assist end-users
Complete Remote Desktop Control
Access a user's mouse, keyboard, monitors, clipboard, User Account Control (UAC) prompt, and more. Action1's web access remote desktop helps you to maintain, troubleshoot, and resolve technical problems, as well as install software and updates on your endpoints — all remotely.
No Additional Software Required
Action1 RMM saves you time and money with a smoothly integrated web client remote desktop that requires no additional software installation, VPNs, or firewall configurations. It's a simple, secure, and efficient way to connect to all your remote desktops using a web browser — endpoints can be accessed securely anytime, anywhere, with no software other than the Action1 agent required on the devic
Strong Security
Action1 RMM is committed to your security and privacy. Our cloud platform provides military-grade encryption, multifactor authentication (MFA), and the highest level of protection available today.
Unattended RDP Sessions
With Action1's web-based RDP client, IT admins and helpdesk technicians can use an RDP session in their web browser to immediately access unattended endpoints — even those that are not connected to the same network — in order to run diagnostics, troubleshoot issues, and execute IT maintenance tasks.
Unattended Access
Conveniently remote into any remote desktop and control it without any interaction from the user. Once the unattended access connection is established, the admin can take control of the remote machine and perform actions like:
Install software
Run scripts
Track processes
Reboot machines
Manage system and software updates
Manage printers
Scheduling and Automation
Action1 provides unprecedented flexibility in managing security updates, software deployment, and access privileges. With its scheduling and automation, you can push out software updates at scale, automate software deployment to remote workers, and make sure every one of your employees has the latest version of each application — all from a single dashboard. You can even configure the software installation and removal processes to run during off-hours to minimize downtime for end users.
Full Visibility
Action1 RMM helps you keep business productivity high by providing a unified view into all endpoints, including those not connected to the same network, from a single cloud-based dashboard. Instantly access current information about all of your IT hardware and software assets so you can remotely monitor, troubleshoot, repair, and more.
Try Action1 Browser-Based Remote Desktop Client
Connect to your remote endpoints from the cloud with unparalleled ease, security, and flexibility.
Sign up for your 2-week free trial, or use the solution free forever for up to 50 endpoints, with unlimited features and functionality.