How It Works
Action1 risk-based patch management solution runs in the cloud — you can access the Action1 console from your browser. There is no need to install any management tools or prepare a dedicated server. The console allows you to manage your entire fleet of endpoints connected to Action1 Cloud. You can run live queries, set up alerts, deploy apps, and enforce patch management across all managed endpoints.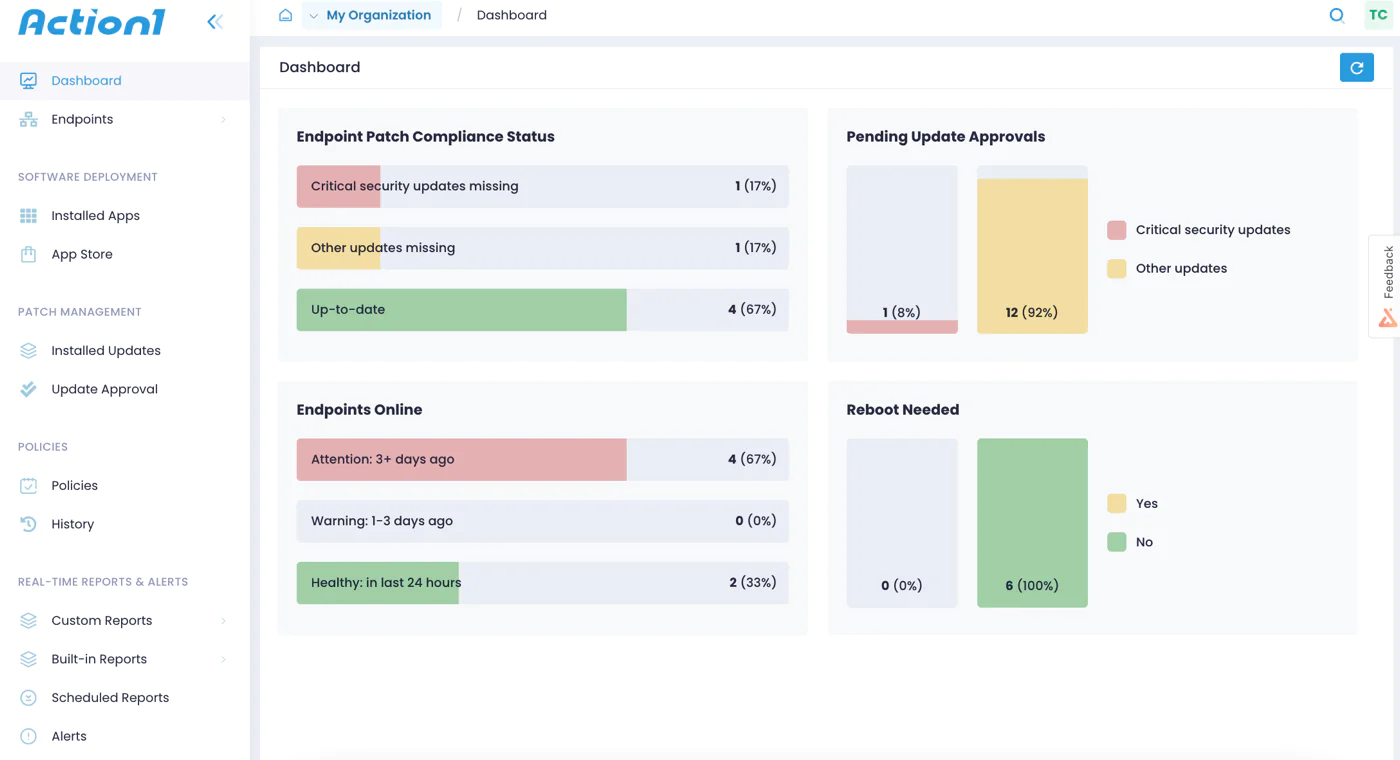 Action1 connects to remote endpoints with Action1 agents. An agent is a tiny executable file that is about 3 MB in size. Agents run on your networked endpoints and leave minimal footprints. The agents remain idle and do not consume any resources unless you run a query in the Action1 console. For example, you want to get a list of messaging apps installed in your network. Action1 forwards this request to all the agents on your network, and they respond with results. After, they go back to the idle state. If you enable real-time alerts, such as alerts on newly installed software, the agents start tracking these specific aspects and notify Action1 Cloud when an alert is triggered, which in turn emails you with alert details. On top of that, Action1 agents employ secure P2P file-sharing technology that helps you save network resources. The agents download software and updates in parallel in small chunks thus reducing the load on your network.
One of the main advantages of Action1 platform is the ability to pull data from all of your endpoints in real-time, not relying on any previously collected stale data. Action1 helps you identify missing patches and provides dozens of reports to help you address most security and operational needs. Whenever you run a report, you see the most current and up-to-date information, and not something that was there a few hours or days ago. On top of that, thanks to the true cloud architecture from day one (vs legacy "cloudified" products), it gives you almost unlimited scalability that effortlessly expands based on your workload and number of endpoints, without the need to manage any backend infrastructure. Simply said, Action1 works equally well with 10 endpoints and 1 million endpoints.
Action1 supports multi-tenancy. Action1 platform enables you to create organizations within your enterprise account and manage endpoints separately, per organization, as well as grant role-based access to other Action1 users. This architecture perk comes especially handy if you are a Managed Service Provider or a larger enterprise company with multiple departments and complicated corporate governance.
We are working tirelessly to improve Action1 capabilities and add new reports. If you can't find a report or feature you need, please let us know, and we'll try to do our best to add it quickly and at no charge to you (just because we LOVE your feedback!).